Textbroker is an incredibly popular content writing site because they're hard to beat in many areas, especially for beginners: they now pay weekly, they accept people with no writing experience, and their editors give you quality reviews that will actually help you become a better writer over time.
And if you're lucky enough to get promoted to level 5, the amount you can earn for the articles you write isn't bad.
The purpose of this post is to give you a list of a few other writing sites like Textbroker in case you wanted more options and were looking for something with a similar sort of setup.
I cannot say that any of the sites I'm about to mention are as good as Textbroker, but they might be good to apply with just in case Textbroker or any other site you write for are having article droughts.
Before we begin, you should know that striking out on your own as a professional freelance writer is the most lucrative route, provided you can learn to make it work. However, Textbroker and sites like it are not bad for supplemental income.
4 Sites Like Textbroker
1 – The Content Authority
This site is very similar to Textbroker, but has a few disadvantages.
First off, everyone who applies starts off at the first writing level (lowest pay) regardless of writing quality. As you may know, Textbroker assigns your writing level based on your initial writing sample. People who are really good often get placed at level 4 right off the bat.
It doesn't work that way at The Content Authority. You cannot get your writing level up unless you consistently submit quality content.
However, Textbroker only hires US writers while The Content Authority will accept people worldwide provided they can get paid by Paypal and have a good understanding of the English language. Payments are also made weekly here every Saturday.
Go here to sign up at The Content Authority (if they're accepting writers) or read the Content Authority review.
2 – Writer Access
Another of the popular sites like Textbroker, Writer Access gives you a star rating (two stars through six stars) and the amount you earn is based on that. Writers earn between .014 cents to $.07 per word depending on their star rating. You'll take a test so that Writer Access can determine an initial star rating for you.
This rating can go up over time as you turn in quality work to clients. Writer Access pays twice a month using Paypal, and you have to have at least $10 in your account in order to be paid.
You can go here to sign up at Writer Access or read the Writer Access review (which is need of updating so don't fully trust the info there).
3 – Need An Article
I have no personal experience here, but they do operate similarly to Textbroker.
The pay rate here is between $5 and $10-$12 per article. The exact rate depends on the writing topics and styles. One great thing about this place is that they do pay every week with Paypal.
To apply, you have to go here. Currently they're at capacity, but you can get on their contact list in case this changes. You can also Need An Article review we wrote.
4 – Writer's Domain
Writer's Domain will pay you between $15 and $38 to write articles based on specific keywords for their clients.
They often have openings worldwide. They pay once a month with Paypal on the 5th or whenever your account reaches $100.
Bonuses are possible. Rather than give writers a star rating, editors give each article a star rating. Your pay is then based on that.
You can go here to sign up at Writer's Domain or read the Writer's Domain review.
I hope this list helps you if you were looking for more sites like Textbroker. And if you've never tried Textbroker and  have no interest in earning money writing, it might surprise you. Also, it's nice to receive weekly pay.
For 300 Flexible, Non-Phone Work at Home Jobs: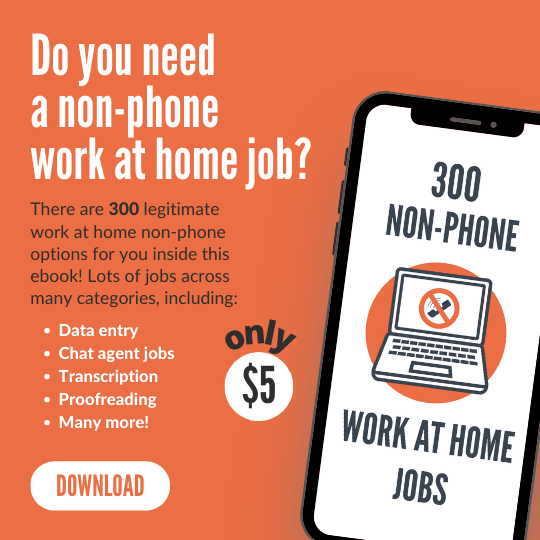 Do you want to work at home but you can't do so using a phone? If so, I have some great non-phone options for you in this ebook. It is only $5!
In this book, you'll find links to 300 companies offering different types of non-phone work at home jobs, including:
Data entry
Chat agent operators
Freelance writing
Transcription
Proofreading
Bookkeeping
Search evaluation
Many more!
Each job listing also has a short summary with any relevant information I can find (pay, what countries it may be open to, etc.).
Good luck to you, and I hope you find this ebook helpful if a non-phone job is what you are looking for.
After payment, you will receive the email containing your download.