iSoftStone is another company that hires home-based workers for search evaluation (similar to companies like Lionbridge, etc.). They do not always have openings and I cannot confirm they are hiring for it now.
They also occasionally have other types of crowdsourcing work like transcription jobs, but this review is primarily focusing on the search engine evaluation position.
iSoftStone has been recruiting people in the US for their search evaluator positions, so this is not something that's open worldwide.
iSoftStone Online Crowd Worker Review
The company is a major IT services provider based in China, but they do have some offices in the United States as well and their clients are located around the globe. The company was founded in 2001.
About the Work
If you're doing the search evaluation, you're going to be ranking keywords and website queries and determining if the results are relevant — just like you might do with other companies like Lionbridge or Leapforce.
I have a more detailed post on search engine evaluation if you want more info on how that works.
iSoftStone Pay For Search Engine Evaluators
Search evaluators earn $13 hourly. This is paid out via direct deposit once a month.
Employee Status
You work as an independent contractor for the company. This is not an employee position.
Schedule and Hours
This is one of those jobs where you can log in and work whenever you want to work, but they do require at least 10 hours per week. You are limited at 25 hours per week total.
The work is project-based — I read on one forum that the search evaluation work for iSoftStone can last six months with possibilities for extensions.
Requirements
You need to be a US resident who is at least 18 years of age or older. No college degree is required for this one — you can get in and start working provided you are able to get through the training and pass their tests.
As far as tech requirements go, you just need high speed internet and a Windows PC running IE version 9 or higher.
Application Process
After you have sent iSoftStone your resume, you may get an email back from them with some information on the first steps which include signing an NDA (non-disclosure agreement).
Once you've sent that back, you should hear from them again with some testing materials for training. You'll need to study up and then take a test. I've read that the entire training process takes anywhere from 1-3 days once you begin it.
If you pass your final test, you should receive a contract from iSoftStone to start work. Note that training is not paid.
Feedback
When this job first started making the rounds, there were some people who were skeptical of it. But it has proved to be legit and many people have worked for the company and been paid since then.
I did find an iSoftStone Reddit discussion here that you can check out to see what some other workers have experienced.
The main complaint I am seeing with this company is slow response times. Apparently it can take a long time (sometimes weeks) when you try to communicate with them via email.
I also received the following negative feedback from an anonymous reader who emailed me, quoted for you below:
I got hired with a contract of 6 months and they terminated my contract in less than a week.

This company is iSoftStone, and the position was as a "Search Engineer Evaluator". The company responded to my application after a long time, then they sent me an initial document that I had to sign and it says that, they will contact me again in 10 days. More than 10 days passed by and I had to emailed them again in order to follow up on my application and, in a couple of days after I received an email from the Project Manager with the instructions for the qualification process.

I passed the qualification process and signed the contract on $14/hr. for 6 months. The P.M indicated me that this was a pilot project and I will work two weeks and I will be off two weeks on each month. Was funny that he didn't mentioned anything on how to settle my payment information so I had to emailed him with that question, so then I got an email with the instruction for it. Kind of odd.

Anyway, I started working… kind of lost at the very beginning but always with the guidance document with me and asking him questions. The communication was lacking, he either answered me back after 2-3 days or I didn't get any answer to my questions in those couple of days. Also, an evaluator had to maintain a score of quality of 0.30 in that tool. Obviously, at the begging I wasn't on that, and he told me that my first week will be ended today Tuesday August 14th, so I started working on last Thursday with an approximate score of 0.78, in the next day I got better to 0.62 and then on Saturday night I had it on 0.55. So I felt like, I was getting there by Tuesday (that was my goal!!) BUT, they didn't have the opportunity to let me finish my first week and terminated my contract on Sunday basing on my bad score and saying that they need excellence since is a pilot project. Never happened this to me before with another remote company. I was like "these people are hiring people every 5 days? And not letting them to finish -at least, their first week?".

On the other hand, they want that the evaluator get "judged" 45-50 queries per hour, and that's kind of impossible to achieve because that means the evaluator has to get almost like a query done by minute and you have to understand the intention of the searcher, analyze the two sides in competition with a bunch of searching results and decide which side is better in order to resolve the query – all of that based on the instruction of the guidance; and besides that, you need to make a comment with an explanation of your decision, that comment varies by each query so you need to write it that every time, like is not like you copy and paste. So, in my experience I got all of that kind of well done in about 3:30 min … and, I consider myself a productive worker.

When I was waking up on Sunday to start working I received the email and the news …
How to Apply
You can go here to apply for the crowd worker positions at iSoftStone.
300 More Flexible, Non-Phone Work at Home Jobs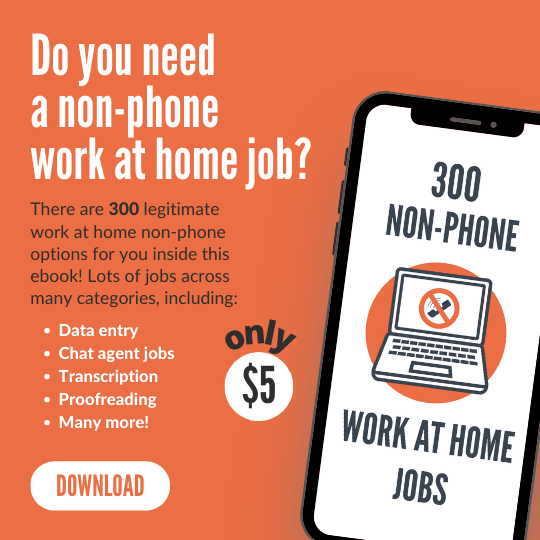 Do you want to work at home but you can't do so using a phone? If so, I have some great non-phone options for you in my latest e-book. It is only $5!
In this book, you'll find links to 300 companies offering different types of non-phone work at home jobs, including:
Data entry
Chat agent operators
Freelance writing
Transcription
Proofreading
Bookkeeping
Search evaluation
Many more!
Each job listing also has a short summary with any relevant information I can find (pay, what countries it may be open to, etc.).
Good luck to you, and I hope you find this ebook helpful if a non-phone job is what you are looking for.
After payment, you will receive the email containing your download.