InteliChek is an interesting money-earning phone mystery shopping opportunity. In a nutshell, you place calls to various businesses from your home phone and earn money. In this Intelichek review, we explain to you how it works.
The best part is that you're NOT trying to sell them anything — instead, you're usually going to be making random inquiries about how much things cost, what hours businesses are open, and if these businesses have certain products available.
You might be calling companies from anywhere in the United States, which is why it's better for you to have unlimited long distance if you decide to try this.
If you've ever looked into work at home phone jobs, then you probably know that companies like Alorica, Live Ops, and many others demand NO background noise whatsoever.
The great part about InteliChek is that background noise is actually desirable because you're essentially doing mystery shopping, and if the person on the other end hears background noise, then they are much more likely to believe that you are a potential customer rather than someone digging up information on them.
So those of you with kids at home could definitely apply for a phone job like this with no concerns, since background noise doesn't matter.
Here's some more info regarding the specifics of InteliChek:
InteliChek Mystery Shopper Salary Info
The mystery shopper salary at InteliChek depends on how many calls or "tasks" you complete. The rates are no longer listed on their hiring page, but pay for beginners used to start at .90 per call/shop and it's wasn't uncommon for some of their workers to bring in $50 to $100 per day. Most calls only take around 3 to 4 minutes to complete, so the money can add up pretty fast.
However, work isn't always available. Sometimes they'll have tasks there to claim and sometimes they won't.
From what I understand, they occasionally send out emails to let workers know when new tasks will be available. I've never done any work for InteliChek myself, so I can't confirm how frequently they run out of tasks.
It's probably not advisable to rely on InteliChek as a sole source of income. However, I do believe that it be an excellent way to earn extra cash for someone who really enjoyed the work.
You work for InteliChek as an independent contractor, so taxes are your responsibility.
They pay bi-weekly via check until you reach three star status, then payment is made via direct deposit.
Additionally, if you earn less than $25 during the pay period, payment frequency is once monthly via check.
Work Requirements at InteliChek
You need to be able to commit to at least 20 hours per week if you decide to apply at InteliChek. You are free to keep any kind of schedule you want as long as you can let them know from week to week when you'll be available.
Applying to Work For InteliChek
InteliChek only considers applicants who are at least 18 years old and either a U.S. resident or authorized to work in the U.S. A U.S. mailing address and bank account are additionally necessary.
High speed internet and an unlimited calling plan are also musts. One great thing about InteliChek is that you can use your cell phone to do your work. Many companies offering phone work from home require landlines, so this is a bonus if you only have a cell phone.
Not everyone who applies will get in. After you email them your resume, you may have a phone interview and shopping test. Once hired, a "producer" monitors your work to ensure it's up to InteliChek's expectations.
If you consistently perform well, the company may promote you to producer level.
Training at InteliChek
After acceptance, there is a training process to complete. Even though the work sounds easy enough, there's still a specific way InteliChek wants you to handle things before you just dive in and start calling businesses.
You can earn more money as you get faster and faster at handling the calls.
What do other people say about InteliChek?
InteliChek is an opportunity I've seen recommended by others, so many people seem to enjoy it. However, I understand that you may want to look into this yourself, so here is a thread I found on WAHM where InteliChek is mentioned.
I also like to check Glassdoor for reviews, and I did find one here that isn't so positive.
How to Apply at InteliChek
If our Intelichek review has you ready to start the application process, you need to email them your resume to info2@intelichek.com. Remember they're not always hiring, so you may not hear back right away.
Their job information page is located here.
For 300 Flexible, Non-Phone Work at Home Jobs: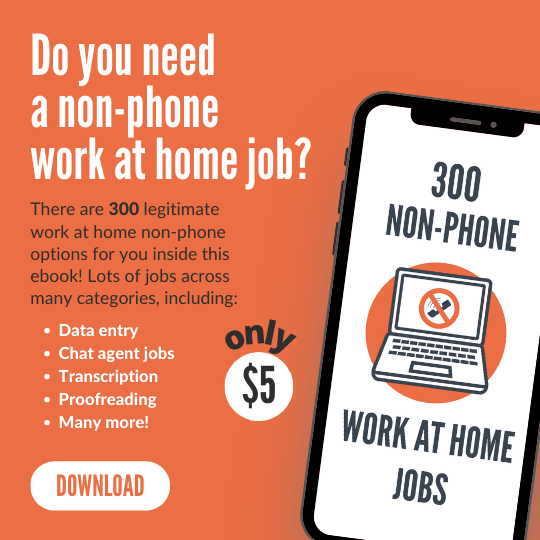 Do you want to work at home but you can't do so using a phone? If so, I have some great non-phone options for you in this ebook. It is only $5!
In this book, you'll find links to 300 companies offering different types of non-phone work at home jobs, including:
Data entry
Chat agent operators
Freelance writing
Transcription
Proofreading
Bookkeeping
Search evaluation
Many more!
Each job listing also has a short summary with any relevant information I can find (pay, what countries it may be open to, etc.).
Good luck to you, and I hope you find this ebook helpful if a non-phone job is what you are looking for.
After payment, you will receive the email containing your download.