Do you love to read books? Is one of your favorite sections of the Sunday paper the book reviews? Would you yourself like to get paid to write book reviews?
Well, here is a list of online work at home companies who are willing to pay you to write book reviews. And while there are tons of different freelance writing niches you could potentially specialize in, writing book reviews may be more fun for you if you like reading!
Which Companies Do Pay Their Book Reviewers Cash?
Let me just say here, while there are many companies proposing that they do hire and pay their book reviewers, not all of them pay cash. Some companies only compensate the reader with a free copy of the book.
There are also numerous scams out there where companies claim to hire book reviewers only to find out that they keep the review and use it to their advantage. Sadly these scammers never pay the reviewer for his/her time.
Some of the companies that I have found (and I am sure I don't have 110% of them) are listed below.
1 – Kirkus
Kirkus is probably the best known for hiring book reviewers. Book reviews must be submitted within two weeks of agreeing to do them, and the review must be about 350 words. The pay will vary based on your experience.
Payment is made by check and mailed 60 days after the review is written and submitted. While the work is enjoyable for most, the work is not dependable and should not be considered a main source of income.
You can read our review of Kirkus to learn more.
2 – Online Book Club
Online Book Club claims to pay and give free books to its book reviewers. You can earn $5 to $60 per review depending upon the book being reviewed. This will be paid to you as well as you will receive a copy of the book for you to keep.
3 – The US Review of Books
The US Review of Books regularly needs freelancers to review books for their publication. You'll need to send a resume, sample work, and at least two professional references in order to be considered as a reviewer. The pay amount for reviews you write is not listed on the website, but it does say you'll get paid monthly with a mailed check.
4 – Reedsy Discovery
Reedsy Discovery is always looking for new book reviewers. The pay for this one is not much — the authors are able to tip you for your time. Most tips are in the amounts of $1, $3, or $5. Looking at the application page, it also appears you may need to have a blog in order to be accepted.
5 – Booklist Publications
Booklist Publications pays $12.50 to $15 for well-written book reviews. They do not accept unsolicited reviews or contributions and will instead assign reviews to be completed. Before sending them a query, they ask that you familiarize yourself with their publications and writing style by signing up to their site and receiving their newsletter. Once you are ready to get in touch, you can email the editor for the types of books you're interested in reviewing (their contact information is on the submissions page linked above).
There is also a large list of book review websites here, although these do not appear to be advertising for new reviewers. Still, you may be able to get in touch with the owners of these websites to see if they need new reviewers.
Contena – This is a job board for freelance writers where you can occasionally find book review gigs that pay fairly. This is not a free job board to access, but they often do offer discounts on monthly memberships. You can use coupon code "ways2earn" at checkout to get 10% off any membership.
Don't Feel Confident You Can Write a Book Review?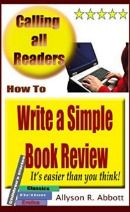 Since most of the above sites are going to want you to actually write a book review after you've read the book, you need to know how to go about it.
It's one of those things that sounds easy until you sit down to actually do it! "How to Write a Simple Book Review" is a highly-rated, inexpensive eBook available on Amazon that will walk you through the process to help ensure writer's block doesn't hit when you get ready to do your review.
In Conclusion
While this may seem like a discouraging list, it really does not need to be. There are opportunities out there if you are willing to look for and pursue them. While book reviewers do not make a lot of money, they do make money while doing something most of them enjoy.
Many times authors will seek out book reviewers for future testimonials, which can lead to greater exposure for the book and future work for the book reviewers.
Another avenue that you might want to pursue as a book reviewer is to offer book review writing as a paid service in your freelance writing or virtual assistant business. You could charge by the length of the review or by the number of pages in the book.
Again, if you really love to read, what do you have to lose? Maybe a little sleep, but most avid book readers have been missing that for years!
Good luck to all who pursue any of these opportunities.
300 More Flexible, Non-Phone Work at Home Jobs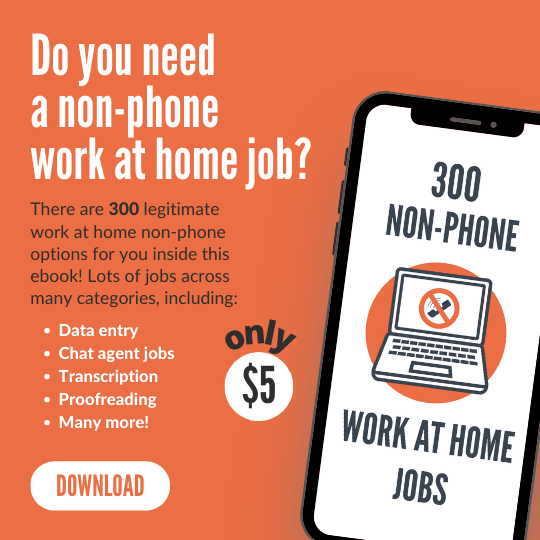 Do you want to work at home but you can't do so using a phone? If so, I have some great non-phone options for you in my latest e-book. It is only $5!
In this book, you'll find links to 300 companies offering different types of non-phone work at home jobs, including:
Data entry
Chat agent operators
Freelance writing
Transcription
Proofreading
Bookkeeping
Search evaluation
Many more!
Each job listing also has a short summary with any relevant information I can find (pay, what countries it may be open to, etc.).
Good luck to you, and I hope you find this ebook helpful if a non-phone job is what you are looking for.
After payment, you will receive the email containing your download.