Extra, extra! Read all about it! We've compiled a list of 7 companies that are interested in hiring remote/work at home writers now. As someone who is a writer and understands that the hustle is real, I know that lists like these are always helpful in a job-or-gig search.
Quick tip: stay on top of said hustle! Make sure you're looking at lists like these and job boards/forums for writers every week for new listings. Time is of the essence as a freelancer, and often, gigs go to whoever is quickest to snatch them up.
Read on to discover our picks for the best jobs to apply for yesterday.
7 Companies Looking For Work at Home Writers NOW
1 – Bustle
Beauty & Wellness Writer
Mic is hiring a remote, part-time writer to cover beauty and wellness for their style vertical.
Coverage includes: trend pieces about topics in skin care, makeup, hair, and body care.
How to apply: Apply directly here.
Pay: No information, but as someone who has written for Bustle and talked to other writers about pay rates within the company, it really runs the gamut.
Basically, you're not going to become a millionaire, as a Bustle/Mic writer, but at least you get to write cool, fun articles most of the time, and you get the prestige of humble-bragging that you're a writer for the publication! Plus, the editors – in my experience, anyway – are a true pleasure to work with.
2 – Tempesta Media
Freelance Writer
This company is looking for a freelance, remote writer to cover health, IT, technology, corporate insurance, tax, business insurance, and many other topics for its clients.
It seems to be a content mill, so pay may not be ideal for many writers, but it has decent reviews on Glassdoor. I'm always wary of content mills, though, so proceed with caution.
How to apply: Apply here.
Pay: Not a lot of information, but pay doesn't seem great – one reviewer on Glassdoor cited $10 for a 250-word webpage, which is pretty abysmal if it's accurate.
3 – Aha!
Writer
Aha! is a roadmap software company – "the world's #1 roadmap software" company, to be exact.
For the Writer role, Aha! does want someone with at least four years of experience in "writing about business, software development, innovation, and/or leadership topics (or equivalent experience." It seems like a highly technical role, so that's something to bear in mind.
How to apply: Apply directly on the company website.
Pay: No info, but the job listing states that they "offer generous salary, equity, benefits, and a profit-sharing program."
4 – Romper/Bustle
Lifestyle Writer
Romper/Bustle is looking for lifestyle writers residing anywhere in the US. They require that you have two years writing or blogging experience, as well as a passion for covering maternity health, parenting and pregnancy topics.
How to apply: Apply here.
Pay: They don't mention pay on the job description, but according to Glassdoor, writers earn around $15 – $17 / hour.
5 – Scribe
Ghostwriter
I'm actually hesitant to write about this job, because I want to apply for it! Scribe seems a bit too good to be true, but it has amazing employee reviews on Glassdoor that seem legitimate, and I like that the job description is so lengthy – not something I'd normally enjoy reading through, but this job is essentially for ghostwriters/editors/interviewers for books, and reading the JD was kind of like reading a novel – in a good way.
If you apply and get it, let me know if Entrepreneur was right, and it really does have the #1 company culture in America. 
How to apply: You can apply using Indeed, LinkedIn, or directly here.
Pay: $60 per hour. Not too shabby! Keep in mind that you do have to have a lot of experience in books or publishing – however, don't let that discourage you from applying! The company wants superstars, and it doesn't seem like they'll hold it against you if you're not James Harper.
6 – WebFX
Full-Time Remote Copywriter & Editor
This is a full-time, salaried position with WebFX – and it's all remote. In this role, you'd be writing a lot of different content, from blog posts to sales copy. Be aware, though, that some former employees have called WebFX a "glorified content mill."
How to apply: Apply at this link.
Pay: It seems like they pay $34-$36/hour, according to Glassdoor, but this statistic is ranked with "low confidence" on the website. The Indeed posting states that salaries start between $31,000-$37,000 annually for a full-time writer.
7 – Shoutvox
Freelance Writer
This suggestion comes with a warning – when you Google "Shoutvox reviews," the first result to pop up is a result regarding freelance writers complaining about salaries.
The "part-time" work is apparently very part-time. I wouldn't say, though, that you shouldn't apply, especially if you just  need some supplemental income.
Also, consider that the linked review is only one review. The company is also asking for only one year of experience in content writing, so that's a definite bonus for an entry-level writer looking to get their feet wet.
How to apply: Apply via the company website here.
Pay:  $18/$30 per hour.
And that wraps up our list. Note that these are time sensitive, so if you view this post after the date we published – 9/16/19 – it goes without saying some of these listing may be expired. However, we will update and republish at a later date with fresh openings!
300 More Flexible, Non-Phone Work at Home Jobs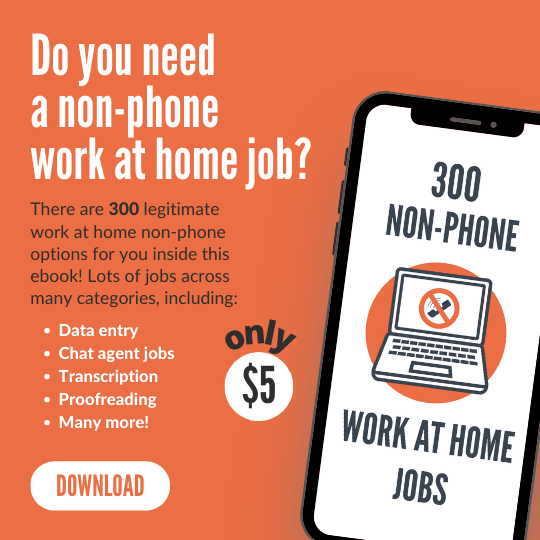 Do you want to work at home but you can't do so using a phone? If so, I have some great non-phone options for you in my latest e-book. It is only $5!
In this book, you'll find links to 300 companies offering different types of non-phone work at home jobs, including:
Data entry
Chat agent operators
Freelance writing
Transcription
Proofreading
Bookkeeping
Search evaluation
Many more!
Each job listing also has a short summary with any relevant information I can find (pay, what countries it may be open to, etc.).
Good luck to you, and I hope you find this ebook helpful if a non-phone job is what you are looking for.
After payment, you will receive the email containing your download.