When I'm hunting down new work at home job leads, I access many excellent sites to find leads. Some of these sites specialize in posting writing job leads, so I thought I would share the best of those sites that I've come across for anyone who writes.
If you're a writer (or want to be a writer), I already have a long list of more than 100 sites you can get paid to write for here. But new writing jobs appear every day from all kinds of sources, not including those.
Some people are looking for writers for short-term projects and then there are several start-up websites & companies that are in search of just a few good long-term writers, and won't necessarily have ongoing openings. The freelance writing job boards are where you're most likely to find those positions.
If you want to branch out and start doing more than writing for content sites, you might want to check these freelance writer's websites for job leads on a regular basis.
Good luck!
Best Places to Search For Writing Job Leads

Good luck in whatever you choose to do!
For 300 Flexible, Non-Phone Work at Home Jobs: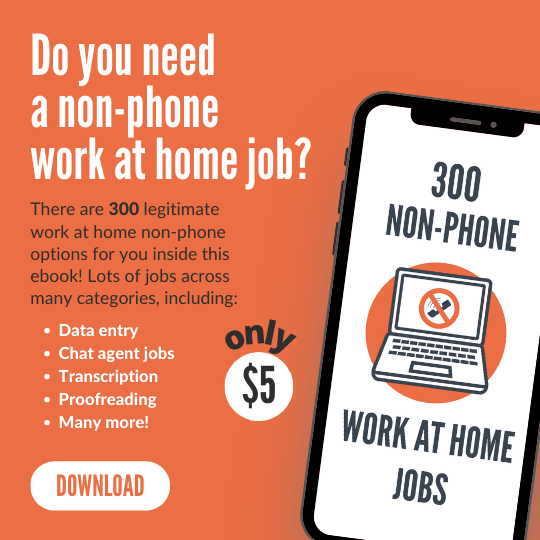 Do you want to work at home but you can't do so using a phone? If so, I have some great non-phone options for you in this ebook. It is only $5!
In this book, you'll find links to 300 companies offering different types of non-phone work at home jobs, including:
Data entry
Chat agent operators
Freelance writing
Transcription
Proofreading
Bookkeeping
Search evaluation
Many more!
Each job listing also has a short summary with any relevant information I can find (pay, what countries it may be open to, etc.).
Good luck to you, and I hope you find this ebook helpful if a non-phone job is what you are looking for.
After payment, you will receive the email containing your download.