There are some unusual ways to make money that are really outside the norm! Things unlike transcription, data entry, writing, etc.
I've definitely come across (and also reviewed some things) that are not very traditional. So I thought this would be a fun post to do since there are so many of them.
Here are 14 unusual ways to make money:
HealthyWage – Read HealthyWage Review – Get paid to lose weight! Basically you place a bet on yourself to lose a certain amount and win the money if you do. Great motivator!
Coupon Chief – Read Coupon Chief Review – Find coupon codes & get paid if someone uses what you found.
National Food Lab – Must live in or near Livermore, CA for this one. Sign up to be a taste tester and get paid to try new foods.
Enter Sweepstakes – Many people enter sweepstakes as a hobby, and it pays off big-time for them every year. The link I shared will take you to my sweepstakes series that I wrote a few years ago which more or less breaks down how you do this.
Amusement Advantage – Read Amusement Advantage Review – A company that will pay you to visit amusement/theme parks (like mystery shopping)
We Go Look – Become a "looker" for We Go Look and get paid to look at things for people (ex. check out a car that's for sale for someone who can't do it or a rental property)
Vayable – Become a city guide for Vayable and make money showing others what you love about your town
SBKC – Read SBKC Review – This company will compensate you for your junk mail.
GoDaddy Auctions – If you're good at coming up with names for websites and businesses, buy them and then "flip" them on GoDaddy Auctions. Clever domain names are often worth a lot of money!
Flippa – And if you know anything about building websites, you can create "turnkey" sites and then sell them at a profit on Flippa.
Stylinity – Read Review – This is an app that makes it possible to profit off of all those selfies you may be taking. Share your unique "look" and earn if anyone purchases the items you're wearing.
Dealspotr – Read Dealspotr Review – Yet another way to get paid for finding and posting deals. I've been a member and can confirm they send your Amazon codes within a few days of your request.
StitchFix – Read StitchFix Stylist Review – This company has regular openings for work at home stylists, so basically you are getting paid to pick out clothes for other people from your home. Note the positions are location-based, but they appear to be expanding to several different locations.
Good luck in whatever you choose to do.
For 300 Flexible, Non-Phone Work at Home Jobs: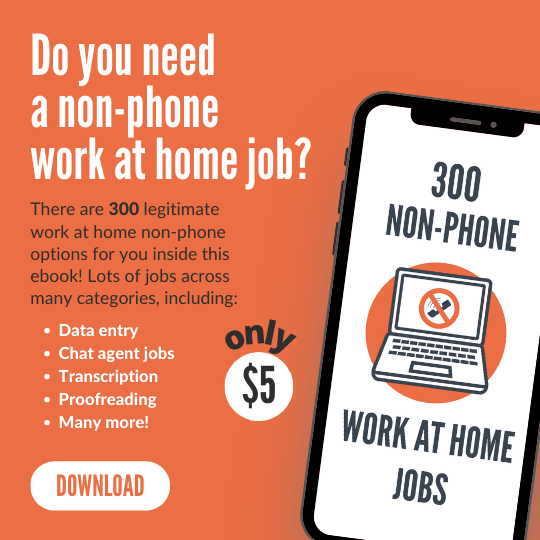 Do you want to work at home but you can't do so using a phone? If so, I have some great non-phone options for you in this ebook. It is only $5!
In this book, you'll find links to 300 companies offering different types of non-phone work at home jobs, including:
Data entry
Chat agent operators
Freelance writing
Transcription
Proofreading
Bookkeeping
Search evaluation
Many more!
Each job listing also has a short summary with any relevant information I can find (pay, what countries it may be open to, etc.).
Good luck to you, and I hope you find this ebook helpful if a non-phone job is what you are looking for.
After payment, you will receive the email containing your download.