If you want to work at home and you also type fast, there are lots of work at home jobs for fast typists you could consider! I know that typing is not everyone's strong suit — but if it happens to be — you do have an advantage since most work at home jobs actually do list a minimum typing speed as a requirement.
Don't type fast? There are options for you, too, but keep in mind typing fast and accurately is something you can practice and get better at over time.
There are plenty of websites you can use for typing practice and to test your speed. Use these websites frequently, and you'll get better and better and qualify for more remote jobs!
I've listed different types of work at home jobs along with specific companies that hire for these jobs where you may have a leg up on the competition if you happen to be a fast and accurate typist.
Work at Home Jobs For Fast Typists
Data Entry
Data entry typically involves transferring data from one medium to another. In most cases, you need to be able to do this quickly and accurately in order to make money since most data entry jobs that are remote pay per piece (although there are exceptions).
Unfortunately, it is pretty hard to find and get hired for remote data entry. This is because it seems everyone wants to do it (it's one of the most searched work at home keywords on Google), and the jobs seem to be few and far between!
I think most people like the idea of data entry because it sounds like pretty easy, mindless work. I've done data entry myself and it can be enjoyable although definitely repetitive.
The companies I've linked below for remote data entry may or may not be hiring at this time, but keep tabs on them if you are interested in doing the work.
Transcription
Transcription work from home involves listening to audio files and then typing out what you hear. It certainly helps to have fast and accurate typing ability for transcription jobs since typing is primarily what you are doing!
In fact, the vast majority of companies require a minimum typing speed prior to considering any applications.
Most transcription work pays per audio hour, which is not the same as a "normal" hour. An audio hour is the length of time it takes you to transcribe an hour of audio. So keep this in mind when looking over the pay rates these companies are offering.
Transcription work from home is almost always independent contractor work. The companies below are usually hiring remote transcriptionists.
Chat Agents
As a work at home chat agent, you will be working to assist the customers/clients of the company you are working for via a chat-based online interface. Chat jobs tend to be appealing to people who are OK with customer service or tech support work, but would prefer not to do so over the phone.
Work at home chat agents do need to be fast and accurate typists so they can respond quickly and professionally to any chat requests they receive through the company interface.
If you are interested in working at home as a chat agent, the following companies sometimes have openings.
Freelance Writing
It goes without saying that as a freelance writer, it's going to help immensely if you can type fast! You want to be able to quickly get out what's in your head onto the computer screen.
Because you are typically not paid hourly as a freelance writer, typing speed may also increase how fast you earn money. Sometimes you may need to be able to crank out 2-3 articles per day. This won't be so easy to do if you are a slow typist.
The following sites are frequently looking for freelance writers to join their teams.
Virtual Assistant
Virtual assistants work at home doing whatever their clients need, and this often means tasks that require fast and accurate typing skills. You may be answering or sending emails, inputting and organizing data, writing articles, or updating social media.
So, it makes sense that you will need to be pretty good with typing to do this job successfully.
If you are interested in working at home for a company that hires virtual assistants, consider the following places that frequently hire.
My e-book, Your Quick Guide to Working at Home as a Virtual Assistant, has 50 companies listed that hire virtual assistants to work from home!
If virtual assisting as a work at home career is of interest to you, there is a ton of information in this e-book to help you get started.
In Conclusion
I hope this list helped you and gave you some ideas if you're a fast typist looking to work from home! Good luck to you in whatever you choose to pursue!
300 More Flexible, Non-Phone Work at Home Jobs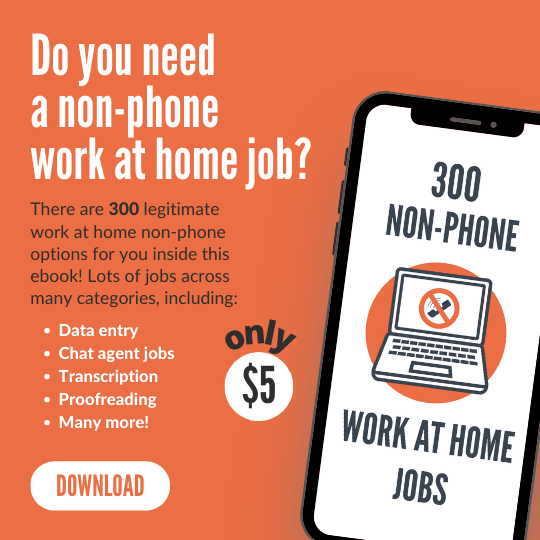 Do you want to work at home but you can't do so using a phone? If so, I have some great non-phone options for you in my latest e-book. It is only $5!
In this book, you'll find links to 300 companies offering different types of non-phone work at home jobs, including:
Data entry
Chat agent operators
Freelance writing
Transcription
Proofreading
Bookkeeping
Search evaluation
Many more!
Each job listing also has a short summary with any relevant information I can find (pay, what countries it may be open to, etc.).
Good luck to you, and I hope you find this ebook helpful if a non-phone job is what you are looking for.
After payment, you will receive the email containing your download.