Do you want to get paid to answer emails, working from home? This is what we are talking about today.
Before I share with you all the ways you can get paid to answer emails from home, I feel I should first warn you that there are LOTS of work at home scams out there claiming you can do this for massive amounts of money.
A lot of people are interested in answering emails from home, as a job, because it sounds like an easy way to earn. And so scammers will take advantage of people searching for these types of jobs.
As a general rule of thumb, if someone is offering you lots of money for what they claim is easy, mindless work, it's probably a scam!
Also, be very wary of anyone trying to get you to pay them to work for them, and don't trust "employers" who try to recruit you over Skype, Google Hangouts, or any other instant messaging systems.
Below are the best ways I've come up with for you to actually get paid to answer emails from your home.
Ways You Can Get Paid to Answer Emails From Home
Customer Service – Email Support
Most people associate customer service work from home with answering phone calls, but keep in mind many customers will send queries via email instead.
For this reason, there are many, many work at home customer service positions that hire people to respond to emails.
Keep in mind that the email-answering may be your sole responsibility or it may be something you do in addition to also responding to chats and phone calls. It will just depend on the company.
Most often, I do see that companies want you to not only answer their emails, but also take phone calls and respond to chats. It's kind of difficult to find a customer service job that is just email support for some reason!
Below, I've listed some companies that regularly hire people to work at home for email customer service. Note these are time sensitive and may not remain open for long!
Virtual Assisting
As a work at home virtual assistant, you can specialize in email management and offer this service to your clients.
There are many, many business owners who get more emails a day than they can handle. So, it makes sense that they may want to outsource the task of answering them.
You can work for yourself as a virtual assistant, or you can work for a company who hires virtual assistants.
As a virtual assistant who works for yourself, you have more control over what services to offer your clients, which means you can be sure that answering emails is part of your services.
If you are working for someone else as a virtual assistant, there's a good chance you will still be spending time answering emails for your clients, but not a guarantee. Each client will have their own specific needs, and each company will ask you to do different things.
The following companies hire work at home virtual assistants on a regular basis:
My e-book, Your Quick Guide to Working at Home as a Virtual Assistant, has a list of 50 companies that hire virtual assistants and provides more information on working for yourself as a virtual assistant if you would prefer to go that route.
Post Your Email Management Services On Freelancer Job Boards
If you don't really think you want to work as a virtual assistant, you can always take advantage of freelancer platforms and advertise your email management services.
You can usually set your own rates on freelancer sites, but it can be hard to get the word out about your services when others are offering the same service.
The idea is that, over time, you'll get good ratings from clients you've helped, and these ratings and reviews will show up on your profile — which leads to more clients and of course more money.
Consider the following job boards for posting your email management services publicly:
Extra Cash Idea – Get Paid to Read Emails
I've posted a lot about rewards sites in the past that pay you for different tasks. Most of these sites are best known for paying you to answer surveys, shop online, do short tasks, and stuff like that.
What you may not know unless you've used these types of sites is that some of them will also pay you to read emails.
This is very, very little money and I'd only recommend bothering with it if you are someone who likes using these types of sites for fun. If you do, you might want to sign up for the ones that pay you to open and read emails.
If you happen to have a separate email from your main email to sign up with, I'd recommend doing that and using it just for sites like this — just in case you happen to get tired of all the emails you will get and no longer have interest in earning a few cents to open and read them.
The following rewards sites are known for paying people a little bit to open and read emails:
I hope this post has given you some ideas for how you can work from home and answer emails! Good luck if you pursue anything listed above!
300 More Flexible, Non-Phone Work at Home Jobs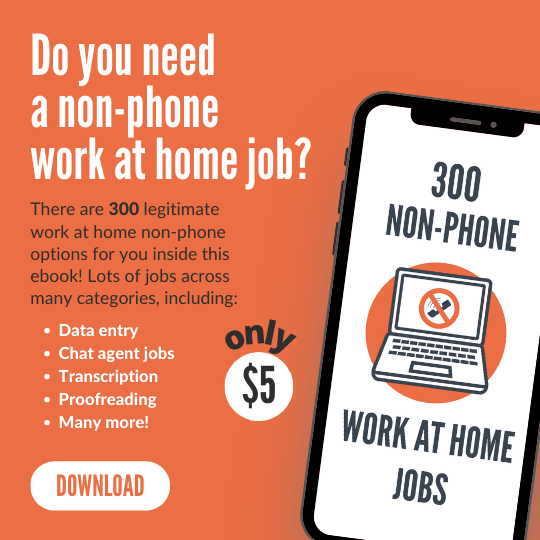 Do you want to work at home but you can't do so using a phone? If so, I have some great non-phone options for you in my latest e-book. It is only $5!
In this book, you'll find links to 300 companies offering different types of non-phone work at home jobs, including:
Data entry
Chat agent operators
Freelance writing
Transcription
Proofreading
Bookkeeping
Search evaluation
Many more!
Each job listing also has a short summary with any relevant information I can find (pay, what countries it may be open to, etc.).
Good luck to you, and I hope you find this ebook helpful if a non-phone job is what you are looking for.
After payment, you will receive the email containing your download.