Do you want to find entry level proofreading jobs online? Whether you are looking to work for someone else as a proofreader or start your own proofreading side gig, we have you covered with the info you need in this blog post.
I see it all the time: folks who have side hustles or passions who want to figure out how they can make a living working from home. My advice is always the same: find out a secondary talent, other than your primary passion, and get even better at it – even so that you can make an income from doing it.
And if you're a type-A personality like me, then entry level proofreading jobs online may be right up your alley.
Working in an entry level position doesn't necessarily mean that you would be working a part-time or ill-paid job; in fact, working as a remote proofreader can be quite lucrative, especially if you're working this job in addition to working another one, or in the case of you owning your own business.
If you're a stickler for proper grammar usage and can proofread in your sleep, then this may be the perfect job for you! Read on to discover how to implement a new career role in this arena.
No Proofreading Experience? No Problem.
To be a remote proofreader, you really don't need to be certified. You don't even need to be certified in most writing functions to call yourself a writer!
And you may have more experience than you think. Have you worked as an administrative assistant and proofread emails for your boss? Or, maybe you're newly out of college and have your English class still fresh in your mind.
If these or similar examples apply to you, proofreading might be a viable option for a work at home career.
Build out your website, and start small – even platforms like Fiverr could be useful to a proofreader who's just starting out.
Other websites you may want to check out that often offer remote work are Freelancer.com and Upwork (see our Upwork review for more details on how that works).
Whenever regular Joes talk to me about freelancing, they usually suggest that I check out Upwork, a service I'm very familiar with.
However, since I've been a paid, professional writer for over 12 years, I've already found that Upwork isn't the best fit for me (though I have heard that some freelancers make their living solely off of the website – and it's a good living, at that!). I've found it's more suited to folks just starting out as freelancers, which could be the perfect fit for you, dear Reader!
Where To Find Entry Level Proofreading And Editing Jobs Online
There are several other platforms out there that are available for remote, entry-level proofreaders to hop onto and see if they can drum up some new clients.
Some of my personal favorites include: Scribe Writing, Edit Fast, and ProofreadingServices.com. All have competitive pay and flexible hours – in particular, ProofreadingServices.com jobs are available to anyone who passes the 20-minute application test.
Then, of course, there's the old-fashioned way, which is to use the aforementioned services (like Upwork or Fiverr), or to simply use Craigslist.
My trick to using Craigslist to find work is to look for remote work in cities with a higher standard of living – cities like San Francisco, Seattle, Los Angeles, New York, etc.
Even if you live in a small town, if a company in San Francisco likes you and thinks that they're getting Small Town USA pay rates, they could meet your hourly minimum at the very least and feel like they're getting a great deal (while you feel like you're getting paid what you're worth!).
Some of the previously mentioned companies may prefer experienced proofreaders, but never fear — that's why we've compiled an additional list of companies that hire entry-level proofreaders (to help you out if you're truly starting from scratch!):
Additionally, I always suggest reaching out to people on LinkedIn to gain insight and feedback on how you can break into the profession.
Find proofreaders whose career trajectories you admire, send them a LinkedIn connection request, and ask if you can have 10 minutes to pick their brains. Networking in any industry never hurts! I believe that before you can journey out on your own, you should learn from the best.
Also, these networking conversations could turn into job opportunities, especially if you're talking to a decision-maker on a director (or even a managerial) level.
Don't be afraid to ask the person you're speaking with if their company is hiring; folks like hiring people they can put a name, face, and voice to, so don't be shy!
Would you rather work for yourself as a proofreader and make MORE money?
Working for yourself is usually the most profitable route to take because you can set your own rates and seek out higher-paying clients.
If you'd like some guidance in doing this, I recommend this FREE 76-minute workshop explaining how to go about starting your own freelance general proofreading side hustle from home.
This webinar was put together by a friend of mine who created her own proofreading side hustle from home, earning $43,000 in her first year!
This is extremely useful information if you're thinking seriously about striking out on your own.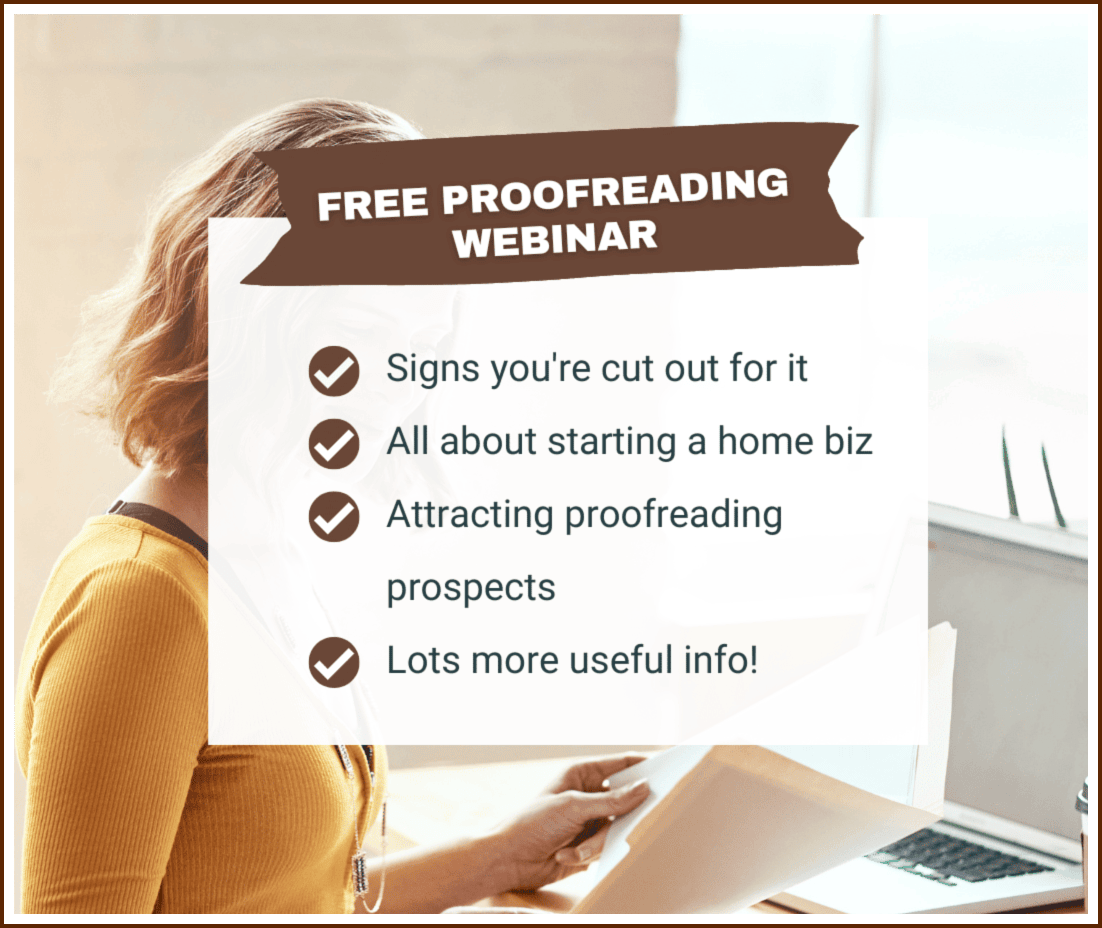 Good luck in whatever you choose to pursue!
Anna Jones is a bicoastal writer, editor, and producer currently living in Atlanta, GA. She is the proud owner of Girl.Copy, a freelance copywriting and editing business that specializes in creating stellar content in the fashion, technology, marketing, and design sectors. She has a husband, human baby, and fur baby that are her favorite parts of any day. She enjoys traveling, reading, and a nice cold Diet Coke while taking an uninterrupted shower. If you want to internet stalk her or make a business inquiry, check out her website at: www.girlcopy.org.