An interesting writing side-gig I came across a while back is with E-Cyrano. They will pay you to write dating profiles for their clients!
This might be for you if you're somewhat familiar with dating sites and apps, have good writing skills, and have a general idea of what a good dating profile looks like.
E-Cyrano is not the only company that will pay you to write dating profiles. I have another list of sites that pay you to write dating profiles. But, E-Cyrano seems to be one of the more well-known ones, and they have been in business for a while now.
Below I have all the details for you if this is of interest to you!
Writing Dating Profiles For E-Cyrano
Who Qualifies to Write Dating Profiles For E-Cyrano?
E-Cyrano doesn't give a huge list of qualifications, so I think this is pretty entry-level. The application page also does not say that you have to be located in the United States, so it's possible you can do this from any country.
Even though it's not stated, my assumption is that you need to be a native English speaker or at the very least fluent in English since the website is entirely in English.
Getting accepted is not exactly easy. It says plainly on their website that they only accept on average one out of every fifteen writers that apply. So even though this is entry-level, you do need to impress them to get this writing gig.
What Is the Application Process Like With E-Cyrano?
E-Cyrano doesn't require a past portfolio of your writing or proof you've written professionally, which is why I said above that it's entry-level.
The only thing E-Cyrano appears to be interested in is your ability to write a good dating profile. To see if you can, they want you to interview a friend and write 2 200-word essays based on the information you've gathered from that friend.
You can see more details at the bottom of this page for more info on how they want you to go about this.
How Much Does E-Cyrano Pay Their Writers?
According to the website, you can earn between $78 and $120 per dating profile you write.
I was not able to find any information on the method of pay or frequency of pay.
Is This a Side-Gig Or Could You Depend On It Full-Time?
The application page says that most of their writers take on just 1-2 clients per week.
While earning between $78 and $120 per profile (most of which don't exceed more than 200 words or a few paragraphs) is good money, it's still not enough to live on with only a few clients per week.
So, if you're accepted to write for E-Cyrano, I'd consider it a good side-gig but not expect to be able to live on that income.
If you're interested in making a living with freelance writing, it's a good idea to have other clients. We have a big list of sites that pay you to write here.
What Do Other E-Cyrano Writers Say About the Work?
I did not find much online at the usual spots — Glassdoor and Indeed — when looking for reviews.
However, I did find an article written by an E-Cyrano writer about how to create a great dating profile for yourself. She confirms she wrote for E-Cyrano and had some great tips, so it's worth a read if you'd like to write for them.
How To Get Started
If you are interested in writing dating profiles for E-Cyrano, go here to read all the information and get started.
Good luck!
300 More Flexible, Non-Phone Work at Home Jobs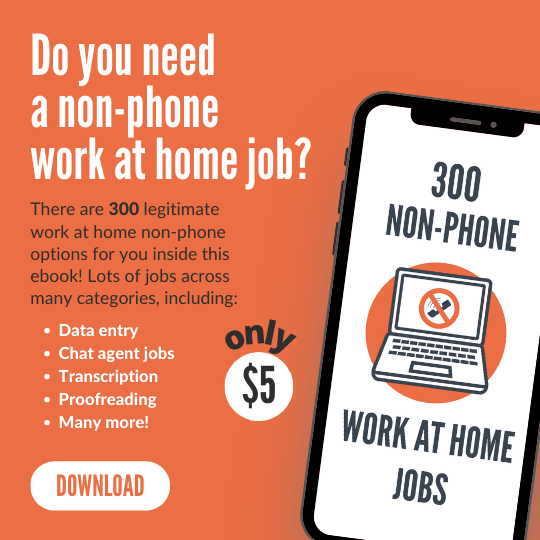 Do you want to work at home but you can't do so using a phone? If so, I have some great non-phone options for you in my latest e-book. It is only $5!
In this book, you'll find links to 300 companies offering different types of non-phone work at home jobs, including:
Data entry
Chat agent operators
Freelance writing
Transcription
Proofreading
Bookkeeping
Search evaluation
Many more!
Each job listing also has a short summary with any relevant information I can find (pay, what countries it may be open to, etc.).
Good luck to you, and I hope you find this ebook helpful if a non-phone job is what you are looking for.
After payment, you will receive the email containing your download.