Dion Data is a legitimate data management service bureau who hires home contractors for data entry jobs. They've been around since 1999.
How much does Dion Data pay?
There is no public pay rate available for this company. However, I did discover that Dion Data pays per piece/document rather than per word or keystroke as many other data entry companies do.
How often does Dion Data pay and what method do they use?
As of 2007, Dion Data paid their workers once every two weeks with a paper check. No idea if this is still the case, but that's the most recent info I could find. Would really appreciate it if anyone who has worked for this company recently could update me on this if it has changed!
What are the requirements to work for Dion Data?
You have to be able to type at least 60 words per minute and have a good understanding of how to use computers for basic things like navigating the Internet, emailing things with attachments and downloading files.
How does the application process work?
Dion has an application on their website you can download and fill out. They just want to know basic information about you as well as a little about your past work history, country of residence, and your typing speed.
They get a lot of applications and state that they cannot respond to all of them. You are free to apply again with this data entry company if you haven't heard back from them in a month.
Does Dion hire workers who live outside the United States?
When you apply, you must state if you're a U.S. citizen and whether or not you're legally eligible to work in the U.S. if you're not a citizen, so I'm guessing they do. You just have to be able to work here legally.
What do other people say about working for this data entry company?
Other people really seem to like the job, and I think the fact that they hire so rarely is a good indicator that they have a low turnover rate. Most workers seem satisfied with pay, although the rate isn't publicly available.
I can find almost no negative comments about working for Dion Data, which is a rare thing. There are lots of other data entry companies out there, many with poor feedback.
Is applying to Dion Data worth it?
If you want to do data entry, I think it is worth it. However, don't get too discouraged if you don't hear back immediately — just apply again.
Many people apply every year with Dion Data and finally manage to make it, and there are also people who apply and hear back ASAP. So you never know! But yes, I think it's very much worth your time to apply here if you want to do this sort of work.
Visit Dion Data's website to learn more about the company and get started on your application.
For 300 Flexible, Non-Phone Work at Home Jobs: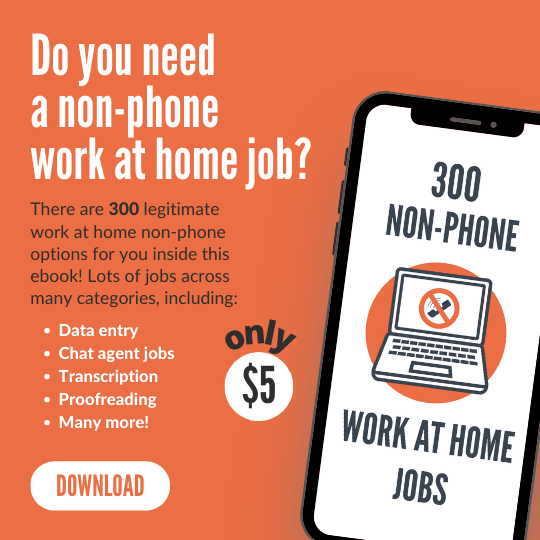 Do you want to work at home but you can't do so using a phone? If so, I have some great non-phone options for you in this ebook. It is only $5!
In this book, you'll find links to 300 companies offering different types of non-phone work at home jobs, including:
Data entry
Chat agent operators
Freelance writing
Transcription
Proofreading
Bookkeeping
Search evaluation
Many more!
Each job listing also has a short summary with any relevant information I can find (pay, what countries it may be open to, etc.).
Good luck to you, and I hope you find this ebook helpful if a non-phone job is what you are looking for.
After payment, you will receive the email containing your download.