Have you ever dreamed of doing something in television production? Are you tired of working just phone jobs? Are you an accurate typist? If so, keep reading about the exciting opportunity to become a freelance captioner at Ai-Media.
What Exactly is Ai-Media?
Ai-Media is a company that hires freelance captioners to work on the captioning for television, movies, YouTube videos, and other sources of production which need captioning.
Ai-Media provides the captioning platform and all of the tools, so you will not have to purchase your own captioning software.
Almost anyone who has cable has heard of closed captioning. It is the text at the bottom of the screen that appears when someone in the video or movie is talking.
Closed captioning is not only used for those who are hearing impaired, but also for those whose native language may not be English. Closed captioning can also be turned on or off by the viewer; whereas, open captioning cannot be turned off.
With locations in the United States, the United Kingdom and Australia, Ai-Media operates with the belief that every piece of content should be accessible to everyone – one word at a time.
What Special Skills Do You Need to Become a Captioner at Ai-Media?
The main skill is to have a good command of the English language both formally and colloquially. Then you should be able to type the time length of the clip or screen, so that the piece flows smoothly from one screen to the next. If you like transcription, then this might be something else for you to try.
Outside of a good command of the English language, you will need a computer and Internet connection.
How Long Is Training For You to Become a Captioner at Ai-Media?
Training is usually only one day for about 4 to 6 hours. It is fast paced and there is a lot to learn. Training is unpaid, but most do find the work and the training interesting.
How Much Can You Make as a Captioner at Ai-Media?
Their website states that you can make $27 to $42 per video hour. Now, a video hour is not the same as an actual hour (60 minutes).
For every video hour you commit to, you will put in approximately a total of about three hours for the typing, editing, research, and replay.
The good news is that you can set your own hours and work around any other commitments or work-at-home jobs that you may have.
Does Ai-Media Hire Outside of the United States?
Yes, as well as the United States, Ai-Media employs people throughout the United Kingdom and Australia. As for hiring in other countries, they currently are not hiring outside of the three previously mentioned.
What Do Others Say About Ai-Media?
The reviews on Glassdoor are mixed. There are the not-so-good reviews that complain of the low pay and lack of training, and then there are the good reviews on that rave about work enjoyment and flexibility.
As always, read them for yourself and decide if this opportunity is for you.
How Would An Interested Individual Apply at Ai-Media?
Simply go to their website here to check their current openings.
Good luck to all who apply.
For 300 Flexible, Non-Phone Work at Home Jobs: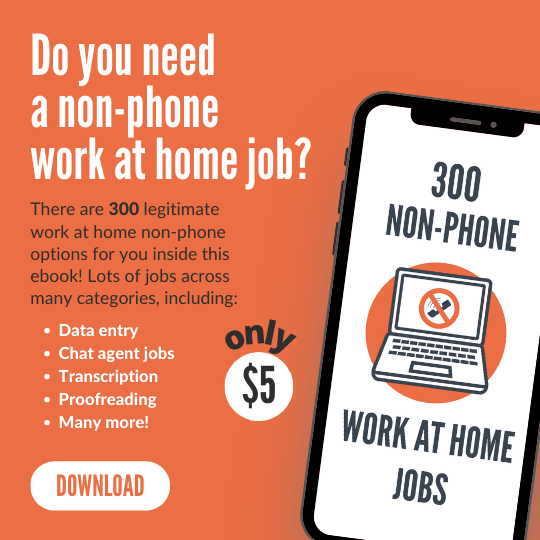 Do you want to work at home but you can't do so using a phone? If so, I have some great non-phone options for you in this ebook. It is only $5!
In this book, you'll find links to 300 companies offering different types of non-phone work at home jobs, including:
Data entry
Chat agent operators
Freelance writing
Transcription
Proofreading
Bookkeeping
Search evaluation
Many more!
Each job listing also has a short summary with any relevant information I can find (pay, what countries it may be open to, etc.).
Good luck to you, and I hope you find this ebook helpful if a non-phone job is what you are looking for.
After payment, you will receive the email containing your download.