There is a work at home scam that's been floating around for years that I still see on occasion, and it's one of the worst — the package shipping scam. This is very similar to the check cashing scam, only much worse with more legal repercussions.
What is the package shipping scam?
You see an advertisement for a work at home job that sounds pretty easy with good pay.
All you're expected to do is receive packages at your home (which might be anything … electronics, DVDs, who knows) and then reship those packages to someplace else (possibly overseas). You're told that you'll be paid a flat rate per package sent.
The work will sound pretty easy and the pay fair, which is why so many people fall for it.
But what many people don't ever ask themselves is, why would this company need me to do this for them? If they're going to go to the trouble to ship the packages to me, why can't they just ship it themselves?
And it's at that point that the big red warning flags should always go up!
What You're Actually Doing
If you fall for this scam, you could actually be shipping stolen goods or goods purchased with stolen credit card numbers.
The people "hiring" you to do this don't want anything traced back to them, so instead they mislead innocent people who just want home-based jobs.
The scammers make it so the packages comes to your house initially, not theirs. This way the person who will get in trouble with the law is you, not them!
And they will still get to keep their stolen merchandise because they tricked you into forwarding the package on to them.
But when the police come knocking, they'll come to your door first.
And they may never even find the real criminals because chances are good that the address you were told to forward the package(s) to is either a PO box or someplace overseas — making the crooks basically untraceable.
Scammers are Smart
Innocent people have actually gone to jail for this, so don't let it happen to you! The criminals will go to great lengths to make themselves look like a legitimate company.
But no matter how legit they appear on the outside, you have to wonder why they would want you to ship packages for them.
There's just no way around the fact that if they could have something shipped to you, they could just go ahead and ship it to the place they're asking you to forward it on to. Something like that should always seem fishy.
Scams like this are still out there and people still fall for them all the time. Actually, it's a big part of what gives work at home it's negative reputation.
Nowadays there are actually lots of legitimate home-based jobs, but several years ago there weren't — but scams like this were absolutely everywhere.
Have you been scammed?
If you are currently in the middle of a shipping scam, there are some things you can do. For starters, don't ship those packages!
Contact your local authorities and explain what's going on. Forward any correspondence you have from the "company" to the police — anything that would help track them down.
Also, definitely don't cash any checks you've been sent as payment for shipping packages because you could get into legal trouble again for cashing fraudulent checks. If you've already been shipping packages, don't ship any more and again, contact the police.
You should also contact the FBI Internet Crime Complaint Center (IC3) with the details.
For 300 Flexible, Non-Phone Work at Home Jobs: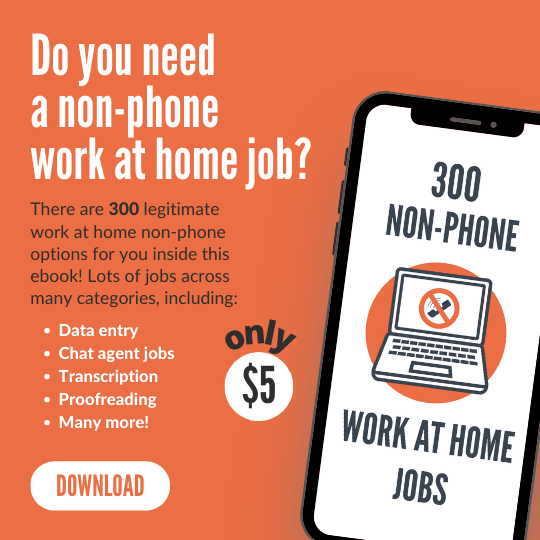 Do you want to work at home but you can't do so using a phone? If so, I have some great non-phone options for you in this ebook. It is only $5!
In this book, you'll find links to 300 companies offering different types of non-phone work at home jobs, including:
Data entry
Chat agent operators
Freelance writing
Transcription
Proofreading
Bookkeeping
Search evaluation
Many more!
Each job listing also has a short summary with any relevant information I can find (pay, what countries it may be open to, etc.).
Good luck to you, and I hope you find this ebook helpful if a non-phone job is what you are looking for.
After payment, you will receive the email containing your download.