Do you have a passion for teaching children? Do you relish the use of the English language? Do you enjoy making a difference in the lives of those children? Then keep reading, because you are about to be introduced to an online teaching platform/company called SayABC.
What Exactly Is SayABC?
SayABC is an online ESL (English as a Second Language) platform that allows English teachers, who are also native speakers, to interact and teach English to Chinese children.
These children are between the ages of 5 to 12 years old, which is the age that most experts agree the brain is more receptive to learning a new language.
At SayABC, online teachers are hired as independent contractors who will be trained to use a 1 to 4 tier interactive classroom. The proprietary curriculum is provided and is designed to make learning English both fun and continuous.
Should your application gain acceptance at SayABC, you will be using two main propriety programs known as Our World Readers and Our World to teach and interact with the students. Our World Readers was designed to be an enjoyable introduction to reading stories in the English language.
These stories are a combination of storytelling, folktales, myths and legends as well as non-fiction works—all a part of understanding the English language and the native English-speaking culture.
Our World's materials combine interesting facts and information about the world in which we live. National Geographic has formed a partnership to provide images and videos. Young minds are exposed to:
English language presentations with ongoing practice
Songs and games
Videos and gaming activities
Developing and understanding global values
Does SayABC Hire in Other Countries?
Yes, they are beginning to expand to other countries, both to hire new teachers and to take their platform to other parts of the world.
Originally, an emphasis was placed on teachers from the United States and students from China, but now teachers can be interacting with students from Japan, Singapore, South Korea, and parts of the Middle East. Also, teachers are now being hired within Canada and Australia.
What Are the Educational Requirements to Work at SayABC?
The educational requirements to work at SayABC:
A native English speaker
Educated with at least a Bachelor's degree or above
Equipped with a minimum of one year's teaching experience
With a closer examination of these requirements, if you do NOT have at least a Bachelor's degree, but are an education major with a year or less to graduate, then you may also be considered as a fit for SayABC.
What is Training Like at SayABC?
Once you apply online, successfully go through the interview, and sign the consulting agreement, you will attend an orientation and evaluation class.
Upon your acceptance, you will sign a 3-month contract, after which, contracts are renewed with the exception of the student teachers, who are hired for a less than three months at a time.
The website was not clear as to whether or not training was paid, but it does look like there are incentives should you get through the entire application process and begin working.
What is the Pay Like at SayABC?
The say you can earn up to $19 per hour.
Lessons are booked 24 hours in advance with protocols in place for substitute teaching when the scheduled teacher has to cancel. Preference is also given to teachers who can teach consecutively for nine straight days minus Saturdays and Sundays.
What Are the Hours Like and How Flexible Are They?
Classes are held in Beijing Time (GMT +8). If you want to see how the times convert to your time zone, Timebie is a free online conversion tool. Most teachers are given the freedom to set the majority of their schedule.
Monday – Saturday:
6:00 PM – 6:40 PM
6:50 PM – 7:30 PM
7:40 PM – 8:20 PM
8:30 PM – 9:10 PM
Saturday's Extended Hours:
9:50 AM – 10:30 AM
10:40 AM – 11:20 AM
Sunday:
9:50 AM – 10:30 AM
10:40 AM – 11:20 PM
6:00 PM – 6:40 PM
6:50 PM – 7:30 PM
7:40 PM – 8:20 PM
What Are the Equipment Requirements to Work at SayABC?
You must have a hard-wired computer or laptop with high-speed Internet and audio/video capabilities.
You must also have a webcam and a headset with a microphone attached. Currently their platform only works with Google Chrome and does NOT work with mobile devices.
What Do Others Say About SayABC?
Glassdoor has given them a 4.4 out of 5 star rating on their reviews, if you'd like to read about what others have said about their experiences working at SayABC.
How Can Interested Individuals Apply to SayABC?
Go to their website and click on the apply button up at the top navigation bar. Good luck to all who pursue this opportunity.
For 300 Flexible, Non-Phone Work at Home Jobs: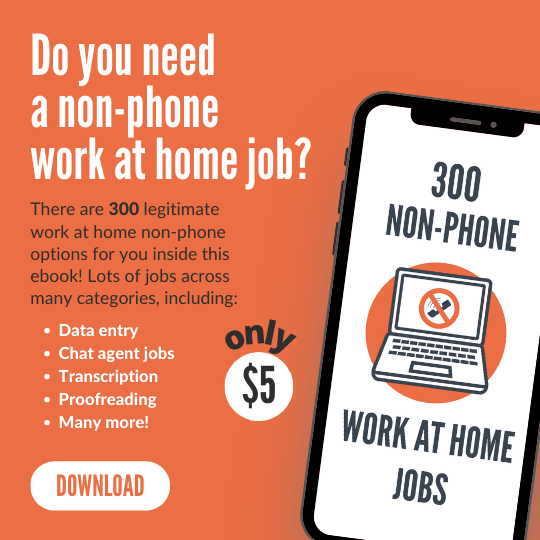 Do you want to work at home but you can't do so using a phone? If so, I have some great non-phone options for you in this ebook. It is only $5!
In this book, you'll find links to 300 companies offering different types of non-phone work at home jobs, including:
Data entry
Chat agent operators
Freelance writing
Transcription
Proofreading
Bookkeeping
Search evaluation
Many more!
Each job listing also has a short summary with any relevant information I can find (pay, what countries it may be open to, etc.).
Good luck to you, and I hope you find this ebook helpful if a non-phone job is what you are looking for.
After payment, you will receive the email containing your download.