I admit I am not much of a "write it down" type of person. I do pretty much all of my goal-setting and planning online. I even have a goal-setting section on the spreadsheet I use for a lot of blog-related things because I would honestly rather type things out than write them down.
However, I realize I may not be in the majority here. I know many people love keeping planners, calendars, and prefer to write out goals. Some people just need to actually write something down rather than keep it filed away digitally to make it seem "real."
So with all of this in mind, I've done some searching around to find you a list of FREE goal-setting worksheets you can download and print out today to try and get yourself on the right foot with getting organized, staying focused, and reaching your work from home and other goals this year.
1 – Free Printable Goal Worksheet – Just a Girl and Her Blog has a nice free printable goal worksheet that has sections for listing five goals, action steps, and deadlines. You can also list your priorities and words to remember when you feel like giving up.
2 – Monthly Goal Worksheet – This one is offered by Passion For Savings. Nicely laid out, with a place to write in the month and then list your goals, a deadline for your goals, and a place to check off when your goal has been reached.
3 – Printable Goal Tracker – This worksheet offered by My Love For Words is laid out a little differently. It's more like a spreadsheet where you can list your goals for the month down one side and then go across and check off every day that you accomplished it that month.
4 – The Ultimate Goal Planner – This is from Handmadeology. Unlike the ones I've listed above, this is a goal planner with multiple pages to print out. It's a lot more involved.
5 – Ready-to-Print Goal Sheet – This goal sheet is available at the Lets-Get-Together blog. I love this one because it has different sections for daily, weekly, monthly, and long-range goals on one sheet.
6 – Daily Goals Free Printable – This goal sheet is offered by the Neat House, Sweet Home blog. It's printable sheets for every day and you can write in your goals for each day along with things you don't need to forget to do.
Want to find even more of these?
Etsy is a great resource for goal-setting printable worksheets along with other types of printables. While not free, many of them are beautiful and it's likely you could find exactly what you're looking for.
Good luck.
300 More Flexible, Non-Phone Work at Home Jobs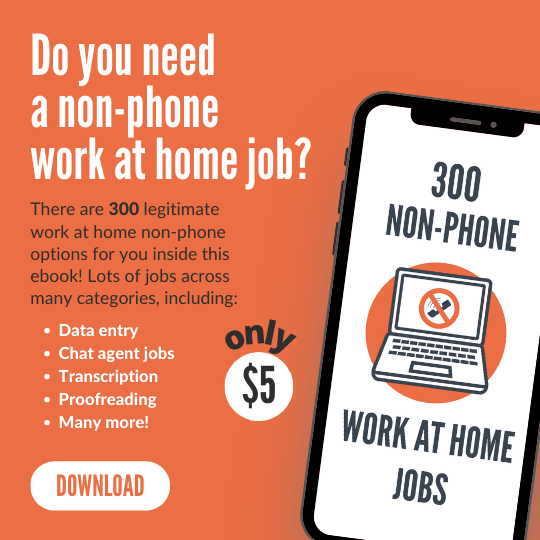 Do you want to work at home but you can't do so using a phone? If so, I have some great non-phone options for you in my latest e-book. It is only $5!
In this book, you'll find links to 300 companies offering different types of non-phone work at home jobs, including:
Data entry
Chat agent operators
Freelance writing
Transcription
Proofreading
Bookkeeping
Search evaluation
Many more!
Each job listing also has a short summary with any relevant information I can find (pay, what countries it may be open to, etc.).
Good luck to you, and I hope you find this ebook helpful if a non-phone job is what you are looking for.
After payment, you will receive the email containing your download.