One question I get from some newsletter subscribers is, "Why aren't there more jobs posted for my country?"
Our audience is over 90% US based, so we do naturally find and post more jobs for people in the US. We do make an effort to post worldwide jobs, but there is simply not enough time for us to seek out and post jobs for people in every country.
That said, I want to share with you a quick tip that may help if you if you want to do some searching on your own for jobs in your country.
1 – Visit Indeed.com
Go to Indeed. This is the number one website we use for seeking out work at home jobs. There are other good resources like FlexJobs and Glassdoor, but Indeed is basically the Google of job-searching sites.
2 – Go to the bottom of the Indeed website and find the link that says "Countries"
Scroll all the way to the bottom of the website and click the link for "Countries." This will take you to a page with Indeed's dedicated searching for many different countries.
They do not have every single country in the world listed, but they do have many.
The countries list is in alphabetical order, starting with Argentina and ending with Vietnam.
3 – Click the link for your country if it's there.
If you see your country on their list, click it, and it will take you directly to the job search page for your country. Any searching you do there will only pull up jobs for your location.
4 – Use work at home related keywords.
In the search field, be sure to type "work at home" or "work from home" or "remote" in the search box. This will ensure that you are only pulling up jobs that are home-based.
You can use the filtering options Indeed offers to narrow things down to just work at home, but I find it's really more effective to always use the keywords.
5 – Start scrolling until you find a job you want!
Then, just start your search. You'll probably find some options that may work for you. Begin applying.
I recommend checking Indeed every single day. It's updated multiple times per day with new listings. You never know what you are going to find!
In the meantime, we will keep seeking out new work at home job postings and putting them on this page.
We do list worldwide options almost daily although there are not as many as we'd like to post, again, due to time constraints and the fact our audience is over 90% US based.
We wish you the best of luck in finding a remote job in your country!
300 More Flexible, Non-Phone Work at Home Jobs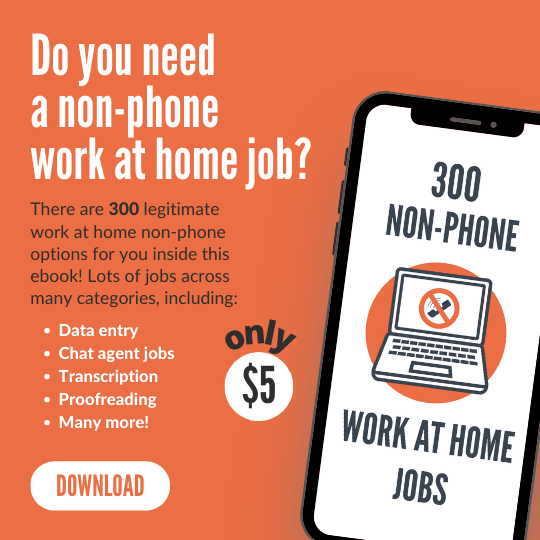 Do you want to work at home but you can't do so using a phone? If so, I have some great non-phone options for you in my latest e-book. It is only $5!
In this book, you'll find links to 300 companies offering different types of non-phone work at home jobs, including:
Data entry
Chat agent operators
Freelance writing
Transcription
Proofreading
Bookkeeping
Search evaluation
Many more!
Each job listing also has a short summary with any relevant information I can find (pay, what countries it may be open to, etc.).
Good luck to you, and I hope you find this ebook helpful if a non-phone job is what you are looking for.
After payment, you will receive the email containing your download.