I often review various websites that pay you to write. These have mostly been content sites/mills that have regular assignments available that you can grab and work on at your leisure.
Most of those sites don't pay all that well, although they are good to have access to for when you need money in a pinch.
Today, I thought it might be fun to make a list of blogs that pay you for guest posts! As you know, most sites do not pay you for guest posting.
Your reward is usually considered the byline at the end where you can promote your own site or services.
But there are some sites that not only pay for guest posts, they pay pretty well for guest posts.
Even though guest posts are usually either one-time or very occasional writing opps, they are great for getting your name out there and boosting the rank of your blog or website if you have one.
Also, there's no guarantee that the following sites will accept your submissions. If they don't, try not to get discouraged — you can always submit your work someplace else. Some of the sites below will allow you to have a byline and some won't.
Note that if the link is removed below, it just means that we discovered the link was broken (starting going to a non-working page). This usually happens if the company has decided to stop accepting writers. We will replace these as time allows.
Sites That Pay You For Guest Posting
ACHS – 

Submit a blog post of 600-1000 words plus at least three photos on your favorite topic related to holistic health and wellness. Compensation is $50 if your post is published.

BootsnAll – Pays up to $50 for indie travel articles.
Cracked – Always open to guest post submissions on TV, movies, music, video games, etc. Compensation amount not listed.
Dollar Stretcher – Frugal living site that will pay for some guest posts. This site will not give you a byline linking back to your own site if you are paid.
Dropzone – Sky diving articles. It appears they pay, but the compensation rate isn't listed.
Elite Personal Finance – Claims to pay between $30 and $100 for personal finance articles.
Read. Learn. Write – Pays $50 a post for personal experiences with reading, learning, and writing.
Your Online Biz – Currently offering $100 for quality guest posts.
BlogPaws – Pays $75 for accepted contributions.
I'd love to keep adding sites to this list! If you know of any other blogs or websites that are currently paying for guest posts, please let me know and I'll try to get those added.
For 300 Flexible, Non-Phone Work at Home Jobs: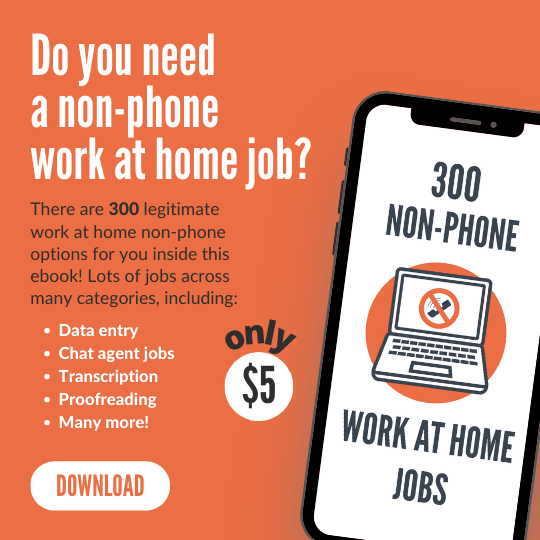 Do you want to work at home but you can't do so using a phone? If so, I have some great non-phone options for you in this ebook. It is only $5!
In this book, you'll find links to 300 companies offering different types of non-phone work at home jobs, including:
Data entry
Chat agent operators
Freelance writing
Transcription
Proofreading
Bookkeeping
Search evaluation
Many more!
Each job listing also has a short summary with any relevant information I can find (pay, what countries it may be open to, etc.).
Good luck to you, and I hope you find this ebook helpful if a non-phone job is what you are looking for.
After payment, you will receive the email containing your download.