Are you a fiction writer, or are you interested in getting paid to write fiction apart from self-publishing? If so, I have some remote job opportunities that are open right now that you may want to check out.
The jobs listed below are all pretty different from each other and require varying skillsets and levels of experience. But if you enjoy writing fiction and want to find a way to earn doing just that — without waiting on your latest book to take off — these may be of interest to you.
Good luck if you apply for anything I've listed below.
4 Work at Home Opportunities For Fiction Writers
1 – eGlobal Creative Publishing
eGlobal Creative Publishing is currently looking for writers to write on fiction genres such as Contemporary Romance, Fantasy, Werewolf/Vampire Fantasy, Video Games, Fantasy Romance, Sci-fi, Mafia Romance, LGBTQ or Forbidden Romance.
According to the job description, you are free to make your own schedule. You must be able to write at least 2000 words per day.
Rate of pay is not listed, but the Indeed salary estimate shows at minimum $33,000 per year.
Go here for more details and to apply.
2 – The Third Cartel
The Third Cartel is looking for sequential writers and screenwriters for their various comic book projects. They only want current students or graduates of a Screenwriting or English program at this time.
Pay for this position is listed at $750 a day. A writing sample is required, and this is a temporary position.
Go here for more details and to apply.
3 – Pixelberry Studios
Pixelberry Studios is currently looking for experienced writers to work on contract, delivering content for their hit mobile games.
Pay rate is not listed but is said to be competitive. You will receive your pay on delivery of assigned chapters (with each chapter being around 5000 words).
Go here for more details and to apply.
4 – HotGhostWriter
Update 9/25/22 – I've been informed by someone that this company is going through a bit of a crisis and not paying their writers at the moment. I'll update this if that changes. So this may not be a great time to apply with this company.
HotGhostWriter has an ongoing need for freelance ghostwriters to complete books for their many clients. This is full-time, paid freelance writing work.
Pay is listed at $2,000 per month. So for most of you, this would be supplemental income.
You must be a native English speaker residing in the US, UK, Canada, or Australia.
Go here for more details and to apply.
Where To Find More Fiction Writing Opportunities
If nothing above is a fit for you, here are some places to check for even more fiction writing opportunities:
1 – Upwork
I am always seeing job postings on Upwork for fiction writers and ghostwriters for various projects. Note that with this site, you have to create a profile and bid on projects to win them for work in most cases.
View the fiction writing opportunities open now on Upwork.
2 – Indeed
I searched Indeed to find the jobs listed above. If you want to check daily for fiction writing jobs on Indeed — and I recommend doing that — just use the keywords "fiction writer" or "fiction author" and see what comes up in search.
Go here to search Indeed for fiction writing jobs.
3 – FlexJobs
FlexJobs is a great resource for many types of remote and flexible jobs, and you will frequently find fiction/creative writing jobs posted there.
While there is a monthly fee to keep access to their listings, you never need to worry about scams, ads, or other junk. It's very easy to browse.
It's $14.95 a month for a membership, or you can use promo code AFFILPROMO to get 30% off of that.
Go here to preview the creative writing jobs open now on FlexJobs.
We hope this post has helped you if you are looking for ways to work at home as a fiction writer!
There's also a big list of 70 writing sites here that are frequently looking for writers if you're interested in doing other types of writing from home.
300 More Flexible, Non-Phone Work at Home Jobs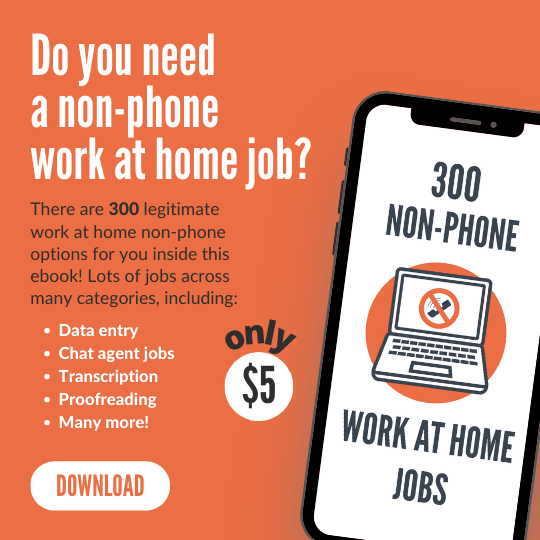 Do you want to work at home but you can't do so using a phone? If so, I have some great non-phone options for you in my latest e-book. It is only $5!
In this book, you'll find links to 300 companies offering different types of non-phone work at home jobs, including:
Data entry
Chat agent operators
Freelance writing
Transcription
Proofreading
Bookkeeping
Search evaluation
Many more!
Each job listing also has a short summary with any relevant information I can find (pay, what countries it may be open to, etc.).
Good luck to you, and I hope you find this ebook helpful if a non-phone job is what you are looking for.
After payment, you will receive the email containing your download.