Are you a licensed therapist looking to work from home? Luckily, thanks to the boom of telehealth in recent years, there are plenty of opportunities available.
Many people who struggle with day-to-day life or suffer from mental health issues want therapy but are unable — or lack the desire to — leave home to get it.
Thanks to telehealth jobs, I've been seeing many remote job openings for therapists, counselors, and more from companies that provide online platforms for these types of services.
So if you have the required education, experience, and licensing to do mental health work, keep reading to see what's open now. It's worth mentioning in advance I'm noticing most of these are independent contractor roles.
5 Work at Home Jobs in the Mental Health Industry
1 – BetterHelp
BetterHelp is always looking to add social workers, marriage & family therapists, mental health counselors, professional counselors, and psychologists to their roster. You must be located in the US to qualify.
With BetterHelp, you are free to work full- or part-time hours. They take care of client referrals and billing details.
Per the BetterHelp website, you must be licensed by a State Board to provide therapy (e.g., LCSW, LMFT, LPC, PsyD, or similar credentials). Unfortunately, if you are an intern or require supervision to provide therapy services, you cannot be a provider at BetterHelp at this time.
Also, they are unable to accept substance abuse therapists, school therapists, registered nurses, career therapists, Christian therapists and business/life coaches (unless they have an additional license as a mental health therapist).
Go here for more details and to apply.
2 – Cerebral
Cerebral is one of the fastest-growing mental health care companies in the United States. They have multiple remote jobs open now for therapists, care counselors, telemedicine therapists, physicians, registered nurses, and more.
If you want to work for Cerebral as a therapist, you must live in the United States and have any of the following license structures: (LPCC, LCSW, LMFT, or etc.).
Go here for more details on the remote therapist position, or here to see all jobs currently open with Cerebral.
3 – Talkspace
Talkspace is always looking for new therapists to join their platform and provide care remotely.
As a Talkspace therapist, you can enjoy reliable income with no overhead, flexible hours, and typically you get to start work the same week you are accepted to work.
To participate in the Talkspace clinical network, all therapists are required to possess the following:
A LCSW, LMFT, LPCC, or PhD in Clinical Psychology

Individual professional malpractice liability insurance policy

Submission of a fully completed, signed CAQH application

Individual NPI number

Reliable internet connection
You work independently, whenever you want. According to the website, most Talkspace therapists earn $67.90 per hour for Live Sessions (video, audio, or chat).
Go here for more details and to apply with Talkspace.
4 – Ginger
Ginger is a company that has been providing online on-demand mental healthcare for a number of years now, including coaching, therapy, and psychiatry. Most of Ginger's clients communicate with their therapists via a smartphone.
If you are interested in working for Ginger, they are currently hiring for online therapists, psychiatrists, psychologists, and behavioral health coaches. These are remote positions, but you must be based in the United States to qualify, and have the appropriate licensing and credentials for each of the above positions.
These appear to be mostly full-time roles, working as a W-2 (not independent contractor) employee for Ginger.
You can read our review of Ginger for more details, or go here to apply.
5 – Him & Hers
Him & Hers is always looking to add psychiatric nurse practitioners and therapy providers to their roster of mental health professionals.
You would work remotely for Him & Hers, setting your own schedule. If you work full-time for Him & Hers, you get to enjoy benefits and paid time off.
Go here for more details on these positions and to apply.
Good luck if you apply to any of the positions listed above!
300 More Flexible, Non-Phone Work at Home Jobs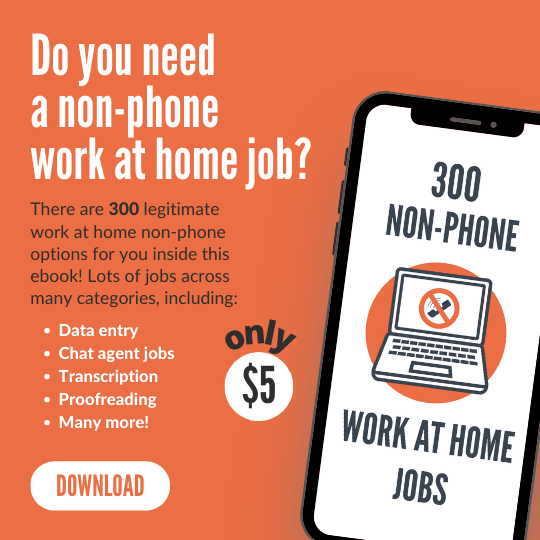 Do you want to work at home but you can't do so using a phone? If so, I have some great non-phone options for you in my latest e-book. It is only $5!
In this book, you'll find links to 300 companies offering different types of non-phone work at home jobs, including:
Data entry
Chat agent operators
Freelance writing
Transcription
Proofreading
Bookkeeping
Search evaluation
Many more!
Each job listing also has a short summary with any relevant information I can find (pay, what countries it may be open to, etc.).
Good luck to you, and I hope you find this ebook helpful if a non-phone job is what you are looking for.
After payment, you will receive the email containing your download.