Userlytics is another website usability testing company that I have so far not gotten around to reviewing. They are very, very similar to one of the more popular usability companies, UserTesting.
Being a website tester means navigating a website and speaking your thoughts on how the website is laid out and how easy it is to navigate into a microphone. Some of the other companies I have reviewed do not require that you have a webcam in addition to a microphone, but Userlytics does.
That is the main difference between them and some of these other sites. Their service allows webmasters to not only hear your thoughts as you explore their site, but also see your expressions.
How much does Userlytics pay?
They pay between $5 and $20 per test, depending on a variety of factors. You'll get the money via Paypal once your test is completed and approved by the requester.
How long do tests take?
The tests are not supposed to take more than 20 minutes to do. So you get $10 for 20 minutes worth of time spent. Not too shabby at all!
What kind of technical equipment do you need?
From their website, this is what you need:
… a Mac with OSX 10.6 or higher or a PC with Windows XP or higher, a webcam, a microphone, high-speed internet access, a standard internet browser program (such as Internet Explorer, Firefox, Safari, Chrome), Java 1.6, and Adobe Flash Player. Windows users will need Adobe Flash Player for both Internet Explorer and also the version for the browser you will be testing with.
Can anyone sign up from anywhere in the world?
Userlytics is open to just about everyone. However, you must live in a country where it's possible to get paid via Paypal. This is the only payment method available.
How do you get the tests?
The test invitations will come to you through your email. You shouldn't expect to get test invitations on a daily basis, so for sure don't look at this as an income.
Website usability testing is only really good as a source to make extra money here and there.
What are some tips for website testing?
These tips apply not only to Userlytics, but also to other website usability testing sites. In short, just be yourself and give constructive feedback. People want these tests done because they want to know what's wrong with their website, not what's right with it.
Therefore, they cannot improve on anything if they don't know what to fix. So don't begin your test by talking about how wonderful the site is because they really need to know where they could make improvements.
Doing the tests may seem awkward at first, especially if you're not comfortable speaking into a microphone or being on webcam.
However, people who do this regularly say it gets a lot easier the more you do it. You should become comfortable with it over time.
Do you want to sign up for Userlytics website testing?
Go here to fill out the sign-up form.
Looking For More Ways to Earn Extra Cash Online?
Check out this list of 12 other website usability testing companies that need workers.
300 More Flexible, Non-Phone Work at Home Jobs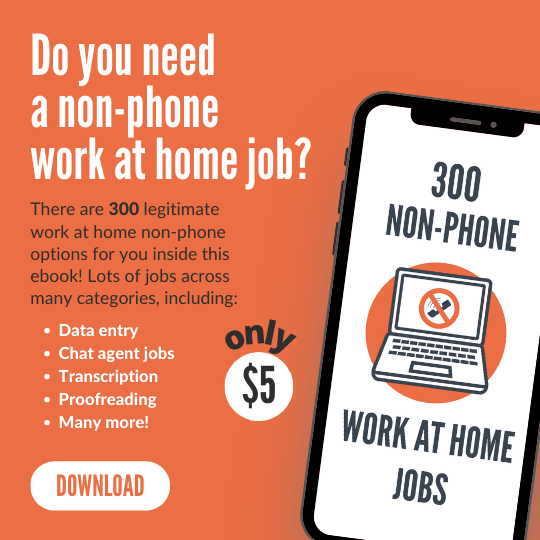 Do you want to work at home but you can't do so using a phone? If so, I have some great non-phone options for you in my latest e-book. It is only $5!
In this book, you'll find links to 300 companies offering different types of non-phone work at home jobs, including:
Data entry
Chat agent operators
Freelance writing
Transcription
Proofreading
Bookkeeping
Search evaluation
Many more!
Each job listing also has a short summary with any relevant information I can find (pay, what countries it may be open to, etc.).
Good luck to you, and I hope you find this ebook helpful if a non-phone job is what you are looking for.
After payment, you will receive the email containing your download.