MakeUseOf is a very popular website with tons of articles on all sorts of topics, although much of what I see seems to center around technology/internet related things.
I feel like I could browse around for hours just reading some of these posts. The titles really do grab your attention.
If you're looking for a writing gig that pays a bit better than what you get with most of these content sites, you might want check out MakeUseOf.
They pay their writers very, very well. It's definitely more comparable to what professional freelancers are able to earn, rather than content mills pay. Here's more details:
How much does MakeUseOf pay?
They pay $90 per post. You could also get more bonuses if your article performs well.
What method of pay does MakeUseOf use?
They use Paypal only, paid out once monthly.
What else is in it for you?
MakeUseOf will help you promote your website (if you have one) and you get full credit for every article you write along with a byline at the bottom of each article with links to your website, Twitter feed, etc.
What kind of experience do you need to have?
MakeUseOf provides a long list of the qualities an applicant needs to qualify for consideration, but to summarize, they want people who are very internet/tech savvy who are also familiar with using the WordPress blogging platform.
They also want writers who can approach topics in an unbiased way and deliver articles to them fairly consistently.
There are no requirements listed for educational background, previous writing history, or anything like that. It is important that your English is excellent.
Do you get any training?
Yes, they will take you through a seven day training period where you'll learn exactly how to craft articles for their website.
What do others say about writing for the site?
Most MakeUseOf writers seem pleased to write for the site. I have come across two websites run by writers of MakeUseOf and they both seem very happy and proud to be writers for the site.
My Thoughts on MakeUseOf
Usually these high-pay writing sites are pretty selective.
If you decide to apply, I would suggest really familiarizing yourself with the MakeUseOf website to understand what kind of content their writers create. The sample you send them should be in line with the topics they usually cover.
If you plan to link your blog or website rather than send a sample, polish your site up a bit first. First impressions count!
A lot of the content sites I have reviewed in the past are starting to shut down.
For the ones that haven't shut down, the available titles are beginning to dry up. Fortunately, there's still work out there for writers and some of it pays very well. I think MakeUseOf is an excellent example of this!
How do you apply?
Be sure to refer to this page to see what topics they need writers for currently. Then, email them sharing a little about yourself. MakeUseOf also wants to see your published works online, so definitely include that info if you have it.
To start your application, just email jobs [at] makeuseof [dot] com.  Good luck!
For 300 Flexible, Non-Phone Work at Home Jobs: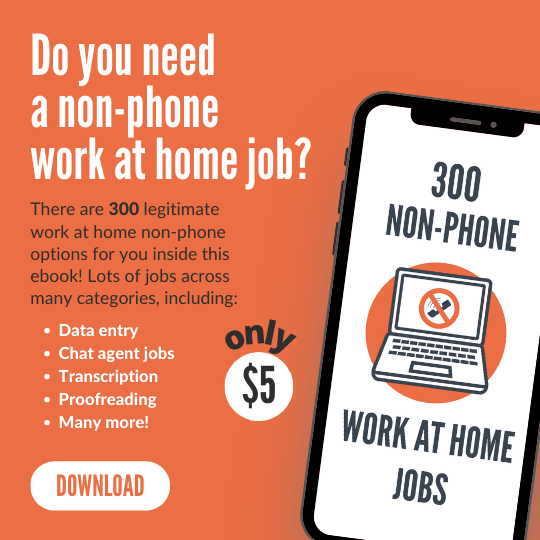 Do you want to work at home but you can't do so using a phone? If so, I have some great non-phone options for you in this ebook. It is only $5!
In this book, you'll find links to 300 companies offering different types of non-phone work at home jobs, including:
Data entry
Chat agent operators
Freelance writing
Transcription
Proofreading
Bookkeeping
Search evaluation
Many more!
Each job listing also has a short summary with any relevant information I can find (pay, what countries it may be open to, etc.).
Good luck to you, and I hope you find this ebook helpful if a non-phone job is what you are looking for.
After payment, you will receive the email containing your download.