Any beauty addict with stashes from Sephora and Ulta knows what it's like to run out of space on their vanity.
Half-used jars of tarte and Anastasia Beverly Hills abound in every nook and cranny in the bathroom, and counter space is covered by beauty blenders of all shapes and sizes and contouring brushes abound. It can be tough to get your makeup organized, let alone feel justified in buying new product, even if it's needed.
Clearing out your makeup clutter can not only be good for your mental health (who doesn't love a clean, organized space?), but can also benefit your wallet, enabling you to buy some new, acrylic makeup organizers, or – new product to play with.
We've compiled the top five websites to sell makeup from home, or trade it in for newer finds. Read on, and stay beautiful.
5 Sites To Sell Makeup From Home
One of Glambot's taglines is "trade makeup for cash," and they are not kidding. The skincare and cosmetics online shopping site allows you to sell your new and pre-owned makeup and skincare items that are, of course, not expired with at least 50% of product remaining.
Products must also be free of contaminants, like dirt, mold, pet hair, smoke, etc., and lip gloss, nail polishes, and fragrances are not accepted.
Also, Glambot only wants your high-end stuff – no drug store brands, like Revlon, Rimmel, or CoverGirl allowed. Brands like Givenchy, Urban Decay, Kat Von D, and Lime Crime, however, are just a few of the many chic makeup lines Glambot is happy to accept; think more Sephora and less CVS.
How It Works: After reviewing the website's sell requirements and list of accepted brands, have Glambot email a free shipping label via USPS.
Use the free label to ship out your makeup – sell packages are processed between 5 – 7 business days. Make sure you review the packaging instructions so that you know the makeup arrives safely and intact.
Once your package is received, Glambot will email you an offer within 5 business days for your makeup and/or skincare products being delivered to their facilities.
You can either get cash back or 30% more than your cash offer in store credit (called "Glambucks"). Keep in mind that you cannot receive more than 30% in store credit.
The website predicts you can earn $15 – $150 on name brand cosmetics in a box (20 – 25 pieces total) or between $25 – $260 on luxury items.
Pro Tip: Keep in mind that there are some critics on makeup forums that state that Glambot buys your product for a low percentage of what you paid and resells it for a much higher one.
Additionally, if they reject the product you send (which you have to send product first in order to receive an offer), Glambot will have you pay for return shipping.
2 – MUABS
"MUABS," or, "MakeUp Addict Blog Sales marketplace" seems to have a better reputation than Glambot if you want to sell makeup from home.
One of the main benefits of MUABS is that it offers PayPal Guarantee protection when you sell your unwanted makeup items – so, there's no risk.
Another added bonus is that MUABS accepts not just high-end, luxury items – they also accept drugstore favorites for beauty It Girls, like Wet 'N Wild.
How It Works: Register online for free, after which you'll be prompted to open up your own store, in which you list your products, their prices, and their condition(s).
After your items sell, MUABS keeps only 10% of the profit – you keep the rest! You can receive email alerts when a buyer is interested in your cosmetics item, so you don't have to constantly check in at your online store throughout the day.
Pro Tip: One downside is that shipping is not exactly free like it is on other websites, like Poshmark. It will cost to ship an item to a buyer, even with the downloaded shipping label in place from PayPal, so remember that when pricing your makeup.
The go-to app for selling clothes, Poshmark is also used to sell makeup (but only new makeup, used items are not permitted), and they are keen on advertising – whether you're doing it on social media to potential buyers, or having "Posh Parties" (virtual "buying and selling parties" on the Poshmark app), Poshmark has a solid, well-known brand reputation in the online thrifting world.
How It Works: Download the Poshmark app on your iPhone, Android, or iPad. Upload photos and product descriptions of your items that you want to sell, and "advertise" on Instagram, Twitter, Pinterest, and Facebook that you're selling your cosmetics.
Pro Tip: For sales that are less than $15, Poshmark keeps a flat commission of $2.95. For orders over $15, the website keeps 20% of your sale. You can then either keep your money, or spend it at Poshmark on other items.
We will say one thing for reddit – they make no bones about their "buyer beware" policy when it comes to purchasing used makeup off the website.
However, some makeup buyers – even those in certain secret online beauty groups with 10,000+ members – swear by it.
How It Works: There are "boards" you can visit, like the one included above, or like Skincareexchange, where you can sell your used makeup and skincare items; additionally, you can also swap makeup items.
Reddit encourages users to include links to previous reviews on websites like Amazon to showcase what a great used makeup seller you are.
Pro Tip: Again, you are buying at your own risk! It may be a good idea to follow the rules of the other makeup-buying websites when it comes to reddit – i.e., do not buy mascara, nail polishes, etc. due to possible contamination.
Keep in mind, the only guarantee that reddit will provide is that it will ban any user that attempts to scam you, so keep your receipts – and proceed with caution.
Think about where beauty influencers come from: they seemed to have been birthed from the belly of Instagram, the popular photo-sharing app, don't they?
With 700 million monthly active users, Instagram is nothing short of a pop culture phenomenon. Think about all the reach your makeup items could have – with the best tags, of course.
How It Works: Post a few clear photos (you can now use multiple photos in one post on Instagram) with the proper hashtags that will get you the most views.
For example, if you're selling a brow pencil or dip from Anastasia, use hashtags #dipbrow #brows #anastasiabeverlyhills #anastasiabrows, etc. By simply doing a search in the app, you can see which hashtags have generated the most traction.
It's best to set up an Instagram shop page separate from your personal account. Delete items as soon as they sell, so that your shop is up-to-date.
Pro Tip: Selling on Instagram is best for those who are entrepreneurs at heart, and who love social media. You'll have to handle all of the shipping and monies yourself, so use a verified platform with buyer protection, like PayPal.
There are, of course, many other options and websites where you can sell your makeup, including Amazon, eBay, Facebook Marketplace, etc.
What sticks out to us as key is to make sure you follow all of the website's rules for selling used cosmetics, not only for your customers, but also for yourself – you don't want to sell contaminated makeup and risk not getting paid or making another person sick.
But do it the right way, and you could very well be on your way to having your own makeup empire – or at least freshening up your goods at home.
BONUS – Want to Sell a Digital Item Instead That Requires No Shipping?
If you are interested in online sales but the idea of heading to the post office to ship out products feels like a massive and time-consuming pain, you may want to consider selling digital products instead.
There are lots of digital products you can sell and you may be thinking e-books and e-courses. Those are great, but they take a great deal of time to put together.
Digital printables are another idea for you! They can be made quickly, and you don't have to have any graphic design experience. Plus, people snatch them up like crazy on sites like Etsy.
Also, there's never any shipping. The people who purchase them will just get a downloadable file to their email, and you get paid. These digital printables can sell over and over once they are made!
For more info, you can sign up for this FREE online workshop hosted by my friend Julie of Gold City Ventures. She made $10,000 in her first year of selling printables on the side.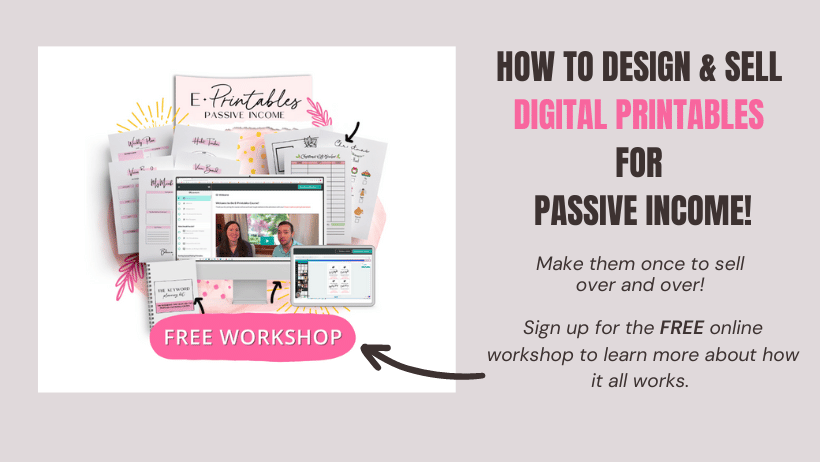 Anna Jones is a bicoastal writer, editor, and producer currently living in Atlanta, GA. She is the proud owner of Girl.Copy, a freelance copywriting and editing business that specializes in creating stellar content in the fashion, technology, marketing, and design sectors. She has a husband, human baby, and fur baby that are her favorite parts of any day. She enjoys traveling, reading, and a nice cold Diet Coke while taking an uninterrupted shower. If you want to internet stalk her or make a business inquiry, check out her website at: www.girlcopy.org.