Non-phone work at home jobs tend to be the most popular. This is because not everyone can easily work from home with a phone.
Most phone jobs require no background noise, and that is not something everyone can guarantee when they have children or pets at home with them all day.
If you're looking for a work at home job and would prefer something that doesn't require the use of a phone, hopefully you'll find some ideas on where to apply after browsing the list below. I've gone through the last several batches of work at home job leads we've posted to find the companies that are still hiring AND don't require you to use a phone.
Good luck!
Work From Home Non-Phone Jobs Open Now
Chat Jobs
Transcription Jobs
Writing Jobs
Proofreading/Editing Jobs
Scribendi Inc. – Freelance Proofreaders. Available worldwide, but some US states are excluded. University degree in a relevant field and native level English ability required. Minimum 3 years experience in editing, proofreading, or teaching. According to Glassdoor.com, hourly contractors average around $25 / hour
Promoshin – Content Editors. Anywhere in the US. Must have impeccable writing skills and grammar. You'll have to complete a brief writing/editing test in order to assess your skills. You will be given the opportunity to state your desire per word rate.
Proofreading Services – Proofreaders. Hiring worldwide! You'll be required to pass their short proofreading test before applying. Pay range is $19 – $46 / hour depending on turnaround time (with the highest pay for the most urgent deadlines).
Translation Jobs
Verbalizeit – Translators. Worldwide! You'll need to pass an assessment test, as well as undergo a training period. Jobs are first come first serve and payment is twice per month through Paypal. Salary is unknown
Gengo – Translators. Anywhere in the US. Workd as a freelance translator using Gengo. No formal qualifications are required, but you will need to pass an assessment test in your chosen language. Passing the standard test will pay you .03 / word, passing the expert test will net $.08 / word. This is great for entry level translators looking to build up their resume!
Other
300 More Flexible, Non-Phone Work at Home Jobs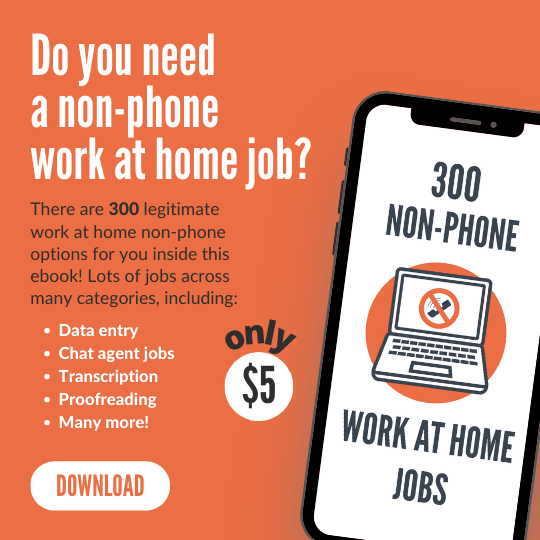 Do you want to work at home but you can't do so using a phone? If so, I have some great non-phone options for you in my latest e-book. It is only $5!
In this book, you'll find links to 300 companies offering different types of non-phone work at home jobs, including:
Data entry
Chat agent operators
Freelance writing
Transcription
Proofreading
Bookkeeping
Search evaluation
Many more!
Each job listing also has a short summary with any relevant information I can find (pay, what countries it may be open to, etc.).
Good luck to you, and I hope you find this ebook helpful if a non-phone job is what you are looking for.
After payment, you will receive the email containing your download.