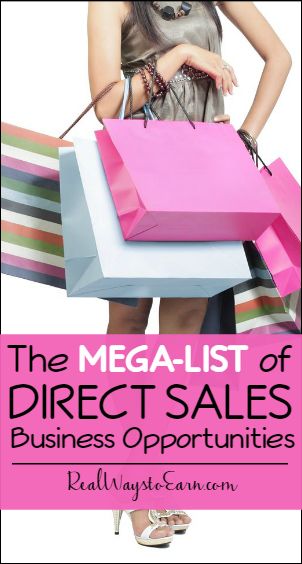 This page contains sponsored content and affiliate links. Regardless, only products and services I trust are recommended.
Thinking seriously about starting your own business? There are a ton of direct sales companies across a variety of categories you can get set up with quickly. Browse the listings below to find the perfect company for you. Many of these have inexpensive start-up options and offer superior products.
Attn Consultants — Want to see your listing here? You can have your consultant link plus a short blurb about your company listed inside this directory for $50 for one year. This page is currently receiving 2,300 page views per month as of November, 2016. Contact anna (at) realwaystoearnmoneyonline (dot) com if you're interested.
Browse Direct Sales Companies by Category
Candles & Scents | Purses & Access. | Beauty & Skincare | Diet & Fitness | Food & Cooking | Healthy & Natural | Hobbies & Crafts | Jewelry | Other Companies
---
Candles & Scents
Jewelry In Candles
Sell candles with a piece of jewelry (ranging in value) inside each one. They introduce new scents all the time. It's $29.95 to join, although sometimes there are promos going on where you can join much cheaper. The website is still free and there are no minimum sales quotas or purchase requirements ever to remain active.  You earn 30% on your sales 6% on Tier 1 and 4% on Tier 2.
Start Selling Jewelry In Candles
MojiLife
Introducing MojiLife! A brand new ground floor direct sales opportunity! Centered around the AirMoji a revolutionary high-tech in home portable fragrance device that is cordless and Smartphone compatible. Best of all no flame, wax or liquid mess to worry about. Join my team and be one of the first in your area to represent MojiLife!
Purses & Accessories
Lilla Rose
Thinking of becoming a Lilla Rose Consultant? We offer beautiful, durable and unique hair accessories such as the Flexi Clip, bobby pins and jeweled hair bands. We are still a small but growing company with just over 5,000 Consultants nationwide. To get started selling today, the Party Kit option is our lowest at $49.95 and comes with five Flexi Clips and numerous marketing materials. Always free replicated website with no hidden fees is included and just $29 in sales PER YEAR to stay active. No quarterly quotas.
Thirty-One Gifts
Make money selling trendy fabric bags and also tons of cute, fabric household storage accessories. Get 25 percent commission on sales. Starter kit is just $99, and there are opportunities to earn over $500 worth of free products in your first four months as a consultant. This is one of the most popular purse companies — they have more than 100,00 consultants.
Sign Up to Sell Thirty-One Gifts or Read Business Overview
Beauty & Skin Care Products
Pure Haven Essentials
Selling beauty, skin care, and other personal care items that are non-toxic and free of harsh chemicals. The Pure Haven Essentials line also features products for pets, babies, and your home. You can get started for $59, which gets you an online office and personal website. On personal sales, you earn between 30 and 50 percent commission.
Sign Up to Sell Pure Haven Essentials or Read Business Overview
Avon
Selling cosmetics and other items. This is one of the few direct sales companies with a very low start-up cost, just $25, and one of the easiest companies to get started with. You also get between 20 and 40 percent commission on sales. This is one of the most popular cosmetic companies in the world, and the direct selling opportunity they offer has been in existence for a very long time. Avon is a brand everyone is familiar with.
Sign Up to Sell Avon or Read Business Overview
Nerium A.D.
This is a company that sells anti-aging products that are backed by science. You can earn up to 25 percent commission on sales, and there are also several bonuses you may be eligible for as a consultant. The three starter kit options to fit any budget. They are $99.95, $499.95, and $999.95.
Perfectly Posh
Perfectly Posh is naturally based pampering company. All of our products are made in USA. We don't use any fillers in our products. We don't do animal testing and are also mostly Vegan. Ask me for samples!
Sign Up to Sell Perfectly Posh or to Learn More
Pink  Papaya
Sell Pink Papaya spa and bath products and get 35 percent commission on sales. You can get started for $99. All of the Pink Papaya products are proudly manufactured in the USA and not tested on animals. As a consultant, there are no minimums you have to meet with this company in order to stay an active consultant.
Sign up to Sell Pink Papaya or Read Business Overview.
Rodan + Fields Dermatologists
Sell skin care regimens. The company was founded by world-renowned dermatologists Dr. Katie Rodan and Dr. Kathy Fields. These are also the creators of the popular ProActiv acne products. As a consultant, get 25 percent commission on product sales. Starter kits are $395 and up.
Sign Up to Sell Rodan + Fields or Read Business Overview
Younique
Build a business selling naturally-based, high-quality, yet also very affordable beauty products with Younique. As a Younique presenter, you get selling rights, a free website and back-office, and a kit of makeup that includes Younique's very popular 3D mascara for as little as $99. Unlike other direct sales companies, there are no fees, auto-ships, or quotas to meet with Younique. You do not even have to have home parties unless you want to.
Diet & Fitness
It Works
Start working for yourself. Be your own boss. Work right now from your laptop or phone. No experience necessary! *Training provided.* Qualify for weekly $100 bonuses for life!
It Works! (known for our crazy wrap that firms, tones and tightens in 45 minutes) is looking for motivated individuals to share the opportunity with others to improve their health, appearance & lifestyle. It Works! also has products everyone needs including body contouring & skin products, a supplement line, essential oil line, energy drinks and more! No direct sales experience needed ~ follow our Steps to Success for unlimited earning potential with our amazing compensation plan and bonuses. Become an It Works! distributor and live a life of friendship, fun and most of all FREEDOM! Change your life today.
Message me for details or a catalog! | Friend me on Facebook | TEXT Opportunity to 903-787-9202
Advocare
A world-class nutrition company specializing in health and wellness, weight management, vibrant energy and sports performance that has been in business since 1993. You can become an AdvoCare distributor for as little as $79 and possibly earn commissions of up to 40 percent on sales.
USANA Health Sciences
USANA Health Sciences manufactures the highest-rated, science-based nutritional supplements and world-renowned weight management and personal care products – with three product lines, there is something for everyone! It is a publicly traded company founded in 1992 by a scientist whose dream is a world free from pain and suffering, now employing over 60 scientists working on the cutting edge of research on how to nourish every cell in our bodies.
Consumable products mean repeat customers for true residual income, and our unbeatable binary compensation plan means you start earning fast and get paid weekly!
I started using the products because of my son's health issues and now the whole family is benefitting from them. I also love the collaborative teamwork in my business, leveraging a simple and powerful system; I am never on my own and I know we are making a difference in people's health by working together, mentored by one of the top leaders in the industry, with ongoing training in person and online.
The business can be personalized, so you really can choose your own hours! Work from home if you wish, meet people one-on-one, hold parties, host events or any combination — and there is no inventory, paperwork, quotas or deadlines.
I am in Canada, but you can sign up to do business in any one of 20+ countries right from my website or contact me for more information. www.helenbyer.usana.com
Sign Up to Sell USANA Health Sciences Products
Food & Drink
The Traveling Vineyard
If you enjoy a glass of wine, meeting new people, and would like to learn about wines from around the world, your dream job is here! Traveling Vineyard offers a flexible, fun, and rewarding income. No sales quotas, no deliveries, and no inventory. Say yes to unlimited income potential, discounts on wine, travel incentives and much more! I lead a nationwide team of successful men and women that are wine enthusiasts, not experts, that know there is no better way to learn about wine then at FREE in-home wine tasting events! Take the next sip and contact me for more information on this top rated DSA company!
Kiersten Ray-Kuhn, Diamond Director – winetasting@att.net | Sign Up For Traveling Vineyard | 314-330-5570
Healthy & Natural Direct Sales Companies
dōTERRA
Sell all-natural essential oils for one of the most popular direct sales companies, dōTERRA. These are certified pure therapeutic grade oils. The company has been in business since 2008. Registration fee is very low at just $35, although you can purchase starter kits that are $150 and more. You can earn a commission of 25 percent on personal retail sales.
Sign Up to Sell doTerra or learn more about it at The Lightsome Life.
Hobbies & Crafts
Close to My Heart
Sell scrapbooking and paper crafting kits. Your kit to get started is just $99 and includes all kinds of scrapbooking and paper craft items. You can earn up to 22 percent commission on your sales. This opportunity is open to people in the US and Canada.
Sign Up to Sell Close to My Heart or Read Business Overview
Jewelry
Paparazzi Accessories
Fun! Fabulous! $5.00! We have the perfect formula for success!! Paparazzi Accessories specializes in fashionable, stylish, and affordable accessories. Though our fashion-forward jewelry and our parties are centered on fun, Paparazzi fulfills a serious mission. We believe that trendy accessories should be available and affordable to women everywhere. We know that wearing a new look and feeling confident in your appearance, builds amazing self-esteem. Our passion is to inspire dreams, empower talents, and reach goals by sharing our products and the excitement of Paparazzi.
As a Paparazzi Consultant, you earn 45% on each item you sell in person and/or online through your FREE website! If you decide to build a team, you will also earn 5-10% commission. There are no monthly quotas (unless you have a team), no brochures or orders to mess with, no lengthy presentation, just SHOW the accessories and SELL them!! They literally sell themselves! Who can resist accessories for $5.00?!?
Becoming a consultant is easy and affordable! You can choose from 3 different starter kits that will come with all the accessories and tools you'll need to start your Paparazzi business: $99 Starter Kit, $299 Starter Kit, $499 Starter Kit. Any kit you choose will get you started on the right track!
I would love to connect with you and answer any questions you may have. My team is amazing and I look forward to having you join us and witnessing your success!!
Sign Up to Sell Paparazzi Accessories
Chloe + Isabel
Chloe + Isabel is one of the most popular direct sales companies. They specialize in high quality, stylish, and affordable fashion jewelry. You can become a merchandiser for Chloe + Isabel and earn up to 40 percent commission on jewelry sales. The starter kit gives you over $700 worth of jewelry, business supplies, and more for just $175 so you can get your business started. Unlike other direct sales companies, Chloe + Isabel does not put pressure on you to build a downline.
Sign Up to Sell Chloe + Isabel or Read Business Overview
Stella & Dot
Become a Stella & Dot stylist and sell beautiful, high-quality jewelry from one of the best known direct sales companies. Startup kits cost $199 and includes $450 in free jewelry. It's possible to earn up to 25 percent commission on your personal sales. If you build your downline, you can also earn a nice commission on the sales of your team.
Sign Up to Sell Stella & Dot or Read Stella and Dot Stylist Overview
Other Companies
Yuppy Puppy City Kitty
People love their pets and want to buy the very best products for them. Unfortunately that can be hard with all the recalls and issues the pet industry has had recently. That's why Stella Dowling (CEO and Founder) created Yuppy Puppy City Kitty (YPCK), a company that does all the hard work of finding safe and healthy products for you. From grain-free human-grade meat treats made in USDA certified facility to unique play products that are eco-friendly, you can trust the products at YPCK. Stella also wanted to give people the opportunity to become financially independent and self-reliant so she created the YPCK business opportunity. This is a chance for you to earn up to 50% commission by selling YPCK premium pet products. The way you sell is up to you, whether its hosting PAW-ties or running a FUR-raiser for your favorite cause.
Sign Up to Sell Yuppy Puppy City Kitty
Kaeser & Blair Promotional Products
Kaeser & Blair offers a flexible, risk-free opportunity selling promotional products in an industry that does over $21.5 billion in sales each year. Earn up to $20,000 annually as a part-time business owner, and up to $185,000 annually as a full-time business owner. Getting started is simple and inexpensive, with standard basic starter packages costing only $85 – the entire amount of which is refunded after your first $1500 in sales. K&B also offers a FREE Trial Launch Program, so you can try the opportunity before you fully commit.
Sign Up For Your FREE Trial Launch Program, so you can try the opportunity before you fully commit.