I didn't have a post planned for today, but I wanted to get something useful up this morning so I came up with a nice little list of where to sell used books online. This has been on my mind after writing a reviews on a couple of book buyback sites.
We all have books after all, and now that e-readers are so popular, I know that many of you are probably looking to clear out some book clutter.
Where to Sell Used Books Online
These two are admittedly obvious choices, but the list wouldn't be complete without them.
Almost anyone can sign up and create a seller account and sell practically anything, including used books, on the websites below.
Selling Textbooks
Most of these sites work the same way. You enter the ISBN number on the back of your books (usually located around the UPC label) and wait for a quote.
Sometimes you'll get the quote instantly and with other sites you might have to wait on an email. Then, you'll print out a shipping label (pretty much all these sites cover shipping costs for you), put your books in a package, and place the shipping label on the package and send your books off.
Once your books are received and inspected, you will receive payment. Some of the sites listed above use Paypal while others pay with a check, and then some may have options for both payment methods.
Selling Fiction Books
You'll find there isn't as much demand for fiction books on most of the online book buyback sites, and that's unfortunate since most people are looking to get rid of fiction. Still, there are a few options:
Amazon Trade-In – This won't get you cash for your used books, but it will get you Amazon codes.
Amazon
Another idea for finding where to sell used books online includes local Facebook yard sales groups, or even an actual yard sale/garage sale at your home, or possibly set up a booth at a flea market.
For 300 Flexible, Non-Phone Work at Home Jobs: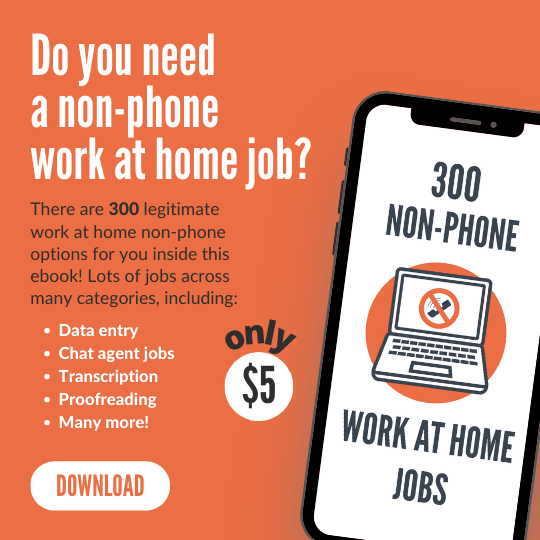 Do you want to work at home but you can't do so using a phone? If so, I have some great non-phone options for you in this ebook. It is only $5!
In this book, you'll find links to 300 companies offering different types of non-phone work at home jobs, including:
Data entry
Chat agent operators
Freelance writing
Transcription
Proofreading
Bookkeeping
Search evaluation
Many more!
Each job listing also has a short summary with any relevant information I can find (pay, what countries it may be open to, etc.).
Good luck to you, and I hope you find this ebook helpful if a non-phone job is what you are looking for.
After payment, you will receive the email containing your download.