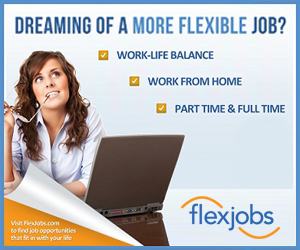 Are you looking for entry-level work at home jobs? You are not alone. In fact, that's one of the most common questions I get from people looking to find home-based work. It's right up there with questions about non-phone jobs and flexible jobs.
Today, I'm going to walk you through the process of finding entry-level work at home job listings on a site called FlexJobs.
They make it really easy to find these kinds of jobs! I know there are a lot of you who already have FlexJobs memberships, so this post may also help you if you weren't sure how to sort for the entry-level jobs.
If you're not familiar with the company, FlexJobs is actually one of the best resources I've come across to find guaranteed legitimate work at home. I link to them frequently on this site because of all the job search sites I'm familiar with, I trust their leads the most since everything is thoroughly vetted and hand-screened before being posted.
While there is a fee of $15 per month for a membership, I personally feel it's worth it considering the quantity and quality of leads posted, plus the peace of mind knowing that you won't get taken in by a scam.
How to Find the Entry-Level Jobs On FlexJobs
Once you have an account with FlexJobs, here is exactly what you would do to narrow the job listings down to just entry-level work at home:
#1 – Go to the sidebar and click the link that says "Advanced Job Search" just underneath the "Search for Jobs" sub-heading. You should come to a page with several different fields for searching jobs based on different criteria.
#2 – Go to the field that says "Career Level" and select the "Entry-Level" option. It should be the first option in the drop-down list.
#3 – Go the to the field that says "Telecommuting Level" and select the option for "100% Telecommuting."
#4 – Go to the field that says "Travel" and select the option for "No."
#5 – Select the orange "Search for Jobs" button at the bottom of the page, and you'll then be taken to a complete listing of the most recent work at home entry-level jobs FlexJobs has posted!
#6 – At the top of the page, you can select the option to "Save This Search" so that way every time you log in to your account, it will be super easy for you to dig through only the entry-level jobs without having to adjust your filters again.
Note that you can also narrow things down even further in the sidebar once you're on the page for entry-level work. Just check off any of the boxes under Job Type, Job Category, Job Schedule, etc. to fit more closely with what you are looking for.
In my opinion, this is pretty much the easiest way to find entry-level work at home job postings every day without having to sort through a bunch of positions on other job sites that you may or may not be qualified for.
If you don't already have an account with FlexJobs, you can go here to get one.
And, if you're absolutely opposed to paying for a FlexJobs membership or just can't afford it, I do have a list of good, completely free job search resources that you can use to find home-based jobs.
Good luck!
Updated and republished on March 21, 2021.