If you are fluent in another language and are interested in work from home translator jobs, you may be interested to learn about Gengo.
It's a big site with many small scale translation jobs available. After you sign up and get accepted, you can just browse through the jobs, pick out ones you want to start, begin work, and then get paid!
How much does Gengo pay?
In the past they had the following information posted on their site:
You will be paid via PayPal in US dollars ($ USD) according to the character or word count of the source language. We are only able to make payments in USD. Here's the breakdown:

Standard: $.03 per word/$.018 per character (e.g. Japanese, Chinese)
Pro: $.08 per word/$.048 per character
Proofread/Ultra: $.04 per word/$.024 per character
This information doesn't appear to be there any longer. Instead they apparently have an online tool that translators can use to determine the pay rate for any given project. The pay varies according to a range of different factors, and might (or might not) still be in line with the numbers mentioned above.
Please note: from what I've read online, those numbers are on the low side, so it might be best to just consider this
extra money online
until you try it and see how well you actually do with it. It seems like this might be an extra money "side job" to take on.
How and when is payment made?
You can get paid twice a month through Paypal, on the 10th and 25th of the month. You do have to request payout before the payment dates to ensure you get your money.
They also charge a flat $1.50 fee when you request your payout — according to MyGengo, this is to cover Paypal fees and other transaction costs.
What are "Standard," "Pro," and "Proofread?"
These are different levels you can achieve depending on how you do on translation tests you take. There are different projects available for each level and the pay is also different for each level.
What languages can you sign up to translate?
Languages include Arabic, Chinese, Dutch, French, German, Indonesian, Italian, Japanese, Korean, Polish, Portuguese, Russian, Spanish, and Swedish.
Please note that if you do English to Spanish translation, there may or may not be work available due to the plentiful number of people who are English/Spanish bilingual.
What kinds of texts do you translate?
A lot of the texts are very short — emails, short articles, blog posts, stuff on Twitter, etc., but there are occasionally longer texts to translate.
What if your work is rejected?
MyGengo claims to have a very low one percent rejection rate from their clients, so rejections are rare. If you receive a rejection, Gengo's quality control team double checks your work.
If they think it wasn't, they will ask the client to either allow you to make some corrections or approve the translation as is.
Is Gengo open to people outside the US?
Yes, the company considers all people who sign up. They have translators located in every part of the world. If you are not a U.S. citizen, you will have to fill out a W8-BEN tax form.
What is the application process like?
You have to create an account at Gengo and then take their translation tests. Your results will be reviewed and if your translation skills are up to par, you can log in and begin work.
If you fail the test, you can retest. They will let you take the test up to three times.
What do other people say about translating for Gengo?
Here is some feedback I found on Gengo's own support site with info from users on potential earnings.
Do you want to sign up?
Good luck, and I'd love it if you'd comment below, sharing your own experiences with Gengo.
For 300 Flexible, Non-Phone Work at Home Jobs: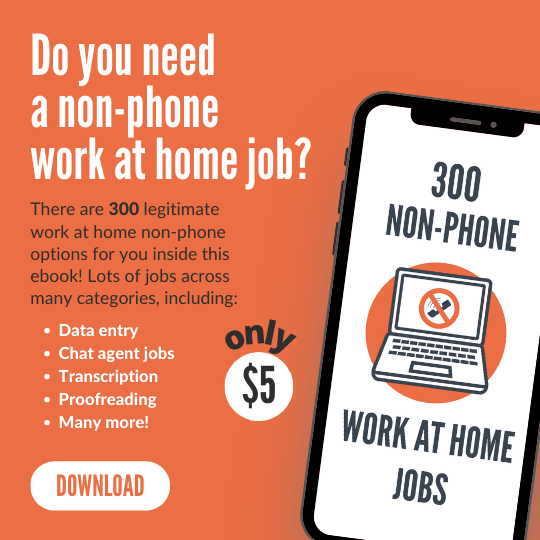 Do you want to work at home but you can't do so using a phone? If so, I have some great non-phone options for you in this ebook. It is only $5!
In this book, you'll find links to 300 companies offering different types of non-phone work at home jobs, including:
Data entry
Chat agent operators
Freelance writing
Transcription
Proofreading
Bookkeeping
Search evaluation
Many more!
Each job listing also has a short summary with any relevant information I can find (pay, what countries it may be open to, etc.).
Good luck to you, and I hope you find this ebook helpful if a non-phone job is what you are looking for.
After payment, you will receive the email containing your download.