Today we are talking about Amazon Merch, a website similar to Spreadshirt where you can design and sell your own T-Shirts, hoodies, and sweatshirts.
There are also ways to design other promotional products such as coffee mugs, calendars, and tote bags. However, most of the emphasis is on the wearable items, thus the T-shirts, hoodies, and sweatshirts.
While you are welcome to launch your own line of products, big name companies such as Disney and Universal have also used Merch. Rightfully so, because many consumers enjoy receiving T-shirts from companies to show their brand loyalty as well as to chill out, relax and dress casually.
How Is Amazon Merch Different?
What sets Merch apart from most POD (Print On Demand) T-shirt design companies is that Merch is actually a design and selling platform created by Amazon making it so you can sell through Amazon. We will discuss more of that later on in the article.
Amazon even offers a complete guideline for selling using Merch. You can certainly read it for yourself and decide if you still want to sell using Merch by Amazon.
How Do You Get Your Designs On Products?
If you have Adobe Illustrator, Adobe Photoshop, and/or GIMP, you can go ahead and create your designs and then upload them into Merch.
No graphic design skills? That doesn't have to be a problem. You can purchase your designs (very affordably) through Vexels, a company that has hundreds of thousands of unique designs you can use, and they are licensed to be used with Merch by Amazon.
How Do You Start Selling On Merch?
Once you either get the hang of designing your own merchandise or purchase your designs through Vexels, you may sell directly from your own Amazon store as well as link your online store to your own website or blog. There is no limit to the number of websites and blogs that you can sell your merchandise on.
Once you begin selling, Amazon will pay you royalties.
Amazon has basically broken the selling process down into these steps:
Upload your artwork into Merch.
Set your list price for your merchandise.
Allow Amazon to handle the printing.
Sell your merchandise in your own Amazon store.
Ship out your products with Amazon Prime.
Use online tracking tool for revenue.
Amazon will take care of the billing, packaging, shipping, refunds, and cancellations for you. There are no upfront fees. You will be responsible for your own taxes at the end of the year.
While Amazon will collect any localized taxes for merchandise for you, you will still need to claim your royalties as income at the end of the tax year, and royalties are taxed a little differently.
Money-Making Potential With Merch
You will be earning between 14 to 30% royalties on your merchandise's purchase price. Amazon will be paying you once a month, and you will be one month "behind" in royalties.
In other words, your payment for your August royalties will be paid the end of September, and so on.
Payment is made via direct deposit.
If you choose to also sell on Amazon Associates, one of Amazon's affiliate programs, you can also earn an additional 7% on each item.
Pricing Your Items On Merch
When pricing your items, you have to be careful. There is the list price and the purchase price. Your royalties will come from the purchase price, which is set by Amazon. You will be setting your list price of how much you think someone will pay for the T-shirt.
While the list price doesn't have to be the lowest possible price, it needs to be low enough for Amazon to determine the purchase price, which will be between $3 to $10 more. In other words, this will be their markup price.
Keep in mind that Amazon is supplying the materials, printing, supplies, shipping, and handing.
If you want to raise your prices, you will have to do it from the list price, which you control. So, you will need to do a little research to see what other vendors are charging once the markup is added.
Is setting up your store free?
Yes and no. As mentioned earlier, there are no upfront fees to get started. But, Amazon does have its markup.
The good news again is that you will be earning royalties from the purchase price, which is higher than the list price.
Unfortunately, Amazon only ships to the United States, the United Kingdom, and Germany, so that may limit you a bit with sales.
Do you have to be an artist to create the logos and designs?
As mentioned above, you do not. You can purchase your designs through Vexels and then just upload those onto your merchandise.
Another option is to turn to Fiverr or Upwork and find a freelancer there willing to design graphics for you.
How can you be sure your stuff will sell?
You really can't predict what will sell and what will not. The best you can do is use the online tracking tools provided to evaluate your sales and revenue.
If a design does not sell within 180 days from its initial launch, then it will be removed from your account. You will then need to focus more strategically on which of your designs are selling.
Can you sell on Merch if you are not a US resident?
You don't have to be a US resident to sell on Merch, but you will need to request an invitation to sell. Signups for Merch are done on an invitation only request, as of now. It could take up to three weeks to get your invitation to sell.
Why is this? According to Merch by Amazon, this is due to an overwhelming response from vendors and a way to streamline reputable vendors.
Want to get started making money with Merch?
Go on their website and click the Request invitation button. Wait approximately three weeks and in the interim, start thinking about your designs or recruiting those who can do the designs! Read the guidelines for selling.
Best of luck to those who pursue this.
For 300 Flexible, Non-Phone Work at Home Jobs: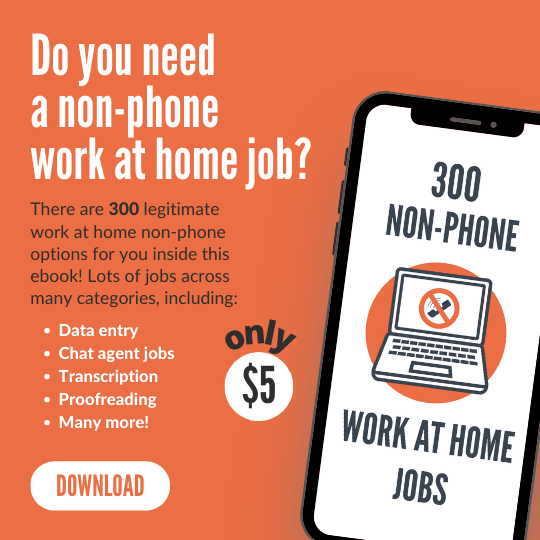 Do you want to work at home but you can't do so using a phone? If so, I have some great non-phone options for you in this ebook. It is only $5!
In this book, you'll find links to 300 companies offering different types of non-phone work at home jobs, including:
Data entry
Chat agent operators
Freelance writing
Transcription
Proofreading
Bookkeeping
Search evaluation
Many more!
Each job listing also has a short summary with any relevant information I can find (pay, what countries it may be open to, etc.).
Good luck to you, and I hope you find this ebook helpful if a non-phone job is what you are looking for.
After payment, you will receive the email containing your download.