Writing about beauty and fashion requires a level of talent and dedication one may not expect – you have to stay on top of trends, news, and current events like any other writing topic. In fact, the more enthusiasm and years of devotion you apply to the fashion and beauty sectors, the more your writing career in said sectors should blossom and grow.
For the fashionista auteur, writing about fashion and beauty is a dream come true – especially if he or she gets to do it from home! Websites that pay you to write about your favorite topic do exist, and we have compiled a top 5 list here:
5 Sites That Pay You to Write About Beauty and Fashion
1 – Cosmopolitan.com
Cosmpolitan pays $100 to their writing contributors. They also sometimes add regular writers to their pool of freelancers. While there is a focus on beauty and fashion, you could also get paid to write about celebrities, dating, sex, careers, and more.
Here is a helpful article from Cosmo explaining how you can get accepted to write for them.
2 – Pretty Designs
This is a blog focused on hairstyles, outfits, makeup, tattoos, and more. They have recently posted they are looking for beauty writers.
While it does say you will be paid for your content, the amount is not listed.
Go here to apply to write for Pretty Designs.
3 – Bustle
Bustle is a popular website is frequently seeking remote writers across several different categories. Currently, they are in need of a fashion commerce writer. From the description:
As a Fashion Commerce Writer, you will research and write shopping guides and product roundups focused on fashion (which includes apparel, shoes, and accessories), as well as revise existing fashion articles for voice, accuracy, and SEO best practices. You'll have the opportunity to work across BDG's brands, including Bustle, The Zoe Report, Elite Daily, Romper, Mic, and Inverse.
Go here to apply and learn more if this interests you, or read our full overview of writing jobs at Bustle.
4 – Refinery29
Another big one, Refinery29, has its writers focus on all things fashion, beauty, pop culture, and news-related.
Have an article posted by this online giant, and you're pretty much guaranteed to go viral.
Refinery29 is a bit of a hipster paradise, with the site being one of the firsts to report the newest trends, whether it's mermaid tights or rainbow highlighter, but that doesn't mean it's not impressive to have on your CV! The website is well-respected amongst its peers and viewed as a beacon of hipness.
Go here to learn more about writing for Refinery29.
5 – Start Your Own Beauty & Fashion Blog or Website
You can earn good money with your own website! Almost every website you visit online is earning money in some form or another. Either they are earning through ads, affiliate links, direct sponsorships, or all three (most likely all three).
Anyone can do this, although it takes a lot of patience and persistence to get it going. So if beauty and fashion is your thing, and you cannot find a writing job in this field that suits you, just start your own thing and see how it goes!
Learn more about starting a blog.
Searching for websites to write for that cater specifically to the fashion and beauty sector can be a bit challenging, since it seems like a job most people would want to do, or would assume it's easy to do; however, a bit of digging through a good, old-fashioned Google search (or by reading posts like this one) can unearth some gems that can bring in a great form of supplemental income.
Happy shopping – and writing!
---
300 More Flexible, Non-Phone Work at Home Jobs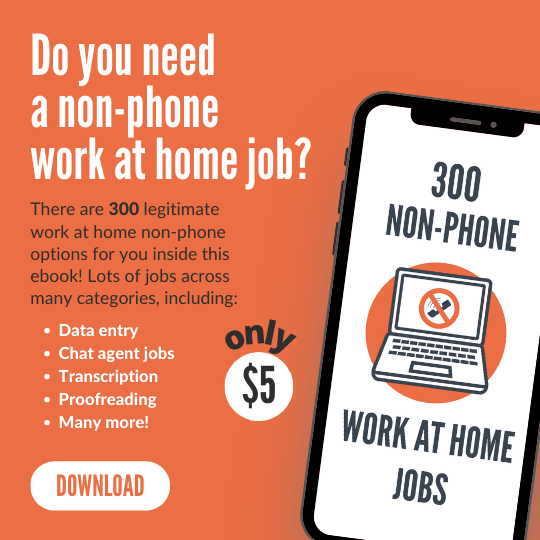 Do you want to work at home but you can't do so using a phone? If so, I have some great non-phone options for you in my latest e-book. It is only $5!
In this book, you'll find links to 300 companies offering different types of non-phone work at home jobs, including:
Data entry
Chat agent operators
Freelance writing
Transcription
Proofreading
Bookkeeping
Search evaluation
Many more!
Each job listing also has a short summary with any relevant information I can find (pay, what countries it may be open to, etc.).
Good luck to you, and I hope you find this ebook helpful if a non-phone job is what you are looking for.
After payment, you will receive the email containing your download.