I have a pretty popular post from a couple of years back about who to follow on Facebook for good work from home information, and for a long time I've been planning to do a follow-up with a list of who to follow on Twitter for work from home updates.
I admit that I don't use Twitter as much as I use Facebook.
In fact, up until about a year ago, I barely understood what I was doing over there! But it's grown on me recently, and it has become clear that Twitter is an excellent resource for current work from home job leads and good information.
Below, I've compiled a list 20 good Twitter accounts to follow if you're looking for anything work from home related, and I've also included some Twitter tips that will make it easier for you to make sure you don't miss the info these people share. The Twitter feed moves lightning fast, so it's very easy to miss things!
Most likely I did forget some people, so don't hesitate to let me know in the comments who you follow or if you have your own Twitter account with good work at home info.
Who to Follow On Twitter For Work From Home Updates
Creating an Interest List
If you're very Twitter savvy, then you already know how to do this. But if you're not and you want to be sure you can find all the work from home Twitter information shared by the accounts listed above, you're going to need to set up a separate list for it.
You have two options — you can subscribe to my WAH Tweeters list (which includes all of the accounts above), or you can make your own list and include the accounts you've chosen to follow.
How to Follow My List
To follow my list, simply click here and click the "Subscribe" button on the left-hand side of the page. Then from your Twitter account, you can select the "more" tab to access the list, or just create a bookmark for it on your web browser for fast access. That's it!
How to Make Your Own List
If you want to make your own list, you just go to your account, click the "More" tab, select "Lists" and then you'll see an option on the right-hand side of the page to create a new list. Give it a name, description, decide if it's going to be public or private, and then save it.
To add people to it, just find who you want to add on Twitter, select the little gear symbol on the right of their profile page, and then select the "Add or remove from lists" option. That should bring up a window with the lists you've created and you just select the ones to add them to. Very easy!
Who Do You Follow?
Hopefully this post helps so you won't miss any good work from home information on Twitter.
As I mentioned above, I know there are more good accounts apart from the 20 listed here, so please feel free to comment below with who you follow or link your own account if you share work at home info.
For 300 Flexible, Non-Phone Work at Home Jobs: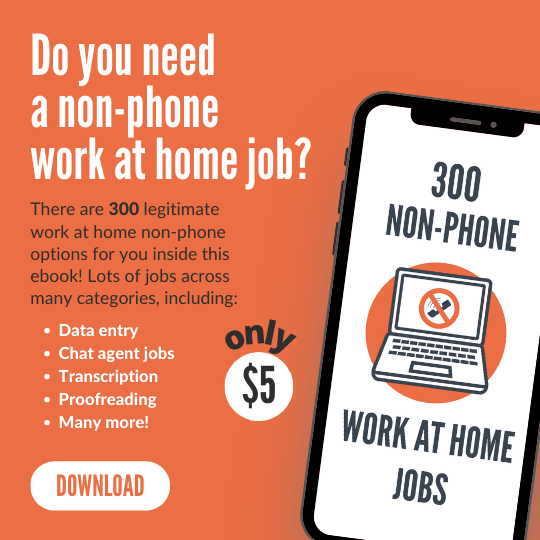 Do you want to work at home but you can't do so using a phone? If so, I have some great non-phone options for you in this ebook. It is only $5!
In this book, you'll find links to 300 companies offering different types of non-phone work at home jobs, including:
Data entry
Chat agent operators
Freelance writing
Transcription
Proofreading
Bookkeeping
Search evaluation
Many more!
Each job listing also has a short summary with any relevant information I can find (pay, what countries it may be open to, etc.).
Good luck to you, and I hope you find this ebook helpful if a non-phone job is what you are looking for.
After payment, you will receive the email containing your download.