One of the most common questions I get from readers and subscribers is, "How can I work at home as an internet researcher?" Makes sense! A lot of us are master Googlers and consider ourselves pretty good at research.
I've actually written a more in-depth blog post about online research jobs here, but today I thought I would do a thorough search online to see what companies are advertising openings for work at home researchers right now.
The jobs you'll see below vary greatly in the types of companies, the type of research, requirements to apply, and of course pay.
I've tried to include as much relevant information as I can to help you decide whether these openings are a fit.
Good luck if you apply for anything listed below.
5 Companies Hiring Work at Home Researchers
1 – Study.com – Education & Career Research Writer
Study.com is looking for an education and career research writer.
Per the job description, you would, "provide brief, specific answers to questions about choosing a degree or school, deciding on a career path, and many more topics."
Payments are made twice monthly and you can work whenever you want.
You must have experience performing online research and writing online content. Strong English language skills are a must.
Pay rate is unknown.
Go here if you'd like more information and to apply.
2 –
Per the job description, ""
Pay is
For more information and to apply, go here.
3 –
Eastridge Workforce Solutions is hiring online researchers. This opening may be for Texas residents only (unclear).
Per the job description, ""
Minimum of six months worth of customer service experience is required.
Pay is $15 /hourly.
Go here for more details and to apply.
4 – Media Matters For America – Researcher
**Note this position appears to be a bit political (left-leaning) so you may want to give this one a pass if your personal political views are more conservative. We aren't biased at Real Ways to Earn and post jobs for everyone regardless of their political leanings, and anything posted is not intended to reflect our personal political views.**
Media Matters For America has an opening for a night shift researcher. This is remote/work at home.
Night Shift Researcher – "The Researcher (Night Shift) 1) monitors news programs and social media during the evening, with a focus on identifying conservative misinformation; 2) posts relevant clips and content for public consumption on the Media Matters website; and 3) gathers internal rapid response research when needed."
This job offers benefits, and pay is $47,500 /yearly and is commensurate with experience or expertise.
Go here for more info on the position.
5 – Job Mobz – YouTube Video Content Researcher
Job Mobz is hiring a remote YouTube video content researcher. This is a part-time position.
In this role, you will be, "executing the content strategy for a new YouTube channel designed to significantly increase views. This will involve conducting research and collaborating with the YouTuber, video editor and the rest of the team to identify topics for videos and what content to cover on each topic."
They are looking for someone with a proven track record of creating successful content for YouTube, and a strong understanding of how YouTube recommends and ranks video content.
Salary information for this position is unknown.
Go here for more details and to apply.
300 More Flexible, Non-Phone Work at Home Jobs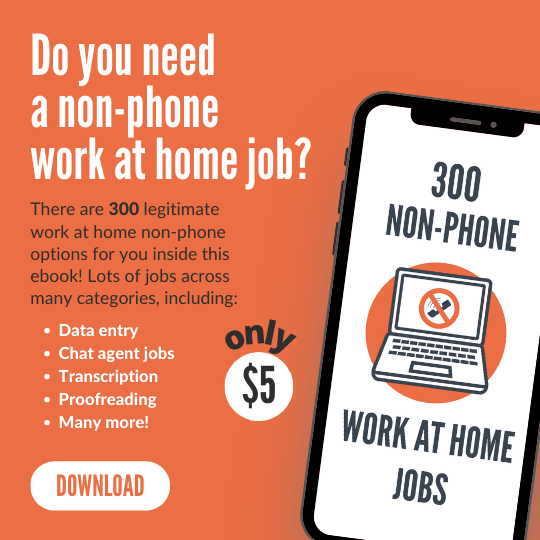 Do you want to work at home but you can't do so using a phone? If so, I have some great non-phone options for you in my latest e-book. It is only $5!
In this book, you'll find links to 300 companies offering different types of non-phone work at home jobs, including:
Data entry
Chat agent operators
Freelance writing
Transcription
Proofreading
Bookkeeping
Search evaluation
Many more!
Each job listing also has a short summary with any relevant information I can find (pay, what countries it may be open to, etc.).
Good luck to you, and I hope you find this ebook helpful if a non-phone job is what you are looking for.
After payment, you will receive the email containing your download.