Do you speak English fluently? Do you enjoy teaching children on a one-on-one basis in a virtual classroom? Do you want the flexibility of setting your own teaching schedule? Then keep reading — you are about to be introduced to an online company called GogoKid that makes all this possible.
What Is Exactly is GogoKid?
GoGoKid is also an online ESL (English as a Second Language) platform that allows students as young as 4 and as old as 12 to be tutored in English on a one-on-one basis. This allows each student to receive the utmost attention from the teacher. 
With GogoKid, you may not have the same students all the time, but if the students and parents like your teaching techniques, you may end up with a stream of regulars. The kids in the program are from China or its territories.
The mission of GogoKid is to help students learn the English language as a tool and to use that tool to think both creatively and critically in a global world.
At GogoKid, online teachers use their own teaching props — something many teachers feel is a major plus!
Does GoGoKid Hire in Other Countries?
Right now, it appears that GoGoKid doesn't have specific requirements regarding your residence as long as you have a stable internet connection.
Only about 3% of the teachers who apply are accepted at GogoKid, so with an acceptance rate this low, there is a good chance that GogoKid will be looking to other countries for applicants.
What Are the Educational Requirements to Work at GogoKid?
The educational requirements to work at GogoKid are that the applicants:
Have at least a bachelor's degree or higher.

Have English as their native tongue.

Have high-speed Internet with a good, solid connection.
While a TEFL certification isn't required to teach here, this is always good to have when you are pursuing jobs like these. The training is very inexpensive and may be completed within a few months from your home.
What is the Application Process Like at GogoKid?
The application process at GogoKid is completed in five steps:
Complete the application and basic applicant information online.

Schedule an interview via their online portal and arrive online 15 minutes prior.

Attend an online orientation.

Submit the remaining paperwork.

Sign a six-month contract, which may be renewed after a company review.
Keep in mind that you will need to showcase your skills during the online interview. This includes your basic teaching techniques as well as your ESL teaching skills.
Should you run into any problems with the online interview process, you are encouraged to take a screen shot of the problem and email their technical support team.
What is Training Like at GogoKid?
There really is not a lot of training available at GogoKid. Once you demonstrate your abilities in the interview process, they will put together the lesson plans for you.
There are eight levels of student learning offered which meet both the North American and Chinese core curriculum for education.
The GogoKid website doesn't make it clear if training is compensated, but there are financial incentives mentioned that may help to get through the process until you actually begin teaching online.
What is the Pay Like at GogoKid?
According to their website, the pay is between $14 to $25 USD per hour for a full hour. It will be less than that for one-half hour slots.
Your pay is based on your experience as well as your "work" credit score. With a low teaching credit score, you may not be discarded, but you may not earn as much money as a teacher with a much higher one.
Please note that this teaching credit score is based on how much time you have put into your teaching at GogoKid. You can always take time off with written permission, but just be aware that your score could be affected.
The pay schedule runs a month behind, with payment being paid via PayPal on the 15th of each month. If you don't already have a Paypal account, it is very easy to set one up.
What Are the Hours and How Flexible Are They?
Each class is 30 minutes long and classes are usually available 48 hours ahead of time. There is no limit to the amount of classes that each teacher may accept. Breaks are recommended and encouraged throughout the day.
Classes adhere to the Beijing Time schedule or GMT +8. If you need to see how the times convert to your area, Timebie is a free online conversion tool.
Again, most teachers are given the freedom to set their own schedules at GogoKid.
What Are the Equipment Requirements to Work at GoGoKid?
The equipment requirements are actually fairly basic and all teachers should have a:
Memory & CPU of at least 4GB RAM with an Intel Core of i3 or above.

HD external web camera or HD integrated camera.

Headset with a microphone that has stable input and output.

Wired DSL Internet Connection of at least 20 Mbps, but the higher the better.

Recommended web browser — Google Chrome.
What Do Others Say About GoGoKid?
Glassdoor has given them a 4 out of 5 star rating on their reviews. Note that as of the date of this blog post, GogoKid is a relatively new company, so definitely check back at Glassdoor for more reviews.
How Can Interested Individuals Apply to GogoKid?
Go to their website and click on the sign up button at the bottom of the page. Good luck to all who apply.
For 300 Flexible, Non-Phone Work at Home Jobs: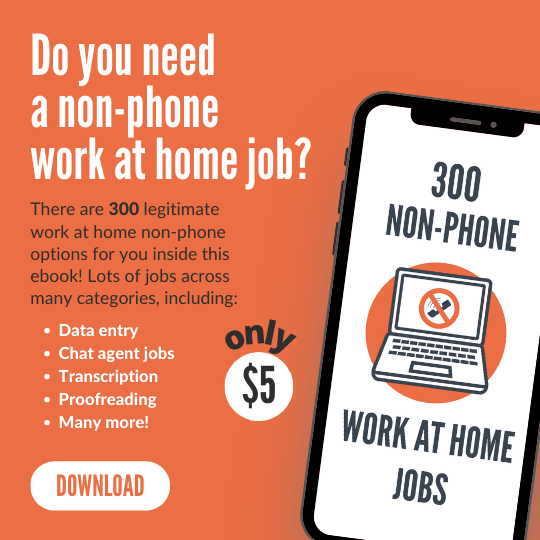 Do you want to work at home but you can't do so using a phone? If so, I have some great non-phone options for you in this ebook. It is only $5!
In this book, you'll find links to 300 companies offering different types of non-phone work at home jobs, including:
Data entry
Chat agent operators
Freelance writing
Transcription
Proofreading
Bookkeeping
Search evaluation
Many more!
Each job listing also has a short summary with any relevant information I can find (pay, what countries it may be open to, etc.).
Good luck to you, and I hope you find this ebook helpful if a non-phone job is what you are looking for.
After payment, you will receive the email containing your download.