In today's post, we're offering garage sale tips to help you experience great success and make more money at your next garage (or yard) sale!
The first half of the year is a tough time; we're just coming off of the holiday season, and we're all exhausted and, usually, broke. It's a time of renewal, so those are two solid reasons why it makes sense for you to want to have a garage sale!
And in 2020, garage sales ain't what they used to be.
We've compiled the best garage sale tips for you to read before you open up your garage doors and rake in the dough – read more below:
10 Garage Sale Tips
1 – Make It Memorable
As I drove through a trendy Atlanta neighborhood recently, I saw signs for a garage sale that really made me stop and look. Why? Because every single one of them had a photo at the top of the flyer of a popular, recent meme. That's right – I saw Spongebob heading out, the "ermahgerd!" girl, and Baby Yoda staring solemnly at me from a wooden telephone pole.
It made me want to actually go to the garage sale, because I felt like it was for me; that these people got me, and so the items they had probably related directly to my interests. Coming up with a creative way to advertise helps you stand out.
When my family and I moved out of the rental home recently that we had lived in for 3 years, I put up about a quarter of the stuff we had up for free on craigslist, Nextdoor, and other apps. I had to get my stuff gone ASAP, but per usual, I procrastinated, and put the free stuff out on my front porch literally the day before we had to get out of the house – and I had just found out that our landlord wanted us out a day early. Yikes!
Normally, you can give stuff away pretty easily, but some of our stuff truly was junk – but it was junk I had a hard time throwing away, and I didn't have time to bring it to a donation spot. So, I got creative, and wrote a funny post about how my husband and I were having a "Millennial Moving Sale."
Guess what? Every single last bit of my items got taken – and even some that weren't up for grabs – and we got our deposit back! Now that's what I call good saleswomanship.
2 – Make It Affordable
Sure, you may have only worn that Baby Bjorn once, and it is name-brand, but what was stylish two years ago may not be stylish today. Getting the going rate for an item that you see quite a lot of value in may not be feasible. Be realistic, and take a look around.
What type of area do you live in? Google it, and see what the average household income is; if it's below average, you may want to price your items as such as well, even if it is painful.
You can always advertise your stuff in other neighborhoods nearby, too – I've done this whenever I've tried to sell something. Our city is diverse – one block can be modest, while the next block could have mansions on it.
Figure out which neighborhoods you want to target, including your own, but make your prices fair – for both you and your customer.
3 – Get Timely
Make sure you pick the right day and/or weekend, and the right time of day to have a garage sale. Again, do some research, and figure out the best times to hold your garage sale.
Typically it's across multiple days and over the weekend, early in the morning. But do whatever works best for your area. See what other folks are doing and when they are holding their garage sales.
4 – Collaborate
Notice how I mentioned in the previous paragraph that you can hold a garage sale over a weekend? It's true, and you likely should hold it over a couple of days, but one of the best ways to get eyes on your items is to actually hold a neighborhood sale over a weekend.
Collaborate with a few other neighbors who may be interested in selling off some stuff, find a weekend that works for all of you, advertise, and watch the dollars roll in!
5 – Organize, Organize, Organize
I'm the first to admit I have champagne tastes. I love going to a simple garage sale and seeing items clean, clearly laid out, and priced. It honestly drives me bonkers if I don't see a price on an item! It's one thing to label something, "Best Offer," but I would at least provide some context as to what you think is a fair price for the item. 
You'll also want to organize your tables by items. So, for example, use one table for toys, one table for clothing, one for books or writing instruments, etc.
This way, people can be sure to head over to the right table that has the item that they're looking for, and will appreciate your organization skills on top of that! A happy customer is much more likely to lead to a sale.
6 – Don't Forget Cash!
Be sure that you're able to make change. You can buy a pouch for change at Office Max, Target, or similar stores – they're fairly cheap and are essentially bank bags. If you're doing a neighborhood sale, see if a neighbor has one you can borrow. 
On that note, make sure that you have a Square available. They're easy to fasten onto your phone, and you can set up payments that way through an app – it's the modern way to do sales! If you use a Square though, make sure to take into account fees. You want to be sure to price items appropriately.
7 – Negotiation is Okay 
You may as well face it – some folks are going to want to haggle. It's almost a sport for them. And you have to be okay with that! You can be firm in your prices if you need to be, but don't be insulted if someone tries to talk you down.
8 – Be Efficient and Be Timely
No one likes it if you're tardy to the party. Make sure that you start your garage sale on-time, with all of your tables, items, and pricing in place. You're sure to get some early birds – maybe even some grumpy ones – but don't stoop to their level if they try and give you an attitude.
Make sure that you have all your t's crossed and i's dotted, and if you say that you're starting at 8 a.m., then start at 8 a.m.!
9 – Add Tidbits and Tips
Need something to do while you're waiting for customers to visit your sale? Write tips and tidbits – even trivia – on your item tags.
Have a super comfy sweater that you're selling? Write it on the tag!
Hocking a really fun family board game? Jot it down!
People like a personal touch and again, it'll set you apart.
10 – Don't Take Garage Sale Tips Too Seriously
Have your own garage sale tips? Great! Don't worry too much about what others say – do your garage sale your way, and you're sure to have a successful sale!
BONUS – Want to Sell a Digital Item Instead?
If you are interested in selling but the idea of putting together a garage sale feels like a massive and time-consuming pain, you may want to consider selling digital products instead.
There are lots of digital products you can sell and you may be thinking e-books and e-courses. Those are great, but they take a great deal of time to put together.
Digital printables are another idea for you! They can be made quickly, and you don't have to have any graphic design experience. Plus, people snatch them up like crazy on sites like Etsy.
Also, there's never any shipping. The people who purchase them will just get a downloadable file to their email, and you get paid. These digital printables can sell over and over once they are made!
For more info, you can sign up for this FREE online workshop hosted by my friend Julie of Gold City Ventures. She made $10,000 in her first year of selling printables on the side.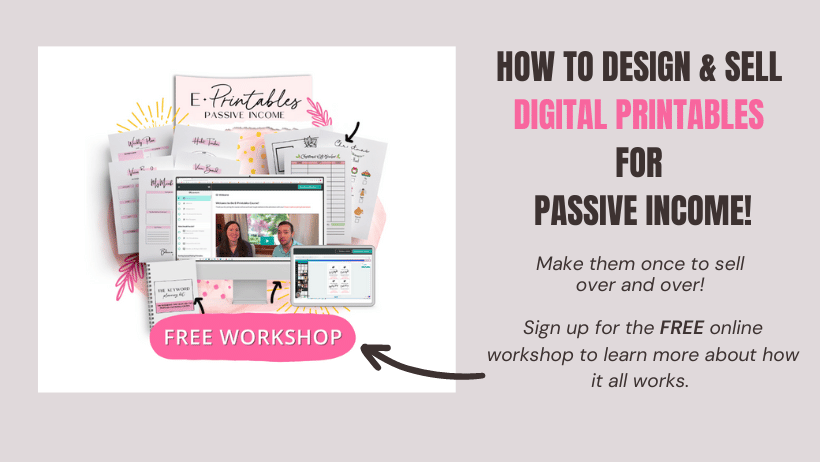 Anna Jones is a bicoastal writer, editor, and producer currently living in Atlanta, GA. She is the proud owner of Girl.Copy, a freelance copywriting and editing business that specializes in creating stellar content in the fashion, technology, marketing, and design sectors. She has a husband, human baby, and fur baby that are her favorite parts of any day. She enjoys traveling, reading, and a nice cold Diet Coke while taking an uninterrupted shower. If you want to internet stalk her or make a business inquiry, check out her website at: www.girlcopy.org.