There are several reasons why a flexible work at home job would be ideal during summer. For many of us, we have so many different activities going on — family cookouts, vacations, not to mention if you have kids and they are home during summer, you might want the luxury of spending a little extra time with them.
If any of the above applies to you, a flexible job you can do from home this summer may be exactly what you're looking for. A job where you set your own schedule, not the other way around. Or better yet, a job that allows you to work whenever you want without any real demands on your time.
In the list below, I've done a search for ten companies that are hiring during summer 2022 and are offering a lot of flexibility.
Many of these jobs are also non-phone. Most phone work tends to require shift work or weekly hour commitments.
If you are interested in even more non-phone work, you may want to check out my new ebook, 300 Non-Phone Work at Home Jobs. It has tons of links and information on non-phone work across many different industries.
10 Companies Offering Flexible Work at Home Jobs This Summer
1 – Boldly – Executive Assistants
Boldly is hiring work at home executive assistants. This is similar to a virtual assistant position.
Boldly is offering the opportunity to work full or part-time hours, up to you! The pay is $23 hourly and benefits are offered.
They do want to hire people who have had at least seven years of experience in executive assistance or administration.
Go here to apply at Boldly.
2 – DeepScribe – Medical Scribes
DeepScribe needs 100% remote medical scribes. This is a career path in the medical field that it's possible to break into without any prior experience. You can read more about what medical scribes do here.
If you work for DeepScribe, you'll enjoy flexible scheduling and part-time hours. They only require that your shifts be 2 hours long. No weekend work required!
Unfortunately (and I realize this is a dealbreaker for many of you) you cannot work for them unless you own an Apple Mac computer required (10.15.5 or higher). This is because their software will only run on a Mac.
Go here to apply at DeepScribe.
3 – Equity Business & Tax Advisors LLC – Full-Charge Bookkeepers
Equity Business & Tax Advisors is currently hiring full-charge bookkeepers to work at home. You must have had at least ten years of past bookkeeping experience to qualify.
According to the job description, this position offers great schedule flexibility. You can work any hours you want, anytime you want Monday-Friday. Pay is between $18 and $22 hourly.
Go here to apply at Equity Business & Tax Advisors LLC.
4 – Voyce – Interpreters
Voyce is currently looking for 100% remote interpreters for many different languages. To qualify, you must have some experience as an interpreter as well as a laptop, tablet/iPad, or desktop computer with a camera, and headset.
This appears to be a very flexible position. They only ask for a minimum of four hours per day, although you can work up to eight hours per day. It looks like it's OK to work days or nights, up to you. Rate of pay isn't listed.
Go here to apply as an interpreter at Voyce.
5 – Liine – Data Entry Specialists (Hawaii Only)
Liine is needing product quality data entry specialists to work at home in Hawaii. The job listings states that workers must be located in Hawaii due to the time zone difference.
According to the job description, scheduling is extremely flexible and their scheduling approach allows you to accommodate for other events that may come up during the day.
Once you are training, pay is $15 hourly. They do prefer to hire people who have had past data entry experience. However, you will be asked to take and pass a skills assessment test to be considered.
Go here to apply at Liine.
6 – Catapult – Essay Editors
Catapult is hiring temporary college admissions essay editors to work from home, and this position has potential to pay $45,000 for the six months you work!
You can make your own schedule and work whenever you want. Regarding it being temporary, it's a six-month stint, running from June 2022 to January 2023.
There are a few different qualifications, but the ones that really stand out are that you must love literature, have a knack for writing and editing, understand the college admissions process, and that you have had some exposure to top-tier universities.
Go here to apply as a senior essay editor at Catapult.
7 – Ivy Math – Math Tutors
Ivy Math is looking for remote tutors to work from home. You would be tutoring 3rd to 8th grade students in math. It's necessary that you have at least one year of past experience in K-12 teaching or tutoring.
The job posting does say scheduling and hours are very flexible. You would work Monday through Friday, 3 PM to 7 PM, and be off weekends.
Pay is listed at $25,000 a year.
Go here to apply as a math tutor at Ivy Math.
8 – eScribers, LLC – Legal Transcribers
eScribers is looking for legal transcribers to work at home (medical transcribers are also encouraged to apply).
This is 100% remote, and you have the ability to set your own schedule and work hours. However, they do ask that you commit to at least 20 hours of work per week and be willing to work occasional weekends.
While the job posting doesn't say that you need legal transcription experience to apply, you must possess a high school diploma or GED and have a recommended typing speed of at least 65 words per minute.
Go here to apply at eScribers, or read our eScribers review.
9 – Study.com – Copyeditor For Student-Submitted Questions
Study.com is needing work at home copyeditors for student-submitted academic questions. You would be revising the submitted questions for errors and clarity so that they can then be answered by Study.com's subject matter experts.
This position allows you to work whenever you want, no minimum or maximum number of hours required.
The position does require that you have a minimum of a 2-year degree or sufficient copyediting experience.
Go here to apply at Study.com.
10 – Purple Academy – English Language Essay Graders
Purple Academy is hiring essay graders for essays (written by Korean elementary school students grades 1-3).
This is not real-time tutoring, so you can work when you want, but there are deadlines to be met.
You must be a native or near English speaker with a great work ethic, 18 years old or older. You must also own a tablet with an electronic pen so you can annotate writing.
Go here for more info and to apply at Purple Academy.
So that wraps up our list! I hope you are able to find something you can do for work this summer that also allows you the flexibility to enjoy other fun summer activities.
If you're looking for more flexible jobs, I recommend a subscription to FlexJobs (they update multiple times per week and their listings are 100% legit), and be sure to keep tabs on our work at home job leads page here on this site as well.
Good luck!
For 300 Flexible, Non-Phone Work at Home Jobs: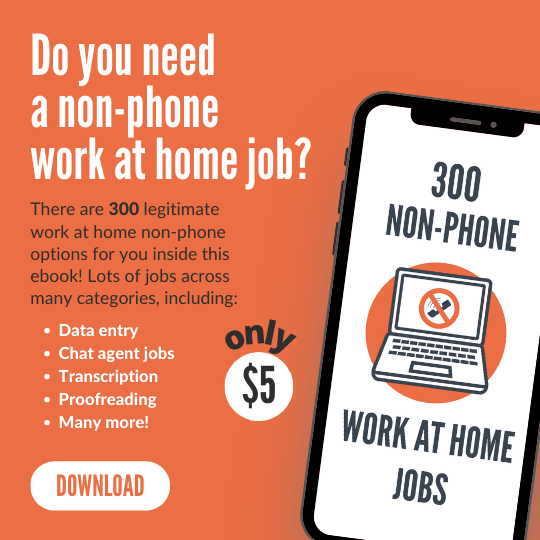 Do you want to work at home but you can't do so using a phone? If so, I have some great non-phone options for you in this ebook. It is only $5!
In this book, you'll find links to 300 companies offering different types of non-phone work at home jobs, including:
Data entry
Chat agent operators
Freelance writing
Transcription
Proofreading
Bookkeeping
Search evaluation
Many more!
Each job listing also has a short summary with any relevant information I can find (pay, what countries it may be open to, etc.).
Good luck to you, and I hope you find this ebook helpful if a non-phone job is what you are looking for.
After payment, you will receive the email containing your download.