Some of you might remember several months ago when I wrote about a site called Healthy Wage where you could actually earn money for meeting your weight loss goals.
Well, today I am sharing some information with you about another similar site called DietBet. Halina Zakowicz, a writer at I've Tried That, has actually signed up for DietBet and given it a go. Below I will link her article for you so you can read all about her experience there, but first I'm providing a basic DietBet review for you.
I don't see any rules regarding whether or not you can register if you're outside the US, but you do need to be at least 18 years old to sign up.
DietBet – How It Works
At DietBet you are basically betting on yourself to lose weight. When you sign up, you'll see that you have the option of either setting up your own diet betting game or joining an existing one.
If you join one, you'll have to pay a certain amount upfront as does everyone else who joins the same bet. And that's how the pot grows. Each bet will have it's own rules — example, lose four percent of your body weight in 30 days or lose 10 percent of your body weight in six months.
If you meet the goal that's set, you and anyone else who meets it will split the pot of money for that game.
You also have the option of creating your own diet betting game. You still have to pay a fee to enter for games you create, but your fee will be refunded if you have at least eight people join.
DietBet Rules – Verifying Your Weight
To ensure that you are not cheating, DietBet requires that you take a pic of yourself standing on scales and the picture has to show both you and the scales displaying the numbers. You are also given a special word that must be written on an index card and displayed in the picture for further verification.
This makes it really easy to do your weigh-ins … you don't have to visit the doctor or a gym or anything to have it confirmed.
DietBet Payout
At the end of the bet after you've submitted your final weigh-in, you should receive an email letting you know that you're one of the winners if you've successfully met your goal.
After all the winner's weights have been finalized, you'll get another message letting you know what your total DietBet winnings are for that bet. Hopefully you'll have earned back what you put in plus more!
You can request a payout via Paypal at the end of the bet. Keep in mind that DietBet does take some fees from your winnings. They will take between 10 and 25 percent just depending on how much is at stake. The fees are the highest for the smaller bets.
Feedback
As mentioned above, I do have a blog post to share with you from someone who has recently been participating at DietBet. If you are considering signing up, definitely read Halina's post first. Her experience overall was a positive one.
My personal feeling on sites like this is, what could be more motivating than actually getting paid to lose weight? It's amazing what you'll find you can do when your own money is at stake. However, there is also that risk that you won't meet your goal and you'll lose your money. 🙁
Want to check it out?
If DietBet interests you, you can go here to check out the site and see what you think. You can also try Healthy Wage – a site very similar to it.
300 More Flexible, Non-Phone Work at Home Jobs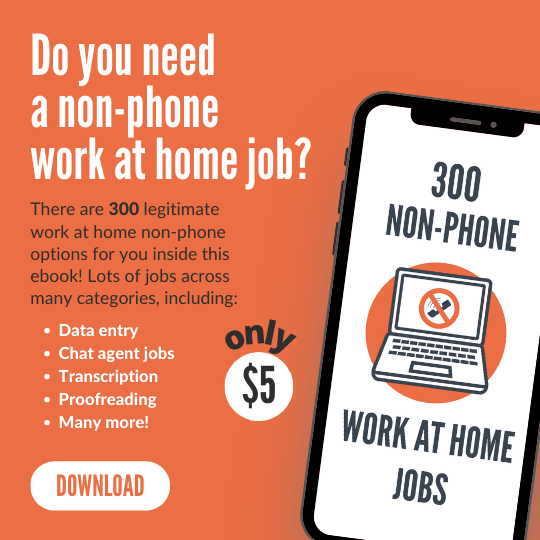 Do you want to work at home but you can't do so using a phone? If so, I have some great non-phone options for you in my latest e-book. It is only $5!
In this book, you'll find links to 300 companies offering different types of non-phone work at home jobs, including:
Data entry
Chat agent operators
Freelance writing
Transcription
Proofreading
Bookkeeping
Search evaluation
Many more!
Each job listing also has a short summary with any relevant information I can find (pay, what countries it may be open to, etc.).
Good luck to you, and I hope you find this ebook helpful if a non-phone job is what you are looking for.
After payment, you will receive the email containing your download.