Here are some magazines that may occasionally accept both writing and artwork/photography submissions. Some of these are very well known, while others are fairly small. You'll  need above-average writing and photography skills to get your work accepted, and there might be a lot of waiting.
With this kind of work, you will spend a lot of time sending query letters to editors to see if they're even interested in an article before you write it, then more months to see if your article is up to their standards.
You'll also probably need a decent portfolio of previous work to prove your professionalism before they'll even take you seriously. But if you're willing to wade through all the upfront difficulty, the pay rates are fantastic, and getting articles published with these magazines can help your career in a big way.
Animals – Pets
Business – Career
Children – Young Adult
Crafts
Education
Family
General Interest
Sci-Fi/Fantasy
Literary Fiction
Rural Life/Homesteading
Outdoors
If you have an interest in jumping into the higher end freelance writing market, the above links should give you a good set of starting points.
For 300 Flexible, Non-Phone Work at Home Jobs: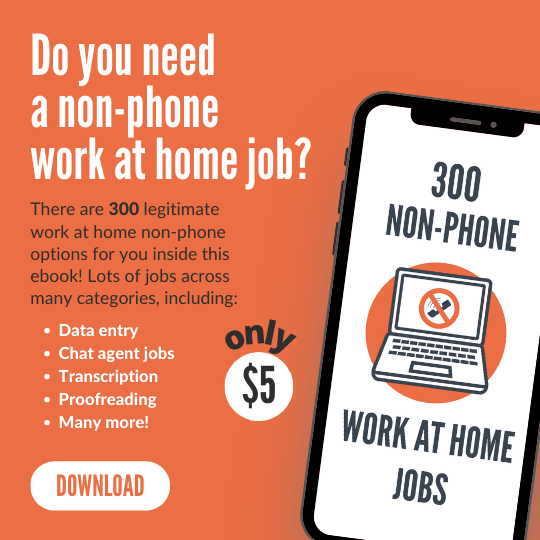 Do you want to work at home but you can't do so using a phone? If so, I have some great non-phone options for you in this ebook. It is only $5!
In this book, you'll find links to 300 companies offering different types of non-phone work at home jobs, including:
Data entry
Chat agent operators
Freelance writing
Transcription
Proofreading
Bookkeeping
Search evaluation
Many more!
Each job listing also has a short summary with any relevant information I can find (pay, what countries it may be open to, etc.).
Good luck to you, and I hope you find this ebook helpful if a non-phone job is what you are looking for.
After payment, you will receive the email containing your download.