As you might have noticed, it seems that a great majority of work at home companies require signing up as an independent contractor rather than as an employee.
While there are definitely some perks you can enjoy as an independent contractor, many people simply do not like the idea of it and would prefer to work as an employee where taxes would be taken out of pay automatically.
Working as an employee for a company also usually means you get paid training and other benefits like insurance and paid time off.
If you're not too keen on the idea of being an independent contractor, you might want to browse through this list I made of companies that hire you as an employee. You'll notice that most of these are phone-based jobs.
I'm having more difficulty finding home jobs in other fields that don't consider you an IC, but will try to update as I come across them.
Keep in mind this is just a general list and not all will be actively hiring right now.
Work at Home Companies That Hire You As An Employee
Phone-Based
Tutoring/Teaching/Scoring
Transcription
For 300 Flexible, Non-Phone Work at Home Jobs: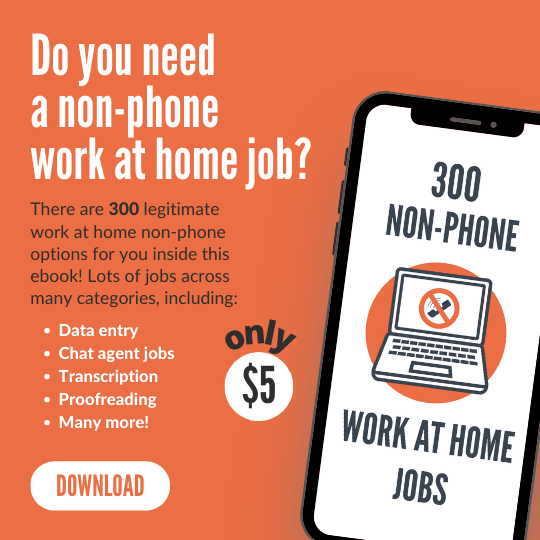 Do you want to work at home but you can't do so using a phone? If so, I have some great non-phone options for you in this ebook. It is only $5!
In this book, you'll find links to 300 companies offering different types of non-phone work at home jobs, including:
Data entry
Chat agent operators
Freelance writing
Transcription
Proofreading
Bookkeeping
Search evaluation
Many more!
Each job listing also has a short summary with any relevant information I can find (pay, what countries it may be open to, etc.).
Good luck to you, and I hope you find this ebook helpful if a non-phone job is what you are looking for.
After payment, you will receive the email containing your download.