NiceTalk is an English language tutoring platform for native Chinese speakers with a simple concept – practice makes perfect. They strive to make it as easy as possible for students to spend time using their new English skills in normal conversational situations.
NiceTalk tutors are remote workers who primarily interact with students through a video conferencing interface made for smartphones.
Working for NiceTalk
From what I can gather on the website, the workflow sounds really simple.
Just go online with the app and wait for a tutoring request. There are a couple of different ways for students to get matched with a tutor. One is the random mode, which chooses a tutor automatically based on ratings and other factors. The other is direct mode where a student picks a tutor from a list.
Once you're matched with a student, your job is very simple. Just introduce yourself and get into a conversation. They have some suggestions in their FAQ for topics you can use if you run out of things to talk about.
NiceTalk Pay Rate
NiceTalk tutors get paid by the minute. For a full hour of tutoring, you'll make $10. They pay weekly via paypal, but you have to get your balance above $20 to meet the payout threshold.
If you'd like to earn more than this doing ESL tutoring and you have a bachelor's degree, you might consider applying to a company like VIPKid instead. Their requirements are more stringent, but you will most likely earn more money.
Scheduling with NiceTalk
You can work whenever you want, for as long as you want. There are no restrictions whatsoever when it comes to scheduling.
Usually, with jobs like this there will be peak times when more students are online, but it's entirely up to you whether or not you want to worry about that.
Requirements to Apply
The only skill requirement is a good ability to speak English. They prefer people with TEFL/TESOL/CELTA certificates, but these are not mandatory.
As a NiceTalk tutor, you'll need a quiet place to work where you won't be disturbed during tutoring sessions.
Tech Requirements
To become a NiceTalk tutor, a pretty decent Internet connection is a must. Their website says it should be above a 300kbps upload speed and a 500kbps download speed.
To do the work, you'll need an Android or Apple device that can run the NiceTalk app. Apparently, for an ideal experience, you need at a minimum, IOS 7.0 or Android 4.0.
NiceTalk Application Process
NiceTalk has a little section in their FAQ about their hiring procedure. From what they say, it sounds relatively simple. However, the information is pretty skimpy, so there could be more to it.
According to the instructions, all you have to do is register on the website, go download the app, run it, and follow the prompts. After you've completed those steps, you'll need to record a short introductory video so they can get an idea of how well you speak English.
There is no mention of a complicated interview process or anything like that, but I wouldn't be shocked if there are more steps than the FAQ suggests.
Feedback
I used Glassdoor to find reviews from current and former NiceTalk language tutors. There were only a few reviews available, probably because this is a relatively new company, but all the reviews were very complimentary.
Right now the company's average score is 4.7 stars, which is pretty great, and way above average compared to many other language tutoring jobs out there.
Most of the reviews weren't particularly detailed, but I was able to pick up on a few themes. The work seems to be relatively fun and easy to do. The students are usually good to work with and polite.
The company pays on time, and no one was griping about the pay rate, even though it doesn't appear to be very high.
There was one complaint about the lack of a desktop version of the app and a mention of occasional internet connection issues.
Someone else suggested that it can be hard to get enough hours sometimes, which isn't surprising, especially since it looks like this company is still in the process of establishing their customer base.
Obviously, you can never tell for sure whether a job is really legit until you try it for yourself, but based on everything I'm seeing, this looks OK.
They don't have particularly stringent hiring requirements, and since they seem to be a fairly new company, it might be easier to get hired here than it would be with one of the better established outfits.
Bottom line: if you have an interest in this kind of work, particularly if you have some kind of certification in language tutoring, this gig may be worth looking into.
That said, don't quit your day job for it. It's an independent contractor opportunity which means steady work is no guarantee.
How To Get Started
If you like the sound of NiceTalk and want to take a shot at it, go here to get more details and put in your application.
Remember – you will need to download the app and record a video demo at some point during the process, so wait until you have a few minutes free, and then go to a quiet location in your house before you begin.
For 300 Flexible, Non-Phone Work at Home Jobs: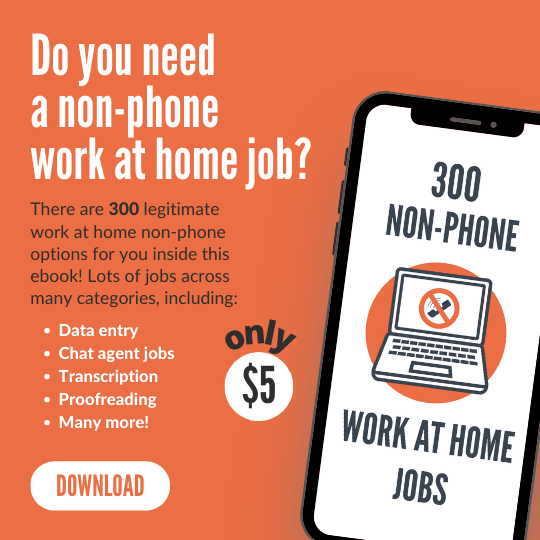 Do you want to work at home but you can't do so using a phone? If so, I have some great non-phone options for you in this ebook. It is only $5!
In this book, you'll find links to 300 companies offering different types of non-phone work at home jobs, including:
Data entry
Chat agent operators
Freelance writing
Transcription
Proofreading
Bookkeeping
Search evaluation
Many more!
Each job listing also has a short summary with any relevant information I can find (pay, what countries it may be open to, etc.).
Good luck to you, and I hope you find this ebook helpful if a non-phone job is what you are looking for.
After payment, you will receive the email containing your download.