There's a lot more to Amazon than just shopping — in fact, there are multiple ways to make money!
A few you may know about already and a few you may not. I did some extra digging around this morning so I could show you how to make money on Amazon. Here are my findings:
How to Make Money On Amazon Selling Your Stuff
You can sell your stuff on Amazon and even open up your own little e-store if you want. They do not charge per-item listing fees and many people do prefer using them to sites like Ebay.
If you decide to go the webstore route, they let you try it free for a month, but after that there will be a monthly charge.
Another way to sell on Amazon is through FBA (Fulfillment by Amazon), where you simply ship the items you want to resell directly them, and then THEY ship to the customer when it sells, and you get paid. 🙂
There are many people who make far more than just a side income selling with FBA. The Selling Family actually has a free email course to help you do this and make it work.
Amazon MTurk
This is the most obvious first choice because I talk about MTurk regularly on this site.
It's short task work you can do for various requesters across almost any category you can imagine (writing, transcription, data entry, search evaluation, etc.) and Mturk is the platform you use for doing the work.
Anyone can sign up as a worker although if you're not in the US you may find it difficult to get paid since I'm not sure that Amazon does bank transfers for people living outside the country.
For more info on how MTurk works, read our short review or check out this detailed beginner's guide to MTurk that is very highly-rated.
Amazon's Trade-In Program
I'm sure you're probably familiar with all of those little sites that let you trade things in and get cash and/or gift cards in return. Stuff like your old cell phones, laptops, etc.
Well, Amazon actually has something similar with a very long list of things you can trade in, including cell phones, laptops, cameras, books, textbooks, music, mp3 players, and much more.
Shipping is free on your end (they let you print off a shipping label to use) and you get an immediate offer on anything you submit. Go here to learn more about how it works.
Make Money With the Amazon Affiliate Program
You can also sign up as an Amazon Associate and earn commissions from sales you direct through your unique links to the site.
Simply write about a product you love and use one of your links for people to click. If they buy the item, you'll get a percentage of commission for their purchase.
You can also earn money from purchases people make for other things after they've already clicked through your links because Amazon creates a cookie and will "remember" that your Amazon Associates link was the last one that person clicked.
Self-Publish on Amazon
If you're a writer and want to get your work out there, you can self-publish on Amazon. With Kindle Direct Publishing, you can earn up to 70 percent of royalties on your e-books while also having the freedom to set your own prices.
There is also an option available to go through Create Space which allows your inventory to be produced on-demand as customers order so there is no upfront inventory investment.
I have successfully written and self-published one e-book for Kindle and explained how I did it in this post. Blogging With Amy also has a very helpful series of posts that explain in great detail how to write and publish an e-book.
Take Calls From Home For Amazon
Amazon actually does hire home-based virtual customer service reps regularly! Pay is around $11 an hour and the job is usually reserved for people living in specific states.
You can go to the careers page on their main site to find these jobs, just do a search for "work at home" in the keyword field. You can also read the Amazon work at home customer service review I wrote for more info on how it works.
Honorable Mention: The Amazon Vine Program
This one actually isn't one of the many ways to make money on Amazon, but it is a way to get stuff for free! The Vine program is very exclusive and by invitation only.
Amazon invites only the highest-ranked reviewers of their products to join. Once you're in, you can get free merchandise in exchange for honest, well-written reviews. There are more details on how it works here.
If you really want in, I would recommend writing a lot of detailed, helpful reviews on the site and cross your fingers that you get picked at some point.
Not Amazon, But For 300 Flexible, Non-Phone Work at Home Jobs: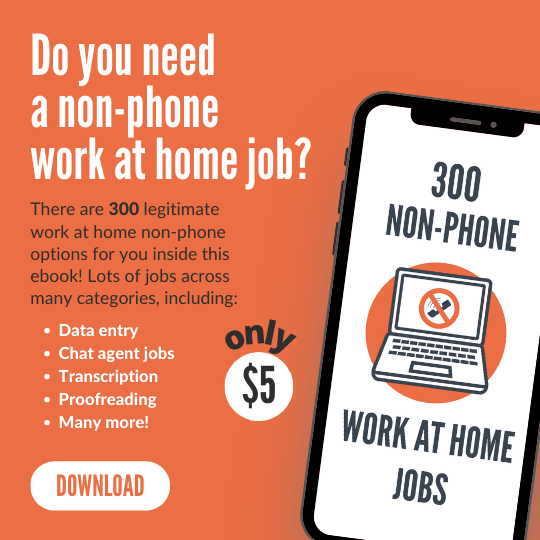 Do you want to work at home but you can't do so using a phone? If so, I have some great non-phone options for you in this ebook. It is only $5!
In this book, you'll find links to 300 companies offering different types of non-phone work at home jobs, including:
Data entry
Chat agent operators
Freelance writing
Transcription
Proofreading
Bookkeeping
Search evaluation
Many more!
Each job listing also has a short summary with any relevant information I can find (pay, what countries it may be open to, etc.).
Good luck to you, and I hope you find this ebook helpful if a non-phone job is what you are looking for.
After payment, you will receive the email containing your download.