There are dozens of companies out there who buy stock imagery, but recently a few have cropped up that specifically cater to people who use their smart phones and tablets as cameras.
These companies generally release mobile apps designed for uploading the photos right off your device.
Selling stock photos can be a great way to make money. Some companies will give you more than fifty percent of the profits from your sales, and since prices on photos can occasionally go over 100 dollars, that can really add up in a hurry.
But selling stock photography is definitely a numbers game. The sites that sell photos have many thousands of pictures available for buyers to browse through, so you'll need to have a large number of your own photos in the mix, and you'll need to get the right kinds of photos—those that fit in very high selling categories, or target specific niches that might be underrepresented.
Since your cell phone will be with you 24 hours a day, it's a great tool for taking advantage of those unplanned photo opportunities you run into out in the world. Having an app on hand that will let you upload your newly gotten photos right there on the spot and put them up for sale can be extremely convenient, and will help you amass a good library of photos in no time.
Below is a list with information on some of the more popular stock-image companies that offer apps on mobile devices.
They charge 10 dollars for a photo and 50% of that goes to the photographer. They cater very specifically to mobile users with an app available on both Android and iOS.
The approval process is based on member ratings. Every time you upload an image, you have to rate other members' images, and in order for one of your images to get accepted, it will need a certain number of positive ratings from other members.
This app, which is similar to Instagram, is available for both Android and iOS. It gets good marks from some reviewers for its selection of photo enhancing filters.
The market feature, which allows you to sell your photos, is fairly new and apparently still changing. They sell the photos via a partnership with Getty Images.
This site lets you create a gallery of your photos and get paid 20 percent on each purchase. The selling price is set by Twenty20, and they charge based on the size of the photo, with an apparent minimum price of 10 dollars. The app is only available for iOS.
This company advertise themselves as the world's largest stock-image agency. Many of the buyers are big-time companies like newspapers, magazines, and major publishing houses.
Their app is called Stockimo and it's only available for iOS at this time. Photos submitted via Stockimo have to be taken on a cell-phone or similar mobile device. They want pictures taken with real cameras, too, but they prefer those to be uploaded to the website.
The prices can get really high here, with some photos selling for as much as 500 dollars. According to Alamy, the average sale price is 90 dollars. Photographers get a flat 20% fee for anything that sells, and most photos can be sold repeatedly. Photos go through an approval process before they are accepted.
This is one of the more popular stock photo repositories on the web, and they have a mobile app for uploading your pictures called Clashot, available for both Android and iOS.
You can upload any picture you want, and they don't require you to go through as much legal red tape as many other sites when you're adding pictures using the Clashot app. Your images are available to browse online right away after uploading, but not all are approved and put up for sale.
#5 – IconZoomer
This company works on an assignment based system. They put out calls for certain kinds of photos, users take pictures trying to fulfill those calls, and the approved photos earn the users five credits each. Credits can be exchanged for cash and prizes, or used for charity. The app is available on Andriod and iOS.
Another company that uses an assignment based system. Scoopshot specifically caters to companies like news outlets who are looking for photos of a very specific nature.
Users submit photos to fulfill the assignments, and the requesting outlets choose which images they want to purchase. The app is available for both Android and iOS.
This is a fairly large stock repository, and they have an app called Fotolia Instant available for both Android and iOS. The pay scheme here is a bit complicated, and involves photo ranks and exclusivity deals. You can earn anywhere from around 20% to around 60%.
For 300 Flexible, Non-Phone Work at Home Jobs: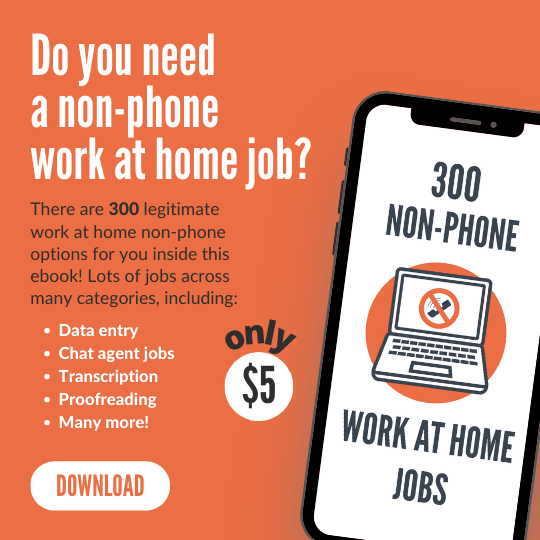 Do you want to work at home but you can't do so using a phone? If so, I have some great non-phone options for you in this ebook. It is only $5!
In this book, you'll find links to 300 companies offering different types of non-phone work at home jobs, including:
Data entry
Chat agent operators
Freelance writing
Transcription
Proofreading
Bookkeeping
Search evaluation
Many more!
Each job listing also has a short summary with any relevant information I can find (pay, what countries it may be open to, etc.).
Good luck to you, and I hope you find this ebook helpful if a non-phone job is what you are looking for.
After payment, you will receive the email containing your download.