As you probably know if you've been following Real Ways to Earn and other work at home blogs for some time, online ESL teaching opportunities are all over the place. Many, many of my readers have recently found a lot of work at home success with these opportunities.
On the downside for some of you, this isn't exactly an industry you can easily break into without a college degree (most often a bachelor's is required, or proof of current enrollment in college) or TESOL/TEFL certification.
While there are some companies that will consider workers without certificates and without college degrees, the majority of companies seem to want them.
For what it's worth, TESOL seems to be requested most often for online teaching opportunities.
While there's nothing we can do on the college degree requirement if a company happens to have that, we know of some pretty inexpensive ways for you to get TESOL/TEFL Certification. So if you've already got the college end of things covered for a company you're interested in, and you're just lacking these English language teaching certificates, keep reading to learn exactly what they are and where to get them.
What Is TESOL/TEFL Certification?
TESOL and TEFL Certifications are pretty similar. TESOL stands for Teaching English to Speakers of Other Languages and TEFL stands for Teaching English as a Foreign Language.
The Go Overseas website explains the actual difference between the two very well.
To sum up, TEFL is more for people who are teaching English to non-English speakers in an academic sense, and TESOL is more for teaching English to non-English speakers who want to use English in everyday situations. For example, if they are non-English speakers living in an English speaking country.
These certifications (or one of these certifications) are typically required if you want to teach the English language to non-English speakers either online or abroad.
Where Can You Get TESOL/TEFL Certificates?
We've gotten a lot of questions from readers via email and in our Facebook group concerning how to go about getting certified. After doing some research and seeing suggestions from people who have already gotten certified, we've found that Groupon offers this certification very affordably via different reputable organizations.
International Open Academy offers an online TESOL course for just $19 (discounted from $499). It is currently rated at 4/5 stars on Groupon.
Learn TEFL offers an online TEFL course for just $39 (discounted from $285) through Groupon. It is currently rated at 4.5/5 stars. This TEFL course also offers job placement assistance.
Note that these are the prices as of the date this blog post was written (March 2020) and are of course subject to change as this post ages.
We've seen lots of great feedback on both of these courses.
How Long Does It Take To Get the Certificates?
Because the courses I've listed above are done online and you can go at your own pace, it's up to you.
The International Open Academy course for TESOL has 120 hours of course content for you to go through, and the Learn TEFL course has 150 hours of course content.
Do You Need Both TESOL and TEFL Certification?
You don't have to have both, but it doesn't hurt to have both if you are trying to cast a wide net and apply with many companies.
I have seen companies with TESOL listed as a requirement, TEFL listed as a requirement, or they will say you can apply if you have either.
It's also worth mentioning that some of the ESL companies you can apply with have their own certification courses you can go through before starting to work.
Good luck in whatever you choose to do!
For 300 Flexible, Non-Phone Work at Home Jobs: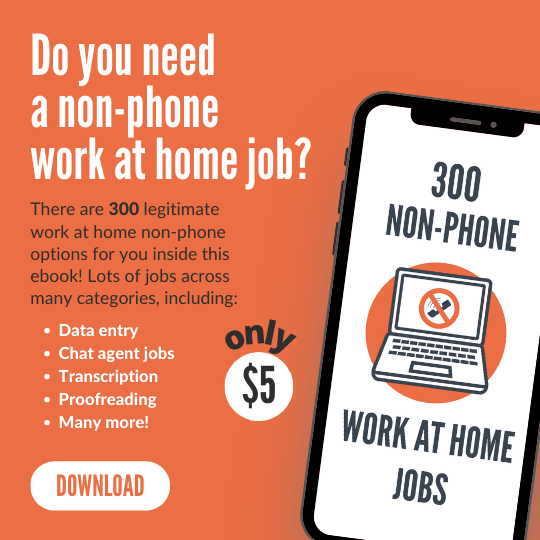 Do you want to work at home but you can't do so using a phone? If so, I have some great non-phone options for you in this ebook. It is only $5!
In this book, you'll find links to 300 companies offering different types of non-phone work at home jobs, including:
Data entry
Chat agent operators
Freelance writing
Transcription
Proofreading
Bookkeeping
Search evaluation
Many more!
Each job listing also has a short summary with any relevant information I can find (pay, what countries it may be open to, etc.).
Good luck to you, and I hope you find this ebook helpful if a non-phone job is what you are looking for.
After payment, you will receive the email containing your download.