Are you in a situation where you have an old, outdated computer — or even no computer — and you really need a work from home job?
If so, there are certain companies that will supply a computer and possibly other equipment for you if you are lucky enough to get hired.
Keep in mind that in most cases you are not going to own the computer you're sent because they may not be exactly giving it to you.
Every company will have different terms in place, but most of the time you may be required to return the computer at the time your employment with that company comes to an end. Also, these companies are not always hiring.
Work From Home Companies That Send You a Computer
1 – Apple
Apple regularly has openings for the "At-Home Advisor" work from home position.
If hired, they will send you an iMac to use for work. I have read SO many good things about this job and the pay! If you're interested, you can read our review of work from home jobs at Apple, or go here to visit Apple's site and search for openings.
2 – World Travel Holdings
World Travel Holdings has several work from home positions open throughout each year for travel sales, reservations, etc. They will send you a computer, monitor, mouse, keyboard, phone, and headset to use for working.
According to the website, "Refundable $500 deposit for a company computer and phone (deposit will be spread out over 5 payroll deductions)." So you pay for the computer although not all at once, and you can get it back.
Read our review of World Travel Holdings or go here to apply.
3 – Aspira
Aspira (formerly Active Networks) regularly hires home-based workers in different locations to handle phone reservations.
A reader  let me know they send out a Thin Client computer and a headset phone if you are hired. You also receive a keyboard and a mouse. You just have to provide a computer monitor.
Read our Aspira review or go here to check for openings.
4 – Articulate
A company that creates tools for developing E-courses. They appear to have an entirely virtual operation, which means all positions are remote, and they'll set you up with all the home-office equipment you need to do the job.
To check for open positions at Articulate and read more about the company, go here.
5 – Progressive
This insurance company doesn't always have work from home positions available, but when they do, they typically provide you with a computer.
Most of their work from home jobs are in the phone category, including customer service and sales positions.
Go here to see their open positions.
6 – Files.com
This is another company with a strictly work from home business model. They specialize in cloud storage solutions for business.
All employees receive a laptop and $1000 to purchase whatever other office equipment they might need.
Most of their jobs seem to be for higher-end work, so you'll need some impressive qualifications to get hired here. Check out this page  to read more about the company and check for open positions.
7 – Jobbatical
This firm partners with other companies to help them relocate international hires without getting mired in immigration difficulties. They hire many remote workers for a variety of roles, and provide all necessary office equipment, including a computer.
To learn more about the company and see if any of their jobs are a fit for your skill-set, go here.
8 – Cro Metrics
A company that assists with data crunching for web developers and advertisers.
Their remote employees get all kinds of great gear including a MacBook and a noise canceling headset.
To check for openings at Cro Metrics, go here.
9 – Zapier
This company is known for a tool that helps link online applications together so that they can share data with each other, which can greatly simplify your workflow.
Most of their jobs are remote, and they will provide you with a computer, along with lots of other great benefits.
To take a look at Zapier's open positions, go here.
10 – Dozuki
A company that designs software to help connect employees in complicated workforce schemes.
They hire quite a few remote workers for a variety of positions, and will give you the money to set up your home office.
To search for openings at Dozuki, go here.
11 – Ghost
This firm creates open-source software that powers a number of popular blogs.
The majority of their workforce is remote, and many of their positions are on the higher end as far as experience requirements and educational background. If you do manage to get hired, they'll set you up with all the tech you need to create a killer home-office, including a very nice computer.
To check their jobs page for open positions, go here.
12 – Kopa
A fully remote company offering a web app that helps people find places to rent.
Employees receive quite a few great benefits, including a good healthcare plan, and all the equipment they need to do the job.
To find out more and check out their current job openings, go here.
13 – Bullhorn
Lots of work at home jobs open to US and some in UK. They will ship a laptop and other needed equipment if you are hired.
Go here to check for openings with Bullhorn.
---
So that completes the list, but feel free to help me out if you know of any other companies that will send you equipment to do the job from home and I will get them added.
300 More Flexible, Non-Phone Work at Home Jobs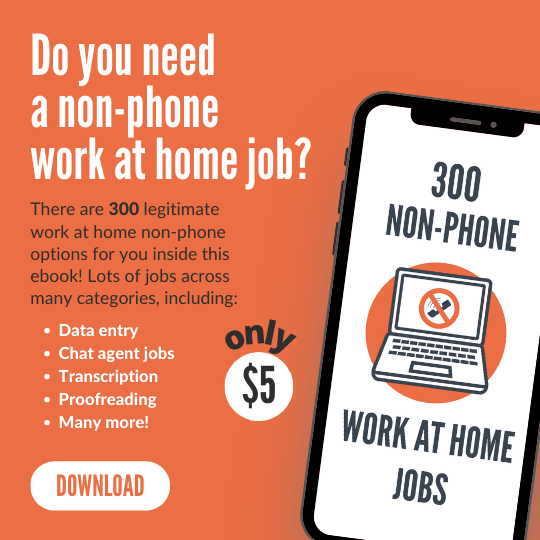 Do you want to work at home but you can't do so using a phone? If so, I have some great non-phone options for you in my latest e-book. It is only $5!
In this book, you'll find links to 300 companies offering different types of non-phone work at home jobs, including:
Data entry
Chat agent operators
Freelance writing
Transcription
Proofreading
Bookkeeping
Search evaluation
Many more!
Each job listing also has a short summary with any relevant information I can find (pay, what countries it may be open to, etc.).
Good luck to you, and I hope you find this ebook helpful if a non-phone job is what you are looking for.
After payment, you will receive the email containing your download.