Could you use extra cash? Do you like the idea of conducting phone surveys? Then G1 Survey Research might be a company for you to investigate. Our G1 Survey Research review below has more details.
How Does the Pay Work at G1 Survey Research?
I am finding that people are mentioning the pay is $10 an hour in addition to bonuses. Most telephone interviewers earn an average of $12.26 an hour with the bonuses factored into the pay. Again, there is no selling — only collecting data.
Pay appears to be every two weeks via direct deposit.
Can Workers Outside of the US Work at G1 Survey Research?
Unfortunately, at this time this job is only open to those in the USA. If you're not in the US, you may find more remote interviewer jobs listed on FlexJobs that are available to other countries as well as the US.
What Exactly is G1 Survey Research?
G1 Survey Research is a survey research company, hiring remote independent contractors to work as telephone interviewers.
Telephone interviewers are individuals who do outbound calling to a selected demographic of the population. As a telephone interviewer, your job is to get the person on the phone and briefly introduce yourself (usually by first name only) and the nature of the call or survey. Then, you begin with the questions.
Part of the survey is a script briefly introducing topics or campaigns and then you will ask questions, wait for responses, and begin typing in responses. Most of these campaigns are of a political and/or scientific nature given how politics can influence science and vice versa.
Most of us at one time or another in our lives have received these "get out and vote" type of calls. However, these calls are more of a political advocacy towards bills being introduced and policies being legislated in the scientific arena, i.e., agriculture, medical research, etc.
This remote position is not the same as telemarketing as there are no products to sell and no sales quotas to meet. You will only be asking questions and recording answers via typing on the e-form.
The answers you type in will help industries and elected officials understand how citizens think about key issues, which may also be on the ballot in an upcoming election.
G1 Survey Research was founded in 2015 and is headquartered in Cottonwood Heights, Utah but has locations throughout the United States. However, you yourself will be still be working from home.
How Does G1 Survey Research Work?
Once you apply for a remote telephone interviewer position, the management will contact you about setting up an interview. On the interview, you will be given a script to read and participate in a role playing exercise.
The key is to read the script, but not sound like you are reading. In other words, you need to sound engaged and interested in the topic. This may be a particularly good fit for those with outgoing personalities wh0 enjoy talking with people.
Once accepted for the position, an email should arrive with setup instructions for your phone and computer as well as a campaign to begin "calling on behalf of."
You will also go into the website and create a user name and password for communication with your teammates and management. This is necessary so you may receive emails and updates about the ongoing campaigns.
What Are the Hours Like at G1 Survey Research?
While the hours are "flexible", most of them are during the evenings or on weekends when people are home. Calls do not go out after 9 pm EST.
What About Equipment and Hours at G1 Survey Research?
You need a laptop or PC with a headset to be able to make outbound calls from your computer. The directions on how to hook up to their system will be supplied to you once you are accepted.
Usually a Windows-based program with anti-malware and anti-virus control is what works best.
You will also need to download Slack and have a Slack account to be able to communicate with management and teammates while on calls.
What Do Others Say About G1 Survey Research?
Indeed gave them a 5-star rating citing that they pay 6% above what most remote telephone interviewers make in similar jobs. Glassdoor gave them a 2.7 out of 5-star rating with good things mentioned about the flexibility of the job, the adaptability of the job, good management communication, and good camaraderie with team mates.
Many reviews mentioned that it was a good job for college kids who need the flexibility.
How Do Interested Individuals Apply to G1 Survey Research?
The link on the website does not appear to be working for applications. However, this is a link to a Google form the company has used previously to process applications.
For 300 Flexible, Non-Phone Work at Home Jobs: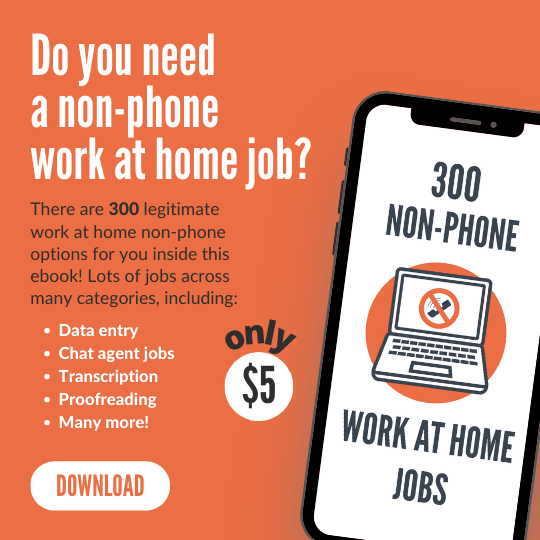 Do you want to work at home but you can't do so using a phone? If so, I have some great non-phone options for you in this ebook. It is only $5!
In this book, you'll find links to 300 companies offering different types of non-phone work at home jobs, including:
Data entry
Chat agent operators
Freelance writing
Transcription
Proofreading
Bookkeeping
Search evaluation
Many more!
Each job listing also has a short summary with any relevant information I can find (pay, what countries it may be open to, etc.).
Good luck to you, and I hope you find this ebook helpful if a non-phone job is what you are looking for.
After payment, you will receive the email containing your download.