Yesterday, Miranda at Work at Home Adventures wrote a very interesting post about how a lot of people are resistant to signing up for Facebook and how this resistance could be detrimental to their efforts at finding legit work from home.
I couldn't agree more. Many of the job leads and other information I discover are found via Facebook and the various work at home related pages that I follow.
Now, don't get me wrong — there is nothing wrong with not joining Facebook if you absolutely are against it.
You can certainly find work at home jobs without it by following blogs like this one, but Miranda made a great point that Facebook is an excellent resource that shouldn't be ignored unless you're just completely adamant that you want no part of Facebook.
If you are on Facebook, here is a big list of work from home Facebook pages that I "like" personally that you may also want to consider following yourself if you're actively seeking work at home leads, advice, and other information.
Helpful Work From Home Facebook Pages to "Like"
I realize this is a big list! Some of these pages post more than others and some are more about home business rather than working from home, but they all post valuable content at least occasionally and I do "like" each of these pages personally.
300 More Flexible, Non-Phone Work at Home Jobs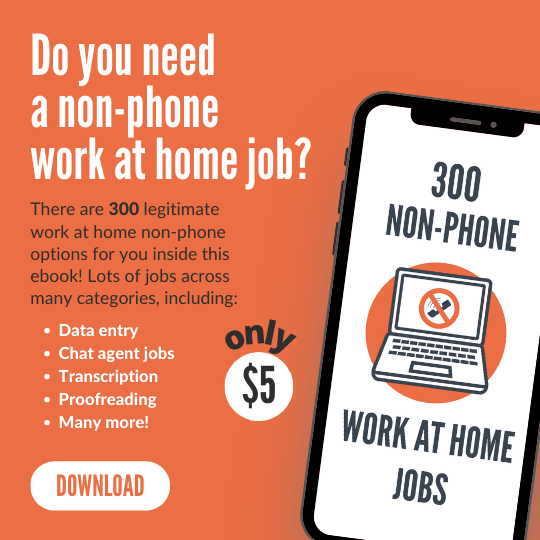 Do you want to work at home but you can't do so using a phone? If so, I have some great non-phone options for you in my latest e-book. It is only $5!
In this book, you'll find links to 300 companies offering different types of non-phone work at home jobs, including:
Data entry
Chat agent operators
Freelance writing
Transcription
Proofreading
Bookkeeping
Search evaluation
Many more!
Each job listing also has a short summary with any relevant information I can find (pay, what countries it may be open to, etc.).
Good luck to you, and I hope you find this ebook helpful if a non-phone job is what you are looking for.
After payment, you will receive the email containing your download.