Most data entry jobs are either scams or they pay so little they're barely worth bothering with. The Great American Opportunities data entry job is one exception. It's completely legitimate work offered by a very reputable, respected company and the pay is very fair.
However, nothing is completely perfect and there are a few drawbacks.
First of all, this is seasonal work from home so you can't depend on it year-round. Also if you do manage to get in, you'll be put on a waiting list to actually start working. Depending on Great American's current demand for workers, you could be on the list for as long as one to five years.
Great American Opportunities only hires people in the US for their data entry work.
About the Company
You've probably heard of them. They are a major company that does fundraising campaigns for schools and various organizations.
About the Work
You are basically just looking at scanned magazine order forms where people have written their names and addresses out by hand, and then keying that info into another form.
Pay Rate
You are paid a certain amount per form. The company has a few different types of forms you work from.
On average, you'll receive around .10 to .14 cents per form just depending on what type of form you are working from. Your rate per hour is entirely dependent on how fast you can go. Many people who do this are able to average $9 an hour or more.
Pay Frequency and Method
Great American Opportunities pays weekly with direct deposit.
Employee Status
You are working as an independent contractor.
Schedule
You can work any time you want, but there won't always be work to do. You just have to log in each morning and check to see if any forms have been scanned so you can start keying.
The people who scan the forms generally work Monday through Friday although there is occasionally Saturday work, too.
As mentioned above, this is seasonal work. Most of their workers begin keying forms in late September. The work stops on the last day of December. They do have work in the spring as well, but it's limited and they only invite certain workers to do it.
Equipment Needed
You need a reliable, Windows-based computer and high-speed internet. There is a program you have to download to do the work, and if you're hired they will send you the link to that before you actually start working.
The Test
You have to take their data entry test, which is pretty much just a simulation of the work you will be doing. This is a fairly challenging test because you have to maintain speed and good accuracy. Lots of people who attempt the test fail it — many of those people are good typists, too.
If you don't make it in, they do let you re-test, but you have to wait a full year. You are only allowed to re-test once.
Feedback
This is a very sought after work from home job. Current and former workers have good things to say overall.
The pay is decent for this type of work and the fact it's available in the fall/winter months means it's a great way to get money together for the holidays.
Application Instructions
If you're interested, you have to send them an email letting them know. They typically only do testing for the data entry in January and June of each year.
I used to tell people to email them in early January or early June, but a few times in the past that turned out to be too late, so for now, I just recommend emailing them at any time so you can find out for sure when they do the testing since the specific dates vary.
Great American does not post this job on their website so you will not be able to apply through there.
The email to use when it's time to contact them is TOhair (at) gafundraising (dot) com. You will need to include your full name, address, and phone number in your initial email to their company.
UPDATE 8/26/18 – A reader just informed me that emails to the address listed above are bouncing back. I'm not sure if it's because the inbox is full since they aren't actively hiring right now, or if that email is no longer in use. I've tried to find an alternate email but have been unable to do so.
UPDATE 12/14/18 – This email address is apparently still bouncing back. If someone knows the correct email address to use now, please contact me to let me know! Thanks!
For 300 Flexible, Non-Phone Work at Home Jobs: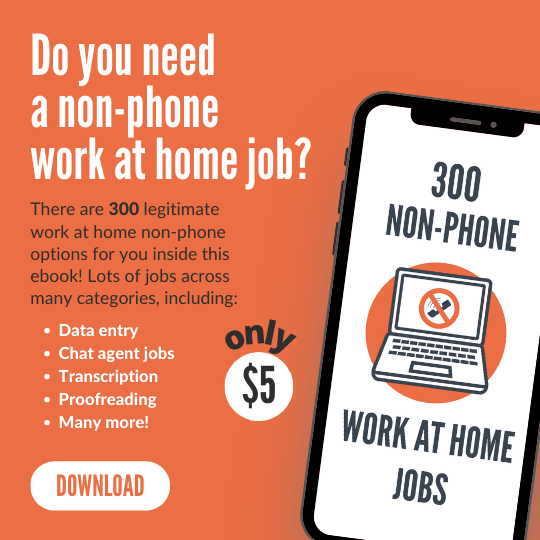 Do you want to work at home but you can't do so using a phone? If so, I have some great non-phone options for you in this ebook. It is only $5!
In this book, you'll find links to 300 companies offering different types of non-phone work at home jobs, including:
Data entry
Chat agent operators
Freelance writing
Transcription
Proofreading
Bookkeeping
Search evaluation
Many more!
Each job listing also has a short summary with any relevant information I can find (pay, what countries it may be open to, etc.).
Good luck to you, and I hope you find this ebook helpful if a non-phone job is what you are looking for.
After payment, you will receive the email containing your download.