Would you like to work for a high-end, prestigious retailer? Do you like providing customer service and pride yourself on being very good at it? Are you interested in a work-at-home job doing these two things? Then Williams-Sonoma, Inc. might just be what you are looking for.
What is the Williams-Sonoma Work From Home Customer Service Job?
Williams-Sonoma has been a trusted retailer for over 50 years. Best known for their home décor and kitchen wares, Williams-Sonoma has had the mantra of "People First" for both their employees and their customers.
This should give you an idea of how seriously they take customer service. From time to time, they hire both seasonal as well as permanent customer care reps to work from home by providing both web and catalog order placements.
Like so many retailers in the 21st Century, Williams-Sonoma realizes that there is an entire talent pool of those working from home.
Unfortunately, this work from home position is only available to people who live in or near The Colony, TX since some of the training is also offsite. It has been open in other areas, but most of the time they are looking for Texas candidates.
As an at-home customer service agent at Williams-Sonoma, you will be responsible for cross selling related merchandise as well as helping the customer place his/her order. You will also be responsible for making the customer aware of any store specials via telephone.
What Are the Work Requirements For This Position?
Outside of being a resident of Texas, the other requirements are:
to have a high school diploma or GED.
two years of previous sales experience.
a commitment to a 6-week training session.
a working knowledge of a computer and how to navigate.
great decision making skills.
great problem solving skills.
What Are the Computer/Equipment Requirements to Work Remotely at Williams-Sonoma?
You will need:
an Operating System of either Windows 7, Windows 8 or Macintosh OS X.
a Processor speed of 2.5 GHz and a minimum  of 2GB of RAM.
500 MB minimum free disk space.
sound card with speakers.
a 17″ color monitor with a resolution of 1024 x 768.
a headset compatible with your phone.
an analog phone line with no call forwarding or caller ID
What is Training Like?
Training is paid and is from 7 a.m. to 3:30 p.m. CDT from Tuesday through Saturday. There is onsite training as well as offsite training days scheduled. Once you begin working, your hours as a customer service representative will be 7 a.m. to 9 p.m. Monday through Friday and 7 a.m. to 8 p.m. Saturday and Sunday.
What Is the Pay Like?
The pay is $11.00 an hour to start with direct deposit available. One of the great perks of this job is having a 40% discount on store merchandise.
What Are Some of the Benefits?
Some of the benefits of this position are major medical insurance, dental insurance, life insurance, paid holidays, and 401(k).
What Do Others Say About Working From Home For Williams-Sonoma?
It's hard to find much about the remote customer service position, since it's limited to just Texas. However, the other reviews were largely favorable if you'd like to read them for yourself from Glassdoor.
How Would Interested Individuals Apply To the Remote Customer Service Position at Williams-Sonoma?
For this position you will have to watch their website as well as look for the jobs on Indeed. Good luck if you decide to apply for this.
300 More Flexible, Non-Phone Work at Home Jobs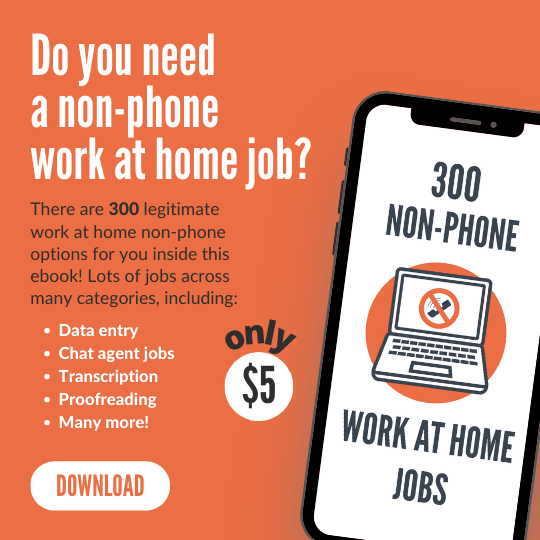 Do you want to work at home but you can't do so using a phone? If so, I have some great non-phone options for you in my latest e-book. It is only $5!
In this book, you'll find links to 300 companies offering different types of non-phone work at home jobs, including:
Data entry
Chat agent operators
Freelance writing
Transcription
Proofreading
Bookkeeping
Search evaluation
Many more!
Each job listing also has a short summary with any relevant information I can find (pay, what countries it may be open to, etc.).
Good luck to you, and I hope you find this ebook helpful if a non-phone job is what you are looking for.
After payment, you will receive the email containing your download.