Do you want to work with a trusted company that has been around for a long time? Do you enjoy making new people feel welcome? Do you also still want to work from home?
Then maybe a job at home working for Welcome Wagon just might be what you've been looking for. In this Welcome Wagon review, we give you all the details.
Welcome Wagon Review – About the Company
Welcome Wagon has been around for many years. Founded in 1928 by Thomas Briggs, the company has grown and continues to thrive.
Originally, Mr. Briggs hired "hostesses" who were women that were friendly and knowledgeable about their community and its businesses and activities.
Over a cup of coffee, these women would not only chat with the new people moving into the neighborhood, but would also bring them gift baskets laden full of "freebies" and coupons from local businesses.
The visits stopped in 1998 with the increase of two income homes. Two income homes meant that there were fewer people home during the day.
The business was bought in 2009 by Craig Swill and Steve Goodman as a way to bring it into the Computer Age. Newcomers to the community now receive their "Welcome Wagon baskets" via their postal mailboxes and via the Internet.
"Hostesses" are now called Account Executives.
What Do Account Executives Do at Welcome Wagon?
At Welcome Wagon, account executives are responsible for three main things. These three things will occur in your established sales territory, and they are:
selling comprehensive advertising and marketing packages to local businesses.
meeting or exceeding sales quotas.
maintaining a database of all local businesses.
To be successful in your sales territory, you will need to reach out in person and by telephone. Sometimes you may be sending email, but it is preferred that most contact be done in a personable (in-person) way.
What Are the Equipment/Computer Requirements to Work for Welcome Wagon?
The requirements are not that stringent. You will need a computer or laptop, email access, printer, fax/ scanner, and phone.
While you will be spending time in your home office, you will also be spending time away from your home office meeting with local businesses.
You will need to be able to stand for reasonable amounts of time as well as lift a 10-lb. briefcase.
What Are the Other Qualifications Will You Need to Be Considered By Welcome Wagon?
To be considered for the accounts executive position, candidates should:
have experience in the advertising or marketing industries, but this is not a requirement.
have outside sales experience, but again is not required.
have strong relationship building skills.
have an entrepreneurial drive.
have exceptional presentation and communication skills.
have the ability to organize, plan, and report effectively.
have the ability to master all of Welcome Wagon's solutions and products.
have good references as well as a good driving record.
have the legal right to work in the United States.
Don't let these requirements scare you as Welcome Wagon also states that Stay-at-Home-Moms, who have been on the PTA or committee boards are also good candidates. You just have to want to get out there and sell.
What Are the Worker Benefits at Welcome Wagon?
Account executives are offered:
medical and dental insurance
a 401(k) plan
mileage reimbursement
sales training and sales support
commission paid upfront
unlimited income generated from your sales skills
What is the Pay Like at Welcome Wagon?
Pay will vary depending upon your territory and your background. However, I have read where there are account executives earning up to $70,000 per year.
So, if you are good with sales—here is your chance. But remember, it is a commission only job.
What Do Others Say About Welcome Wagon?
The ratings average out to be 3.1 out of 5 stars from Glassdoor and 3.8 out of 5 stars from Indeed.com. You can certainly read them for yourself and make your own decision.
How Can Someone Interested Apply to Welcome Wagon?
If this Welcome Wagon review has you interested, you can go to the Job Opening page get started with your application.
Good luck if you give this a try!
300 More Flexible, Non-Phone Work at Home Jobs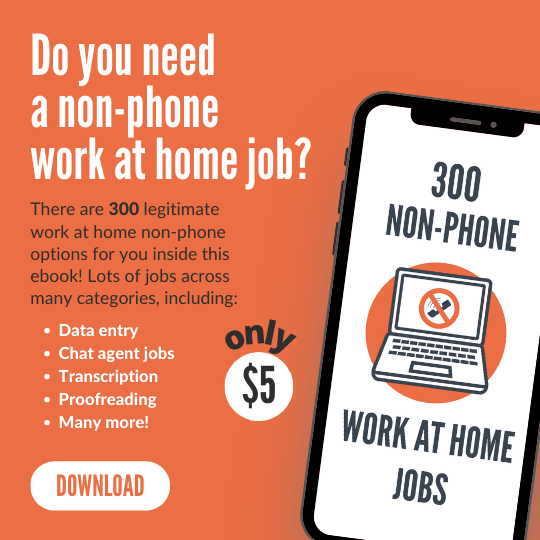 Do you want to work at home but you can't do so using a phone? If so, I have some great non-phone options for you in my latest e-book. It is only $5!
In this book, you'll find links to 300 companies offering different types of non-phone work at home jobs, including:
Data entry
Chat agent operators
Freelance writing
Transcription
Proofreading
Bookkeeping
Search evaluation
Many more!
Each job listing also has a short summary with any relevant information I can find (pay, what countries it may be open to, etc.).
Good luck to you, and I hope you find this ebook helpful if a non-phone job is what you are looking for.
After payment, you will receive the email containing your download.