The direct sales industry is booming. It provides a viable income source for many of those looking to work from home. Moms in particular find the freedom and income potential of starting a replicated business model second to none.
Sadly, many are faced with misinformation and discouragement from those telling them they are sure to fail in this "shady" industry. This couldn't be further from the truth.
In fact, 82% of direct sellers report a good, very good or excellent experience with direct sales.* So let's take a look at a few of the reasons people may cry scam.
Improper Price Comparisons
There is a certain sector of the population that claims the home party plan industry must be a scam because you can buy comparable products cheaper elsewhere.
That may be the case, but this is true with every consumer product. Shoppers will pay what they can afford and what they feel is a good price for the item. When we find that pair of jeans that fits perfectly we are willing to pay a premium price.
The same goes for candles, household products, handbags and every other popular direct sales category.
Misunderstanding Qualifications
Too many times consultants will sign up for an opportunity without fully investigating or understanding the requirements.
Even when there is complete transparency on the company's part, this can lead to feelings of ill-will. I highly encourage anyone looking into a business opportunity to read the fine print and ask questions. What are the sales requirements? Are there ongoing costs or inventory involved?
Misleading Sponsors
Sadly there are those consultants that will say just about anything to sponsor recruits. If it sounds too good to be true, it probably is.
Always take income claims with a grain of salt, especially if someone is telling you little work is involved. There is always hard work behind long-term success. And again, read those Terms & Conditions before signing on.
Falling for Pyramid Schemes
There is a big difference between multi-level marketing and pyramid schemes. While many direct sales opportunities will allow you to build a team for additional income, the product comes first.
With a pyramid scheme, there is no actual product behind the company or the product may be of little if any value. With pyramid schemes the only way to create an income is recruiting. Eventually these businesses hit a point of saturation and fail.
With a legitimate direct sales company, there is no breaking point. Even with no one in your downline you can earn a good living from product sales alone.
Choosing a Company for the Wrong Reasons
There is one phrase you will hear over and over in the direct sales industry, "be a product of the product."
If you are choosing an opportunity for any reason other than you love the products enough to devote your life to them, you will be disappointed. If you are not enthusiastic about what your company can do for others, you will burn out quickly.
Always know your "Why." And that includes why you joined a company.
Business Opportunity vs. Job
One of the biggest sources of letdown for new consultants is confusing an opportunity for a job.
With a job you will be compensated for every hour you put in, with a business opportunity – even a direct sales business opportunity – you are becoming a business owner. You will not be paid an hourly wage. You will have to generate your own income. There are no guarantees.
This is going to be more difficult than what you may anticipate, but it will be worth it if you are dedicated, fully informed and in it for the right reasons.
*Source: http://www.directselling411.com/glossary-and-faq/
About the Author
Angie Nelson has been involved in the direct sales industry for over a decade. Today she balances several successful online ventures and shares her passion for home party plans on her blog The Best Direct Sales Companies. Sign up for her newsletter to receive new opportunity overviews each week!
---
300 More Flexible, Non-Phone Work at Home Jobs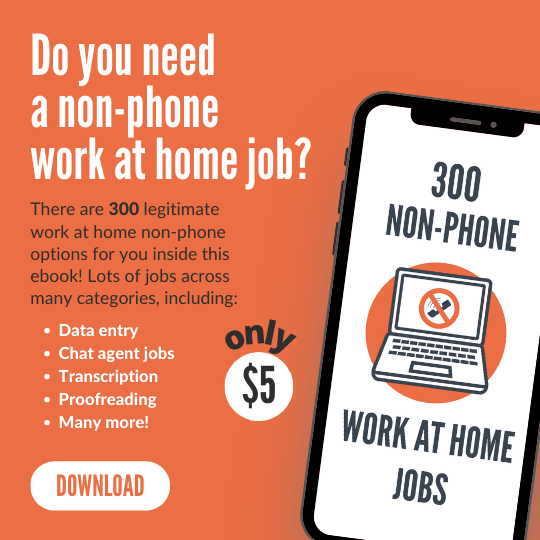 Do you want to work at home but you can't do so using a phone? If so, I have some great non-phone options for you in my latest e-book. It is only $5!
In this book, you'll find links to 300 companies offering different types of non-phone work at home jobs, including:
Data entry
Chat agent operators
Freelance writing
Transcription
Proofreading
Bookkeeping
Search evaluation
Many more!
Each job listing also has a short summary with any relevant information I can find (pay, what countries it may be open to, etc.).
Good luck to you, and I hope you find this ebook helpful if a non-phone job is what you are looking for.
After payment, you will receive the email containing your download.