Rosetta Stone is a company mainly known for developing critically acclaimed language learning software. They are one of the leaders in that particular industry, and have been delivering highly successful products since the early 90s, when CD-ROM technology finally made it possible to store and distribute the vast amounts of audio data needed for such applications.
Rosetta Stone hires home-based workers to serve as online language tutors, helping to facilitate some of their virtual classroom educational offerings.
Working For Rosetta Stone
The company is quite vague about the actual nature of their tutoring jobs on their hiring pages, but after a bit of research I was able to find a few first-hand accounts.
Most jobs involve one-on-one language coaching in real time using web conferencing software. You'll be expected to provide help to students who are taking various online classes via the company's website. According to the sources I could find, the work is fairly challenging, but it's also apparently interesting and enjoyable. Those with experience say that each day as an online language tutor for Rosetta Stone offers a brand new set of challenges, and you have to constantly adjust your approach to new students who come to you with their unique problems and situations on a day by day basis.
Rosetta Stone Pay Rate
Rosetta Stone doesn't disclose the pay rate on their hiring page. The most recent number I could find in my research was $15.00 an hour for the language coaching jobs. On Glassdoor, anonymous reviewers put the rate between $12 and $15 hourly.
Scheduling at Rosetta Stone
This is a part-time position. You will be working 10 to 12 hours per week, and they expect you to be flexible. Apparently the work hours change depending on the needs of the students, so you will have to adjust as the situation evolves.
Different work positions have different shift requirements, and many of them are for the early morning hours between 5 am and 10 am. A lot of the time you'll be teleconferencing with international students who live in very different time zones, so there's a good chance you'll have to change your sleeping hours.
With some jobs you are expected to be available on both weekdays and weekends, so make sure and check all the scheduling information carefully before you apply for any of these positions.
According to those with experience in these jobs, the work isn't necessarily steady. The need for tutors changes frequently, so the amount of money you make will likely vary during different stretches of time, and you may get unexpectedly laid off.
Requirements to Apply
For their tutoring jobs, Rosetta Stone only wants native speakers of the various languages they're offering courses for. Most of the jobs available at the time of this writing are for tutors to help teach English to non-native speakers, but one is for a Chinese language tutor.
The particular jobs on offer and the requirements will likely vary over time, so keep an eye on their hiring page to see if they have anything new available that suits your skill-set.
All the jobs appear to be location dependent, and they're looking for people with at least a 4 year degree.
You'll need to have a flexible schedule, plenty of technical know-how, and a working knowledge of many different kinds of web conferencing software. They also strongly prefer individuals with past teaching experience.
It's always helpful to have an English-language teaching certification for jobs like this. Groupon offers a TEFL certificate that you can get online within just a few months if that interests you.
Tech Requirements
The only technical gear specified is a personal computer with broadband access, so this job has pretty minimal requirements in that area.
They do, however, expect you to have an excellent overall proficiency with computers and internet technology.
It sounds like the job is very software oriented, and you'll need to be fairly tech-savvy, but just about any modern hardware will probably work alright.
Application Process
To apply for a work at home job with Rosetta Stone, you must fill out a form online with all your personal information, and submit a resume. You can upload the resume as a text document from your computer, paste it into a form on the site, or refer them back to your LinkedIn profile.
Once you've sent your information, Rosetta Stone will contact you via email and explain how to check the status of your application.
Feedback
I used Glassdoor.com to do my research on Rosetta Stone, and most of the feedback I could find was actually very positive.
Many people seem to genuinely enjoy the work. There's a social component to this job that will almost definitely appeal to extroverts, and unlike many home-based customer service jobs, you won't often be dealing with angry or dissatisfied customers. With Rosetta Stone, you get to help people in a comfortable and fun learning environment. Many find the work intensely gratifying on a personal level.
Apparently the staff is also quite relaxed and easy to work for. Most former tutors suggested that the rules are a breeze to follow, and there's supposedly not a lot of pressure or heavy handed oversight.
On the negative side, some people complained that the managers are a little tough to get in contact with. Others were dissatisfied with the lack of upward mobility.
By far the biggest complaints were directed towards the quality of the working hours available. Shifts in the wee hours of the morning are the best shifts you can get, so you might have to become a night owl if you want to get a sufficient number of hours in. And the work can be erratic, so it's not a job you'll be able to count on all the time, which might be a deal breaker for some people.
One interesting perk of the job is that workers in some positions get unlimited access to Rosetta Stone's vast library of language software, so if you have an interest in learning a new language, this could be a good opportunity to get started with it.
Some people also mentioned access to free or discounted language classes for workers, but its unclear whether those are available for all positions or only a handful.
How to Get Started
If you like the idea of teaching languages, and enjoy working with people, go here and check out the current openings to see if there are any available in your area.
Good luck!
300 More Flexible, Non-Phone Work at Home Jobs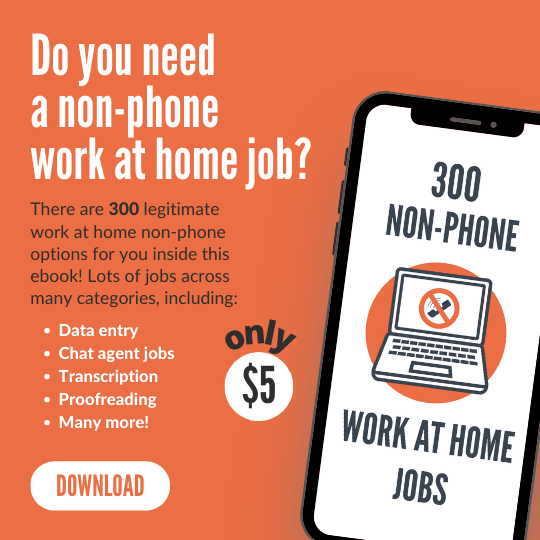 Do you want to work at home but you can't do so using a phone? If so, I have some great non-phone options for you in my latest e-book. It is only $5!
In this book, you'll find links to 300 companies offering different types of non-phone work at home jobs, including:
Data entry
Chat agent operators
Freelance writing
Transcription
Proofreading
Bookkeeping
Search evaluation
Many more!
Each job listing also has a short summary with any relevant information I can find (pay, what countries it may be open to, etc.).
Good luck to you, and I hope you find this ebook helpful if a non-phone job is what you are looking for.
After payment, you will receive the email containing your download.